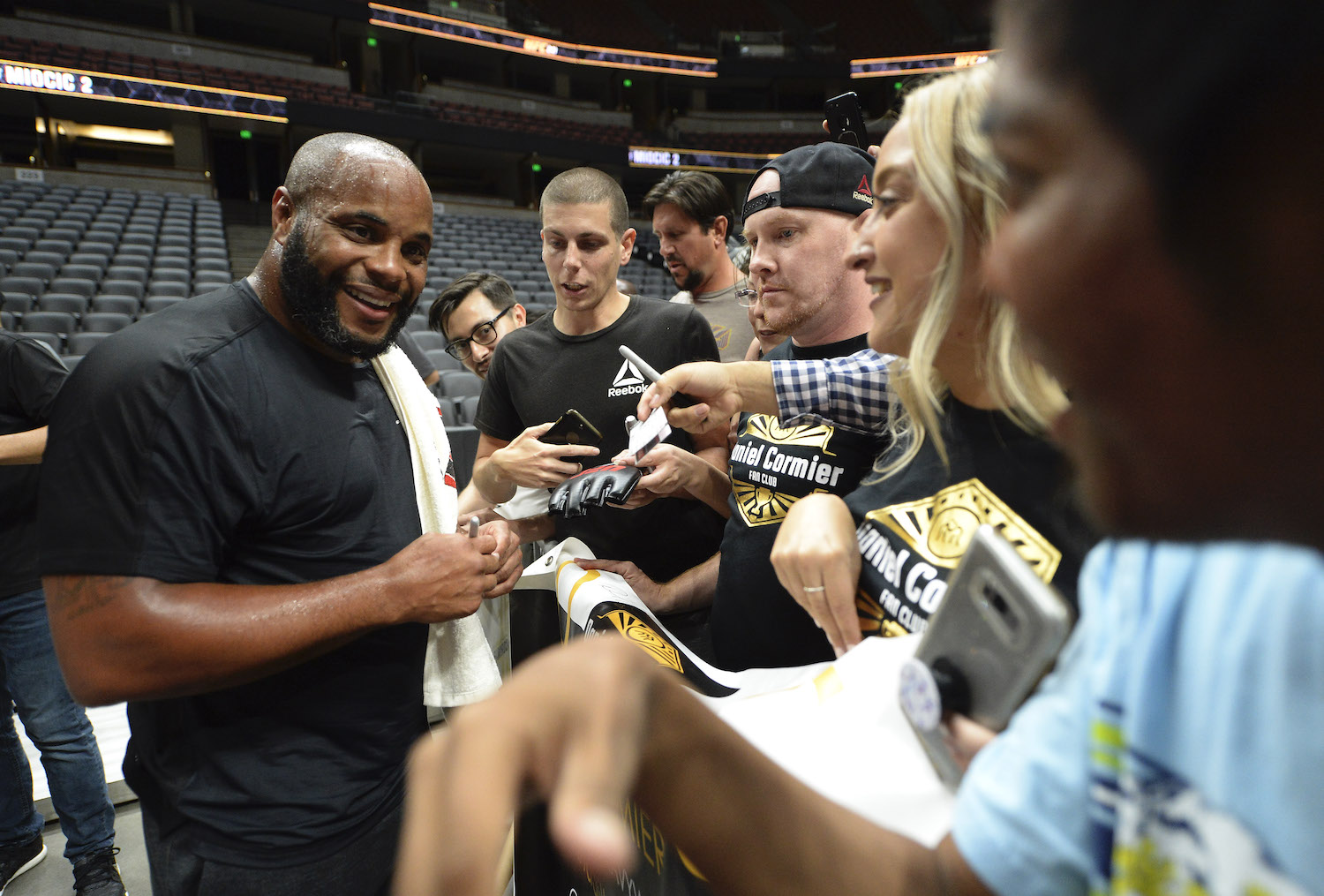 Daniel Cormier's Embarrassing Rejection by NBA Superstar Helped Make Him the Man He Is Today
Daniel Cormier was rejected by an NBA superstar before the 2004 Olympics when he asked for an autograph. That shaped Cormier's approach in how he interacts with his fans today.
Daniel Cormier fought his way to the top and became a two-division champion in the UFC. Outside of the octagon, Cormier has had to fight his way through life overcoming one personal tragedy after another and being poor much of his life. While those experiences undeniably shaped Cormier into the man he is today, it was an uncomfortable encounter with an NBA superstar during the 2004 Olympics that adversely affected him and would guide him years later in how he interacted with his own fans.
Daniel Cormier has overcome numerous personal tragedies
In 1986, a seven-year-old Daniel Cormier had his first experience with tragedy when his father was shot and killed on Thanksgiving Day. Unfortunately for Cormier, it was a precursor of things to come. 
During high school, he lost a close friend and football teammate in a car accident. A year later, a cousin died in another auto accident. In 2003, Cormier had to cope with unspeakable tragedy when his three-month-old daughter also died in a car accident. Through it all, Cormier somehow managed to endure and overcome. 
In addition to personal tragedy, the fighter and his young family had to overcome financial struggles a decade ago. 
"We had nothing. Salina and I had nothing. She's been with me since I had one fight. One time, we had our son, young baby. I was in Strikeforce, and I would barely fight," Cormier told reporters after defeating Anthony Johnson in 2015 for the vacant UFC Light Heavyweight Championship. "Salina and I had a 700-square foot apartment in San Jose, California—one bedroom—and we had no money. And my family has no money down in Louisiana. And I was so desperate because we had no gas, we had nothing. We were on welfare."
Daniel Cormier gets rejected by NBA superstar
While Daniel Cormier's personal experiences with tragedy and poverty helped him appreciate life and money, it was an experience before the 2004 Summer Olympics in Greece that taught him how not to treat fans. Former Olympic gold medal wrestler Cael Sanderson shared a story with The Athletic about an incident between Daniel Cormier and a superstar NBA player.
"I remember before the 2004 Olympic Games, we were directly behind the (U.S.) men's basketball team. And because of the security at the time (in the airport), it took several hours to get through security. We're waiting. And I remember Daniel Cormier, he went up and asked (an ultra-famous NBA player) for his autograph. And the player wouldn't even acknowledge him. Wouldn't look at him.
"I just remember that image of Cormier. He asked this guy to sign something for him – and the guy wouldn't even acknowledge him. I just thought it was really disrespectful."
Cormier is one of the most-liked UFC fighters
That Olympic experience opened Daniel Cormier's eyes to how some athletes treat fans. While he wanted to forget that moment, he wanted to always remember how it felt, and if, by chance, he became well-known in the future, he would make sure to provide an entirely different experience.  
"I tried to make sure that, regardless of how I'm feeling, I try to give people a little piece of me, make their experience to meeting me a pleasant one," Cormier said in an interview with TSN. "Because you don't know what that does for a person, and you don't know who that person is going to eventually turn out to be.
"What if you meet the kid that's gonna become the President some day? You don't know. What if you meet a kid that's just having a bad day or an adult that's having a really bad day, and your interaction can uplift them? You just never know what people are going through. So I just try to make sure that when people come in contact with me, the experience is pleasant." 
Daniel Cormier's legacy inside the octagon is secure. He will be remembered as one of the greatest fighters in UFC history. And for those fortunate enough to ever encounter him outside the octagon, they will also remember him because he took the time to make their experience a memorable one for all the right reasons.