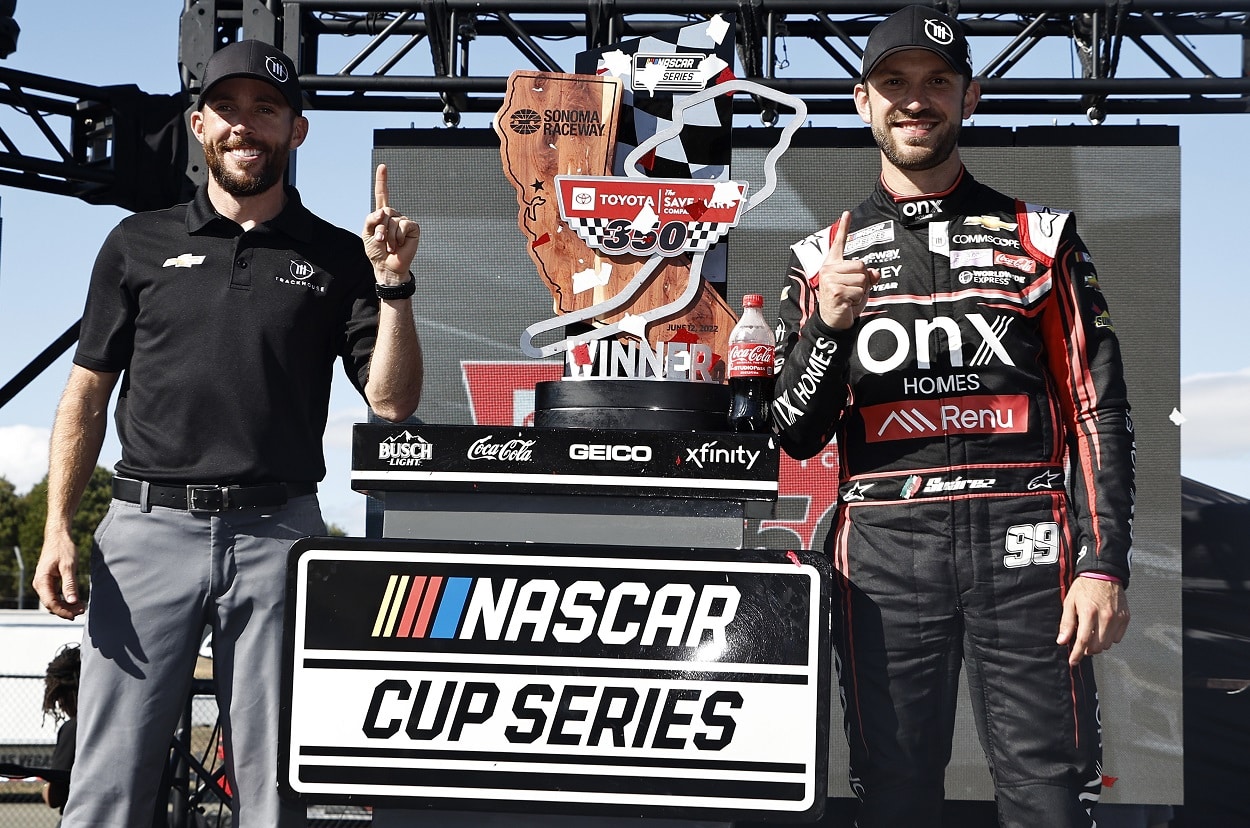 Daniel Suarez Doesn't Yet Have a Contract With Trackhouse Racing for 2023 but Isn't Sweating It
Daniel Suarez speaks on his future in the NASCAR Cup Series with Trackhouse Racing.
Daniel Suarez turned in a nearly perfect drive in the Toyota-Save Mart 350 on the road course at Sonoma, making NASCAR Cup Series history and banishing some of the ghosts that have plagued him since entering the series in 2017.
Suarez, who replaced Carl Edwards in the No. 19 Joe Gibbs Racing Toyota as a Cup Series rookie in 2017, seemed poised for stardom in NASCAR's top series after three Xfinity Series victories and 55 top-10 finishes in 76 races to go with the 2016 Xfinity championship and 2015 Rookie of the Year honors.
Instead, Suarez found frustration that included a 194-race victory drought that spanned into his sixth Cup season and his second with Trackhouse Racing in the No. 99 Chevrolet Camaro.
All that ended at Sonoma as Suarez became the first Mexican-born driver to take the checkers in a Cup Series points event that at least temporarily silenced critics and rewarded the faith Trackhouse owners Justin Marks and music icon Pitbull placed in him.
Trackhouse Racing takes a big step with Daniel Suarez, Ross Chastain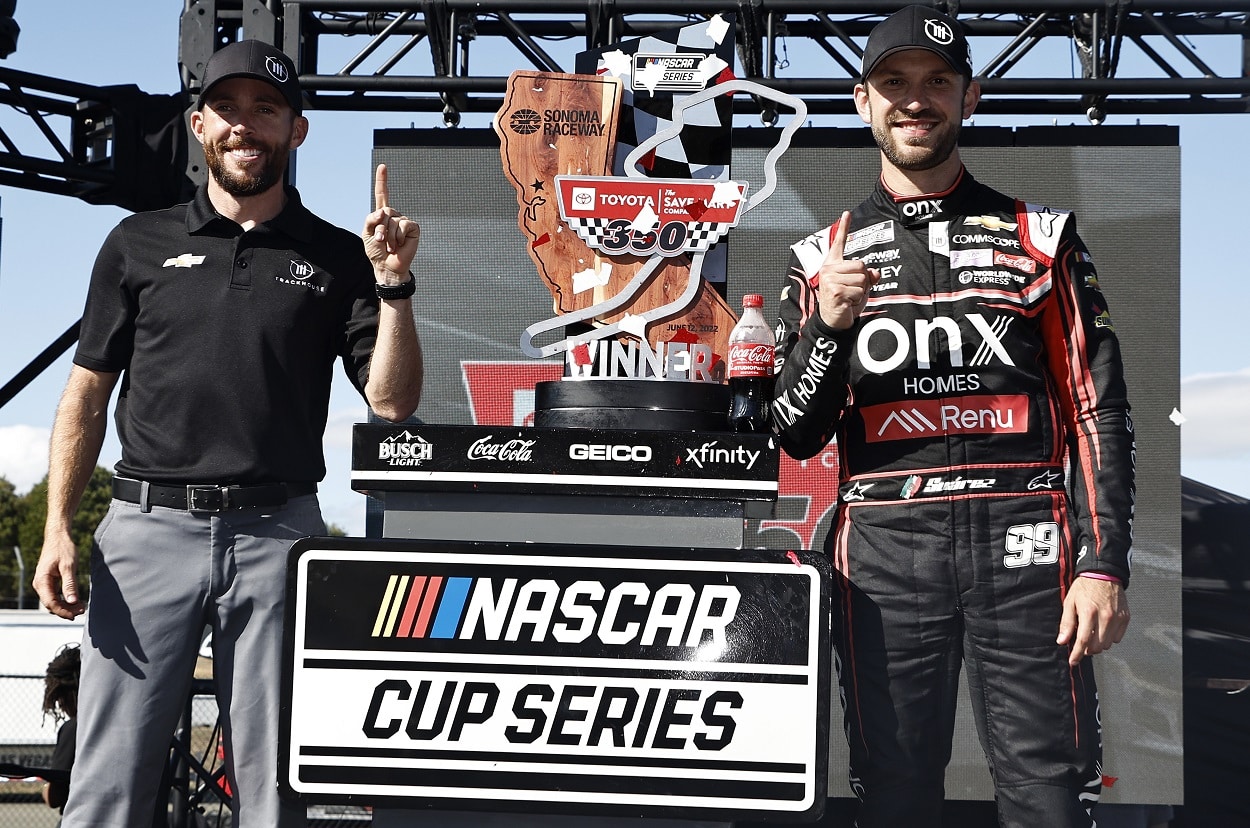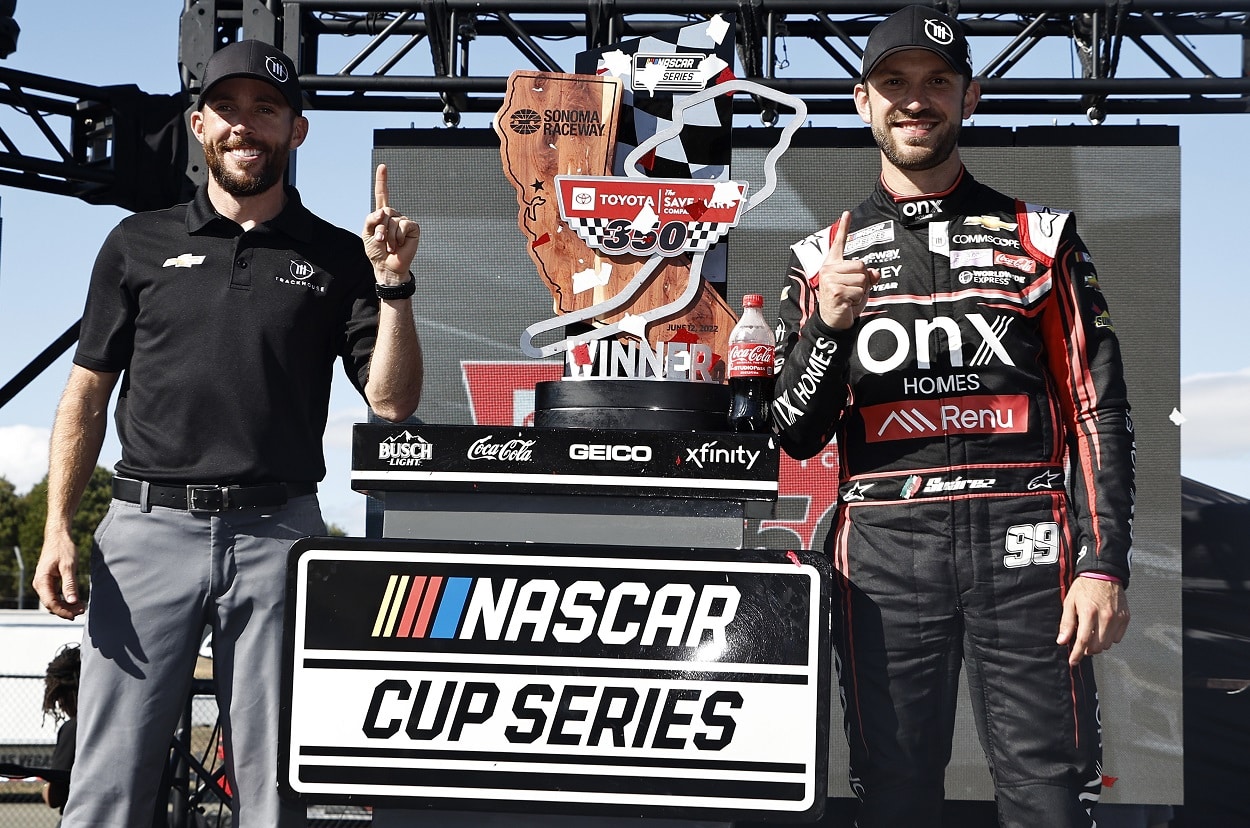 Suarez's dominant performance at Sonoma drove Trackhouse Racing into Victory Lane for the third time this season. As a start-up Cup Series team in 2021, Trackhouse delivered on moderate expectations while also putting energy into the new Next Gen race car, which is now halfway through its first season of Cup competition.
All of it has resulted in three victories this season for the two-car team, which includes Ross Chastain, who has won this season at Talladega and the Circuit of the Americas road course, and Suarez's triumph at Sonoma Raceway in California's Wine Country.
Trackhouse's success has signaled a resurgence for small teams in the Cup Series after star-studded teams from Hendrick Motorsports, Joe Gibbs Racing, Stewart-Haas Racing, and Team Penske have ruled the sport for nearly two decades, winning 16 of the last 17 Cup Series titles.
Both Trackhouse drivers have already qualified for the playoffs, while the likes of Kevin Harvick (Stewart-Haas), Martin Truex, Jr. (JGR), and Ryan Blaney (Team Penske) are still looking for their first wins of the season.
Daniel Suarez: 'This is my home'
While a single race win cannot make a Cup Series career, Suarez's long-awaited breakthrough has at least given the driver and team owner Marks the belief that the popular Mexican-born driver can be part of a foundation at Trackhouse Racing.
After a nomadic two seasons with JGR (2016-17) and one season each with Stewart-Haas (2019) and Gaunt Racing (2020), Suarez says he has finally found a home.
"With Trackhouse, it just felt very good," Suarez said in a video interview on NASCAR.com. "I felt support and trust, honestly, like I had never felt before in the Cup Series."
His win at Sonoma gave Suarez his sixth top-10 finish of 2022, not counting a victory in the All-Star Open, and an affable star to counterbalance the hard-charging Chastain on the Trackhouse roster.
Suarez, who is in the final year of his two-year deal with Trackhouse, said the two sides began talking contract extension a month ago, and he expects to get a deal done for 2023 and beyond.
"The first words out of my mouth … were that I didn't want to even talk about this right now. My focus was on one thing and that was to win races. … This is my home. I'm not going anywhere. I'm not going to worry about a contract today, tomorrow, next month, or the next couple of months. I feel like we're in a very, very good place – probably the best place I've ever been with a team – so I'm 100% sure things are going to work out."
All stats courtesy of Racing Reference.
Like Sportscasting on Facebook. Follow us on Twitter @sportscasting19 and subscribe to our YouTube channel.