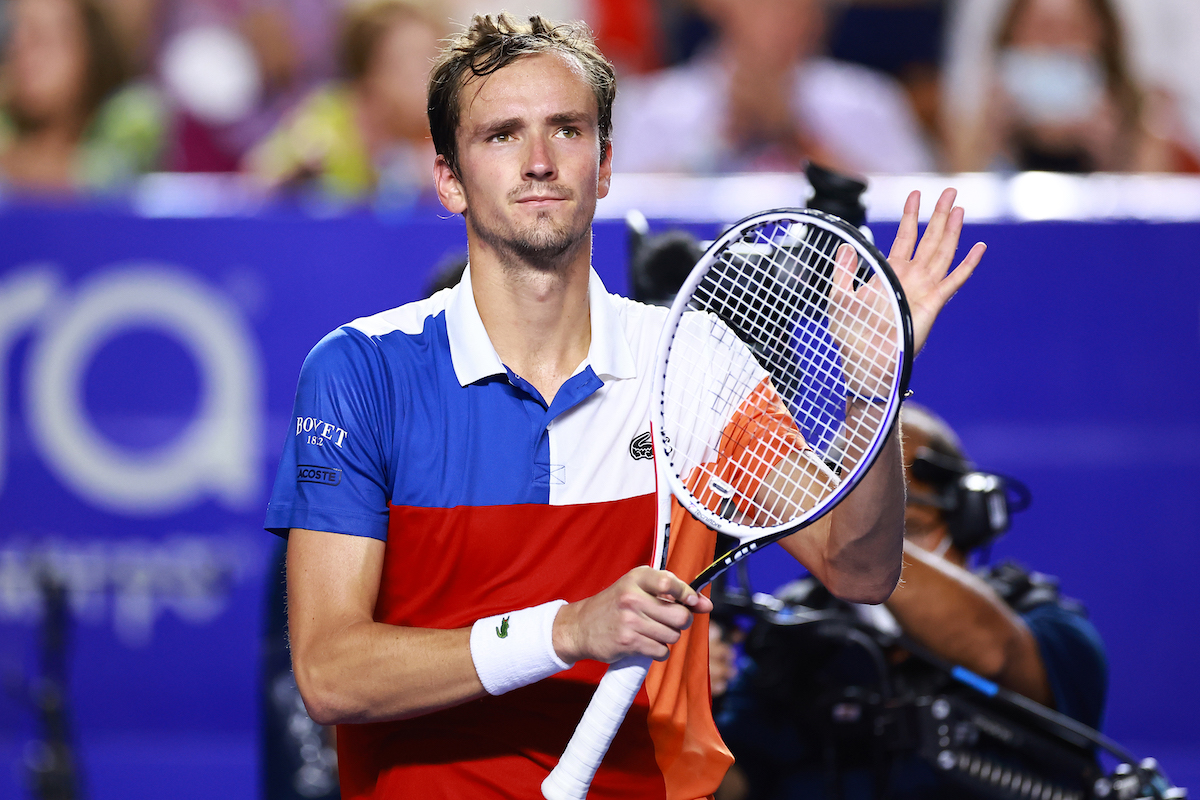 Daniil Medvedev Claims World No. 1 Ranking from Novak Djokovic
It's an achievement 18 years in the making. Someone other than Roger Federer, Rafael Nadal, Novak Djokovic, and Andy Murray has claimed world No. 1.
Few things are certain in the world of professional sports, but one constant in the realm of men's tennis has been the omnipresent nature of the Big Three at the top of the ATP World Rankings. One of Roger Federer, Rafael Nadal, and Novak Djokovic has held the No. 1 spot ever since Andy Murray ceded it on Aug. 20, 2017.
That will no longer be true with Russian star Daniil Medvedev set to ascend to the top of the pile when the next batch of rankings is released Monday.
When Djokovic fell to Czech 28-year-old Jiri Vesely in the quarterfinals of the Dubai Tennis Championships, dropping a second-set tiebreaker to lose 6-4, 7-6 (7-4) during an uncharacteristically sloppy performance, he lost his grip on the top ranking he'd held (ranking freeze during the coronavirus-caused pause notwithstanding) since Feb. 3, 2020. Along with it, the man in possession of the most total weeks at No. 1 by a men's singles player (361) lost out on his chance to overtake Steffi Graf's all-time record (377) — at least for the time being.
Medvedev is competing at the concurrently running Mexican Open in Acapulco and doing his part to lay an even stronger claim to the top spot following a 6-1, 6-2 beatdown of Spain's Pablo Andujar on Wednesday. If he takes down Yoshihito Nishioka in the quarterfinal and goes on to earn the title, Djokovic's early loss would be deemed irrelevant in the ranking chase.
But now, he can play without that pressure since the Serbian's straight-set defeat removes the weight.
"When you're young you feel like it's impossible, so that's why you dream about it. When it becomes closer to you, you dream less about it and do more to achieve it," Medvedev said after his victory over Andujar, per Yasmin Syed of Express.co.uk. "It's not even a dream anymore, it's a goal to play well these next three tournaments. If I manage to do it, I'm going to have a chance, and if I don't, then it's my fault in a way, but it's also an experience, so that's what I'm going to try to do."
He has to try no longer. His dream has become a reality.
The 26-year-old may not have the 20 Grand Slam titles compiled by his Serbian counterpart, though he did claim his first at the 2021 U.S. Open and has two final-round defeats at the Australian Open (2021 and 2022). But with his unflappable demeanor, powerful first serve, and aggressive baseline strategy, peppering the opposition with crosscourt forehands and down-the-line backhands whenever a crack arises, he's steadily climbed the rankings since turning pro in 2014.
And that, more than anything else, puts the magnitude of his accomplishment into perspective.
Since February 2004, Nadal, Federer, Djokovic, and Murray are the only men who have held the No. 1 ranking. Lleyton Hewitt, Andre Agassi, Juan Carlos Ferrero, and Andy Roddick all spent time in the top rung during the 2003 season, at which point Medvedev was only seven years removed from his 1996 birth in Moscow.
Eighteen years in the making, it's the first true changing of the guard men's tennis has seen in quite some time, and now the burden Medvedev shoulders shifts from claiming the No. 1 ranking to defending it from what's sure to be a motivated Djokovic.