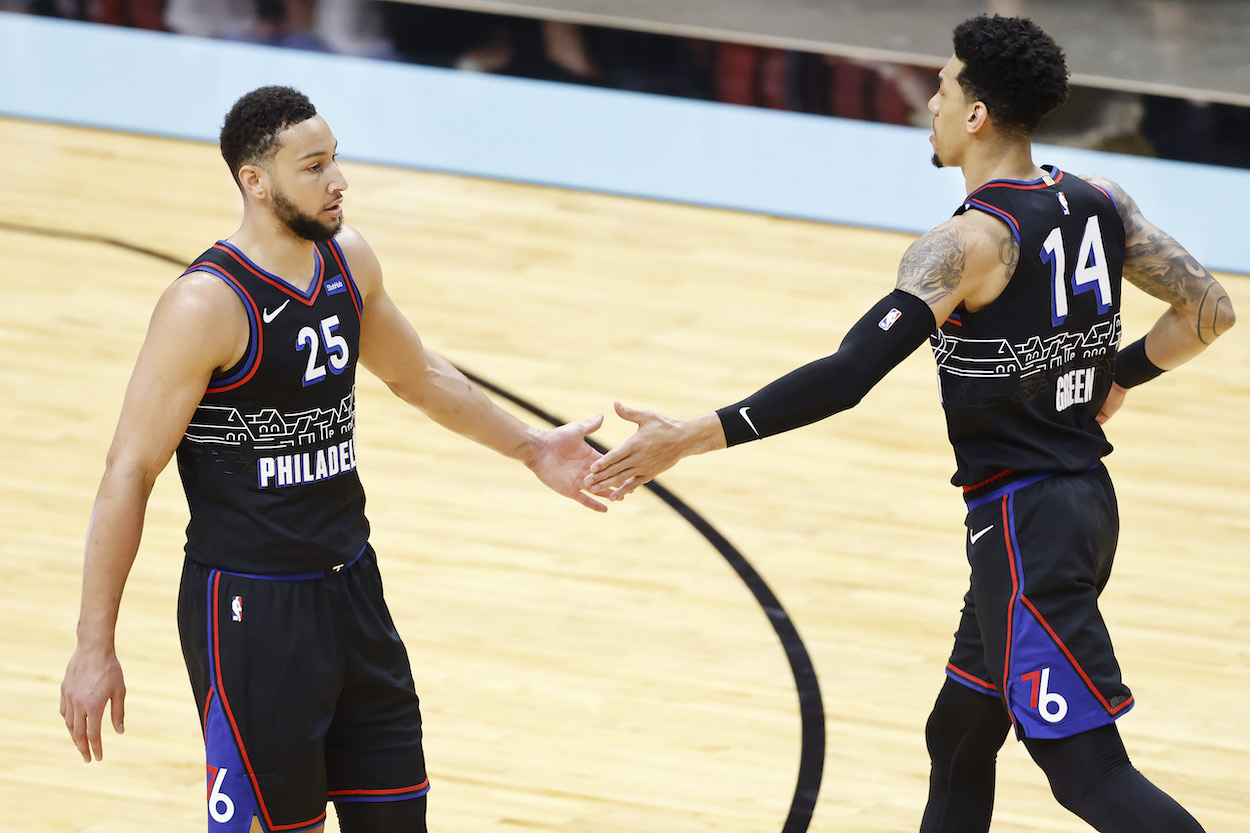 Danny Green Says Family Issues Unrelated to Basketball May Be Causing Ben Simmons' Struggles: 'He Was Going Through a Lot'
Danny Green provides a different view on Ben Simmons' offensive struggles in the 2021 NBA playoffs.
Ben Simmons has been taking some major heat ever since the Philadelphia 76ers got bounced from the NBA playoffs by the Atlanta Hawks. Fans and media pundits alike have been crucifying Simmons for being a non-factor on the offensive end down the stretch of the playoff series, and everyone has a different opinion as to why the point guard has no confidence to shoot.
But Simmons' teammate, Danny Green, might've just revealed the real reason for his struggles.
Sixers fans are calling for Ben Simmons to be traded after playoff debacle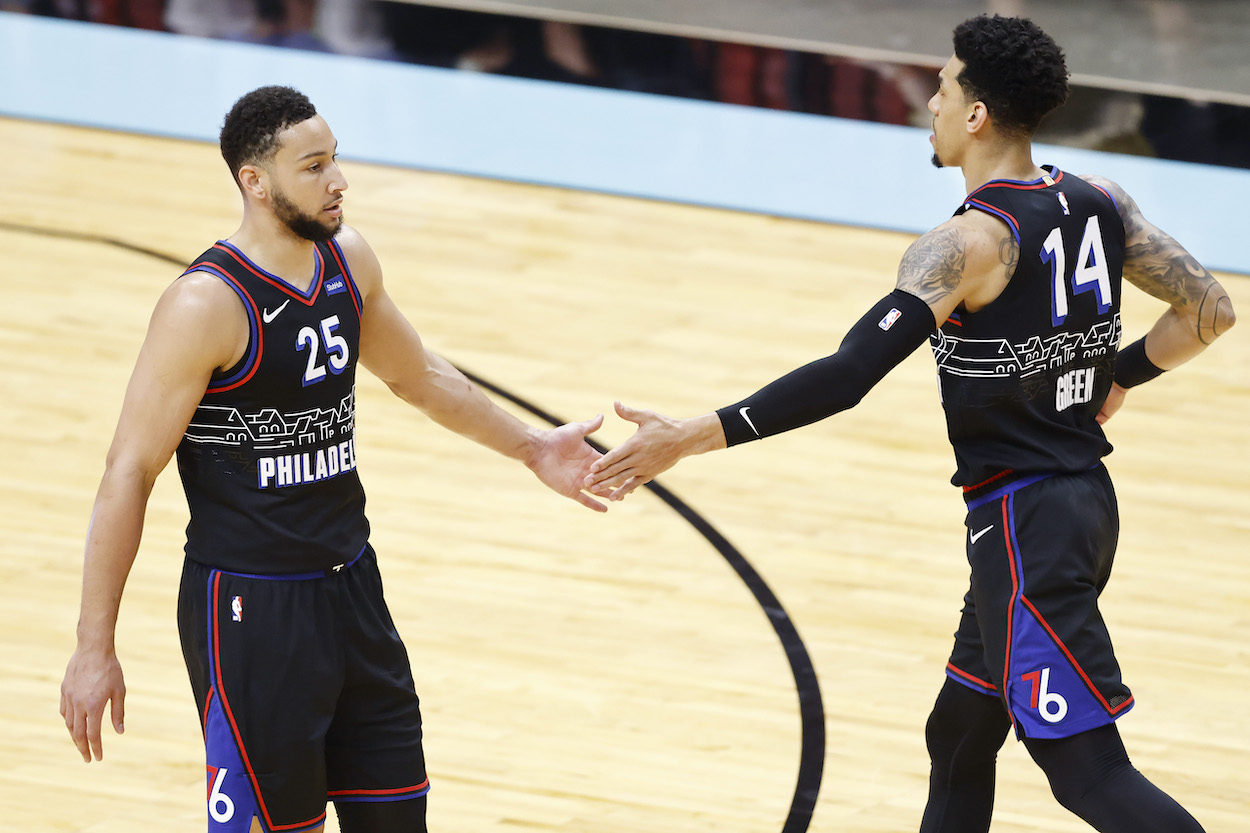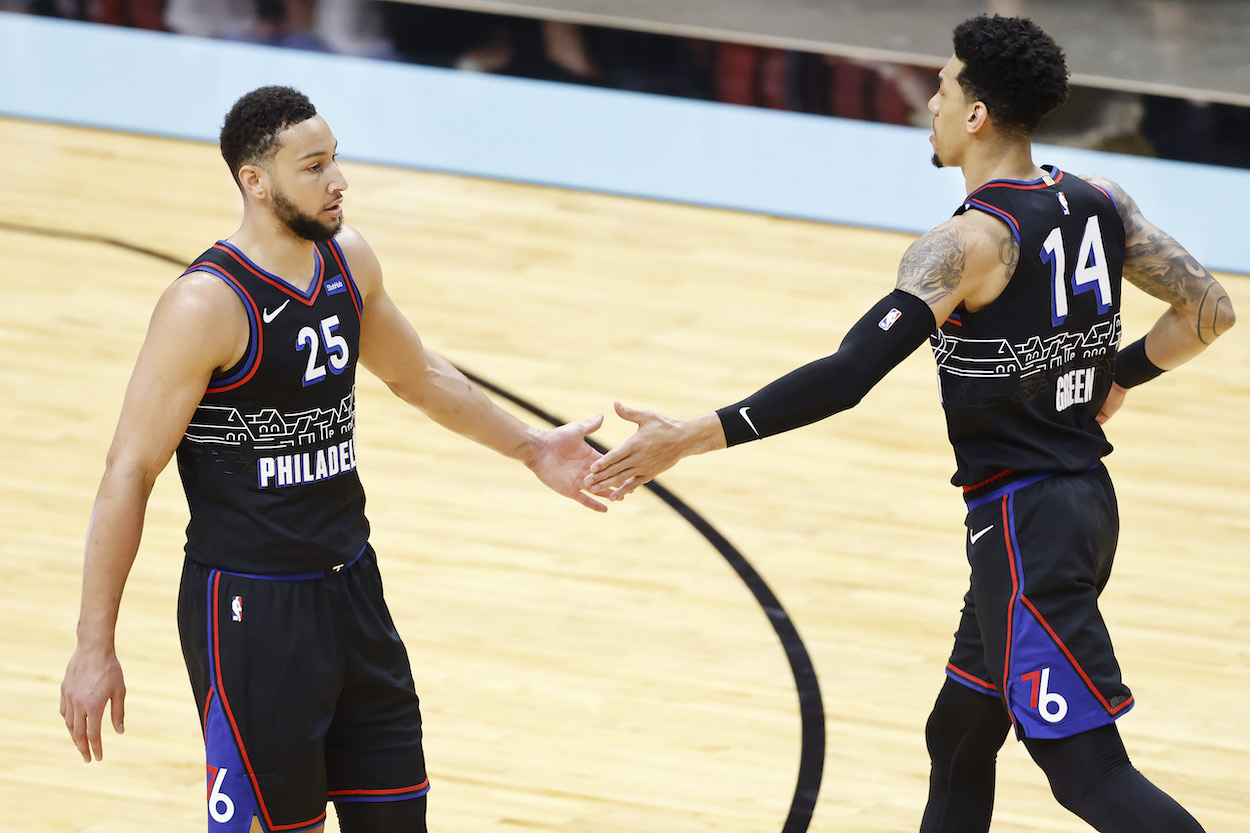 The 76ers should be competing in the Eastern Conference Finals right now, but they're not, and Simmons is one of the main reasons why. Simmons was reluctant to shoot the ball all series against the Hawks, and he was atrocious from the free-throw line all postseason.
Over the course of 12 playoff games this year, Simmons shot an abysmal 25-of-73 from the stripe. That just happens to be the worst qualified mark in NBA history for a single postseason at 34.2%. Following the embarrassing playoff run, Sixers fans immediately called for Simmons to be traded this offseason.
Simmons' offensive woes are clearly mental just as much as they are physical, and Green recently shed a light on what might've been causing them.
Danny Green says Simmons has been dealing with family issues off the court
As 76ers fans continue to drum up possible trade scenarios for Simmons this summer, Green spoke about his teammate on his "Inside the Green Room" podcast. Apparently, the point guard has been dealing with some off-the-court issues all season that might be contributing to his mental game.
"I saw a kid that had been going through a lot the whole year — mentally, emotionally, inside, outside, off the court with his family, things back home," Green said. "And he doesn't necessarily discuss it with us in private, but I knew he was going through a lot. He had some things going on during the season."
Aside from his personal life, Green thinks Simmons needs an extra push from outside sources to get where he needs to be as a basketball player.
"You can tell Ben's the type of kid if he's not encouraged, and he's not pushed or forced to do it, he's not the type to take that risk," he continued. "Obviously, he's a high IQ guy. You can tell. He gets a lot of assists and pushing the pace and he gets paid to do what he does, because he's so good at it. But he doesn't step outside that box because he knows well enough 'I'm good at this. I don't need to step out. It's not like I'm encouraged to do this, or I'm kind of afraid to do this.'"
How do the Sixers fix Simmons?
There's no denying Simmons is a special talent on the basketball court. He's an abnormally smart player and sees the floor better than anyone in the NBA his size. He rebounds extremely well for a "guard" and can push the pace in transition to find teammates for easy looks.
But all that might mean nothing if Simmons can't improve his scoring.
"He still worked hard," Green said. "He still tried to give us his best chance for us to win by doing what he does with screening, rolling, rebounding, defending; and he did to the highest capability could. Just offensively he wasn't the Ben Simmons we needed him to be at the time."
Spot on.
Simmons can still be an asset for the Sixers if he solves his off-the-court issues and works harder to improve his jump shot. But if he can't do that, Philly might just have to send him packing.