Darrell Waltrip Regrets Retiring From the FOX Broadcast Booth, Still Calls NASCAR Races From His Couch
For 19 years, Darrell Waltrip got NASCAR fans excited for every Sunday's race with his signature call — "boogity, boogity, boogity — let's go racing, boys!" Waltrip hung up his microphone and retired from FOX Sports' broadcast booth in 2019, but the 74-year-old still finds himself subconsciously calling races from his couch because he misses it so much.
Darrell Waltrip's iconic broadcasting career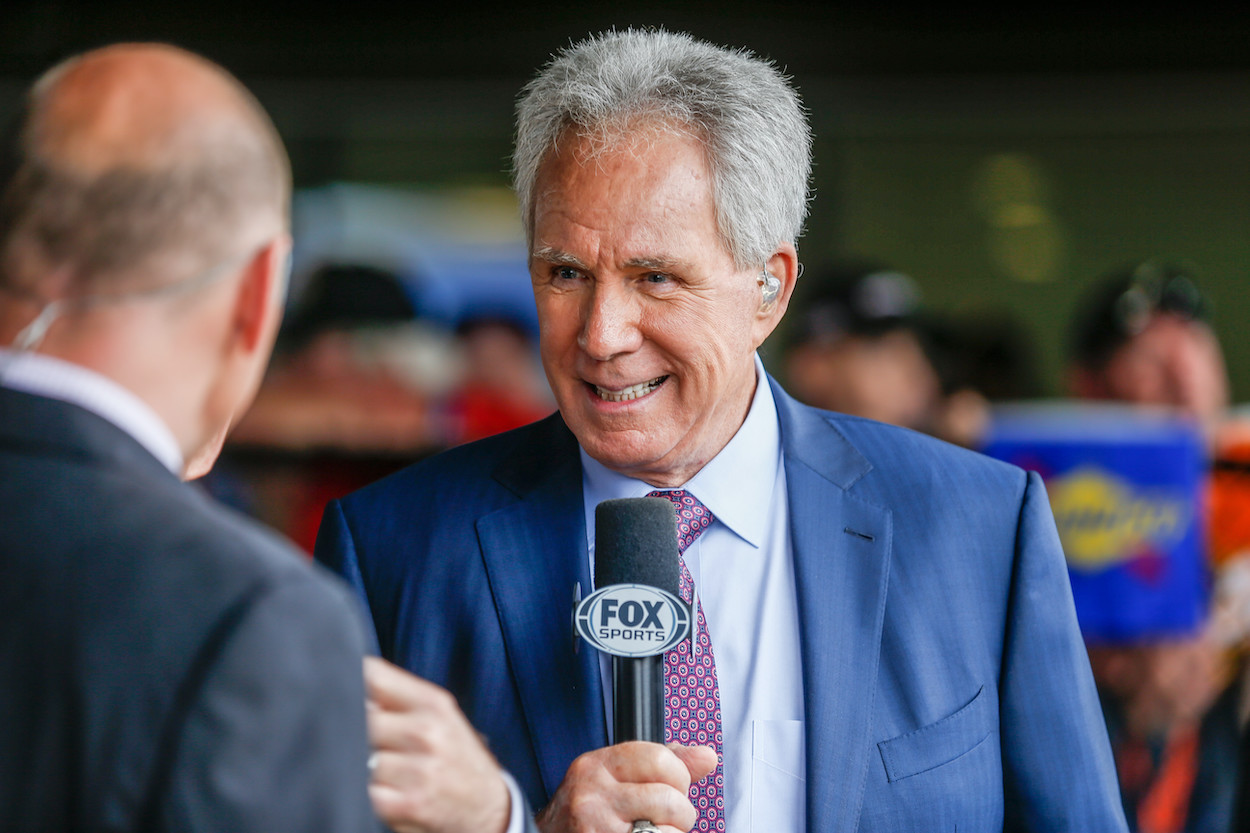 Darrell Waltrip had a legendary career in the NASCAR Cup Series that spanned 29 years. He won 84 races and won three Cup Series championships as a driver, and he had an equally successful second career as a motorsports broadcaster.
Waltrip joined the broadcast booth for FOX Sports in 2001, a year after he retired from NASCAR. He spent 15 years calling races with Mike Joy and Larry McReynolds before Jeff Gordon replaced McReynolds in 2016.
Waltrip was one of the most famous voices in NASCAR for 19 years. He retired in 2019 to spend more time with his children and grandchildren.
"To have had the job I've had for the last 19 years is pretty incredible," Waltrip said after he retired. "I thought when I got out of the car and walked off the track at Atlanta that day that it was over. That was my platform; I was a race car driver. Where do I go from here? And David Hill hired me to come to work for Fox Sports and that was the best thing that ever happened to me. It gave me the opportunity to take what I had accomplished in racing and apply it somewhere else."
Waltrip regrets retiring from the FOX booth
Waltrip has only been retired from broadcasting for about two years, but he's already missing his time in the booth. The racing legend recently spoke to NASCAR.com about his life away from the track, and although he isn't a fan of retired life, he's found a silver lining.
"I can't say that I've enjoyed being retired," Waltrip said. "But by the same token, when I look back and COVID-19 hit and the way they had to do TV last year — they did all the races from a studio in Charlotte — I probably wouldn't have enjoyed that because I'm a see it, feel it, touch it, hear it, smell it kind of guy. I like to be at the track.
"So I guess the good Lord was looking out for me and the timing was probably better than I thought. I did go to a couple of races last year. I went to the Daytona 500 with President Trump and that was a fun day. And the only other race I went to was the All-Star Race in Bristol and I went with Governor (Bill) Lee, our governor of Tennessee. Other than that, I haven't been to any tracks or any races, I watch them all on TV."
Waltrip still calls races from home
Even though Waltrip hasn't graced the FOX Sports airwaves for the past two years, he hasn't stopped playing broadcaster. He told NASCAR.com that he subconsciously calls races while watching NASCAR races from his house, and he's always quick to point out his former colleagues' mistakes.
"I do it all the time," Waltrip said. "I'm constantly saying, 'Tell 'em this, tell 'em that.' Why? I'm a race fan at heart and if there's a flat tire or a wreck, I'll say, 'Why do you want to sugarcoat it? Tell it like it is. Guy had a flat tire, he spun out. Guy ran into him, spun the other guy. Look at his nose, look at his rear quarter panel.' I'm real guilty about that.
"I'm opinionated, always have been. I guess in a lot of ways, I'm a perfectionist. And so when you're a perfectionist, you're a miserable person all the time because nobody does it the way you would do it, or nobody says what you would say. But I guess that's part of being a fan. I know so much. I was in the booth for almost 20 years and drove for 30 years before that and I've been around racing my whole life. And so I see things and I know things."