Daytona 500: The Fastest Speed Record Denny Hamlin and Jeff Gordon Can't Touch
Buddy Baker's crew chief called the NASCAR driver one of the best he worked with. That Baker's record Daytona 500 speed record still stands proves it.
In the world of North American motorsports, two races stand apart from the rest: The Indianapolis 500 in the IndyCar Series and NASCAR's Daytona 500. Most sports finish the season with a blockbuster event, but the season-opening Great American Race is the crown jewel for NASCAR.
Current star drivers such as the feud-loving Denny Hamlin, Kevin Harvick, and Joey Logano have Daytona 500 victories on their resumes. So do recent all-time greats such as Jeff Gordon, Jimmie Johnson, and Dale Earnhardt Jr. Yet none of them came close to setting the record for fastest speed at Daytona International Speedway.
Buddy Baker's Gray Ghost still has the Daytona 500 speed record
Buddy Baker's racing resume may not appear to be anything special, at least when compared to his contemporaries — his number of Cup victories couldn't touch Richard Petty, Cale Yarbrough, and Bobby Allison. But he managed 19 career wins, 202 top-5 finishes, and five seasons with multiple wins, according to Racing Reference.
Baker's defining moment as a driver was the 1980 Daytona 500. Racing in the No. 28 NAPA/Regal Ride Shocks Oldsmobile nicknamed the Gray Ghost, Baker paced a 42-car field for 143 of the 200 laps to take the checkered flag. He finished ahead of NASCAR legends such as three-time Daytona 500 champ Bobby Allison, Neil Bonnet, and Dale Earnhardt Sr.
And Baker still holds the record for fastest Daytona 500 speed with an average of 177.602 mph. Bill Elliott is the only driver to come close to Baker's record. Elliott won the 1987 race with an average speed of 176.263 mph two years after taking the title at 172.265 mph. 
Baker didn't stop there, though.
Baker was back at it later that season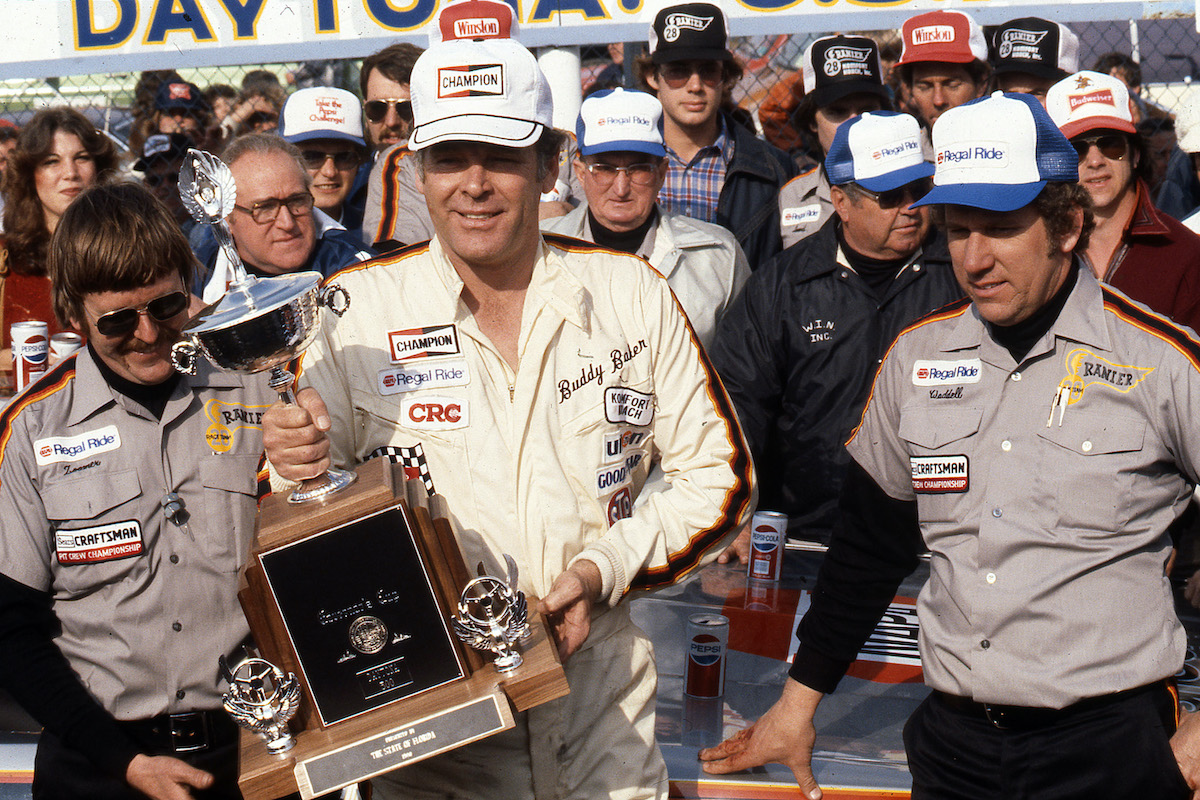 However, Baker and the Gray Ghost weren't done speeding through the NASCAR field. At the Winston 500 at Talladega Superspeedway in May 1980, Baker took the checkered flag with an average speed of 170.481 mph, which was the third-fastest average winning speed that season, per Racing Reference.
Speedway racing suited Baker perfectly. While perhaps not the most polished or technically skilled driver in NASCAR history, he had a knack for navigating crowded tracks at high speeds.
"[H]e wasn't the best at finessing a race car, but … you take him to Daytona or Talladega, where you could go flat-footed, you couldn't ask for a better driver," Waddell Wilson, Baker's crew chief and builder of the Gray Ghost, told Richard Jensen of the NASCAR Hall of Fame. "He was as good as I ever worked with."
The "flat-footed" Baker might have the same massive name recognition as NASCAR legends, but his record stands ahead of several all-timers.
NASCAR legends like Jimmie Johnson and Jeff Gordon never came close
Baker's speed record at the Daytona 500 has stood for more than 40 years, and even modern-day legends haven't come close to besting it.
Though Jeff Gordon doesn't care for the Daytona 500 winner's trophy, he won three Daytona 500s during his storied career. Yet even with newer technology and better data available, his best speed was 161.551 mph.
Unless Jimmie Johnson decides to return to NASCAR, the two-time winner of the Great American Race will have to settle for a 159.250 mph top speed. Logano approached 162 mph in his Daytona 500 win, but Harvick, Hamlin, and Earnhardt Jr. never cracked 160.
Hamlin's fastest average speed in his victories was 157.549 mph in 2016. Harvick recorded 149.333 mph in 2007, and Earnhardt Jr. 156.345 mph in 2004.
Dale Earnhardt Jr. helps the Gray Ghost ride again
The Gray Ghost rode again in 2016 thanks to Dale Earnhardt Jr. — sort of. 
It was a Chevy instead of an Oldsmobile, but Earnhardt's No. 88 received a Gray Ghost-inspired black and silver paint scheme for the 2016 Southern 500. The results weren't quite reminiscent of the original Gray Ghost.
Driving in place of Earnhardt Jr., who sat out the race following a concussion, according to SB Nation, Jeff Gordon never led a lap, and the No. 88 had to settle for a 14th-place finish.
All mph figures courtesy of Racing Reference.