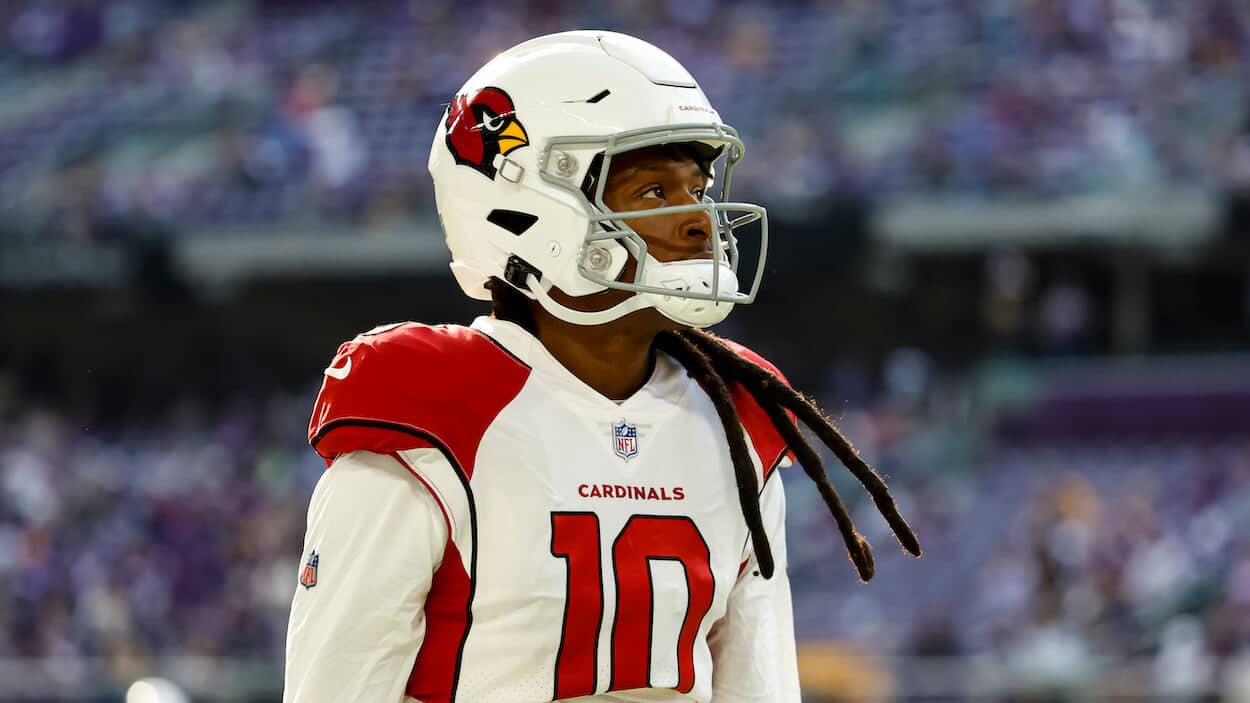 DeAndre Hopkins Trade: Bills Get Great News in WR Pursuit
A DeAndre Hopkins trade between the Bills and Cardinals might not cost Buffalo as much as originally thought in draft capital.
With every 2023 NFL offseason day that passes, a DeAndre Hopkins trade seems more and more likely. The wide receiver isn't happy with the Arizona Cardinals, and the team would like to get his $30.7 million cap hit off the books. The Buffalo Bills desperately need another high-end wide receiver, and Hopkins would be an excellent fit. And with the 2023 NFL Draft rapidly approaching, the Bills got some good news (via insider reports) about the trade compensation they will have to give up to bring Hopkins to Western New York.
The Bills desperately need another top wide receiver
The Cincinnati Bengals outplayed, outcoached, and out-talented the Bills on their home field in the Divisional Round of the playoffs last season.
Buffalo had an anemic pass rush in the snow — even with a severely banged-up Bengals line — the secondary was subpar, and the running game could only manage 64 yards.
It was the Bills' vaunted passing game that disappointed the most, though.   
Despite trailing buzzer to buzzer and losing by 17, the Bills' passing game only managed 264 yards. Stefon Diggs was Josh Allen's only reliable target, and the Bengals defense knew it. The Bengals defensive backs blanketed Diggs, who grew so frustrated that he infamously blew up in Allen's face on the sidelines as the clock ticked down on their season.
 As that game ended, Bills general manager Brandon Beane had to realize several things. First, Gabriel Davis is a WR4 at best. He's one-dimensional and had below-average hands. Like all excellent No. 4 wideouts, he's capable of a huge game (10 catches, 201 yards, and four touchdowns in the 2021 AFC Championship), but those will be few and far between.
Second, he's not great at drafting lately. Beane and company hit home runs in their first two drafts (2017, 2018) but haven't drafted a Pro Bowl player since. And outside of Allen, most of the best players on the roster heading into 2023 (Diggs, Von Miller, Jordan Poyer, Micah Hyde) came in via trade or free agency.  
This means making a trade is the best bet for solving the Bills' WR woes. Luckily, a DeAndre Hopkins trade may not cost as much as initially thought.
The Bills may not have to give up all that much in a DeAndre Hopkins trade
When the Bills traded for Stefon Diggs, they gave up a first-round pick (No. 22) in the 2020 NFL Draft. The trade worked out great for Buffalo, but that No. 22 pick became Minnesota Vikings All-Pro wideout Justin Jefferson.
The Bills would likely make that trade again, but that is the danger when you give up a first-round pick in a trade.
If the Cardinals demanded a first-round pick in a DeAndre Hopkins trade, the Bills should consider it. However, it doesn't seem like it will take that much.  
According to ESPN NFL insider Jeremy Fowler on SportsCenter, the Cardinals are now looking for a "Christian McCaffrey package" for Hopkins. At last season's trade deadline, McCaffrey moved from the Carolina Panthers to the San Francisco 49ers for 2023 second-, third-, and fourth-round picks and a 2024 fifth-round pick.
However, there are also multiple reports that the market won't support that, and a few later-round picks are all the Cardinals may get due to Hopkin's age (30) and cap hit ($19.45 million for trading team) and future contract demands.
If the Bills can make a DeAndre Hopkins trade while keeping their first-round pick and spreading any later picks over two seasons, that would be great for them. Also, the Bills have unhappy defensive tackle Ed Oliver, who wants out, so adding him could lessen the draft compensation even more.
If this is indeed the price for Hopkins right now, the Bills need to pull the trigger on a deal ASAP.
NFL trades in 2023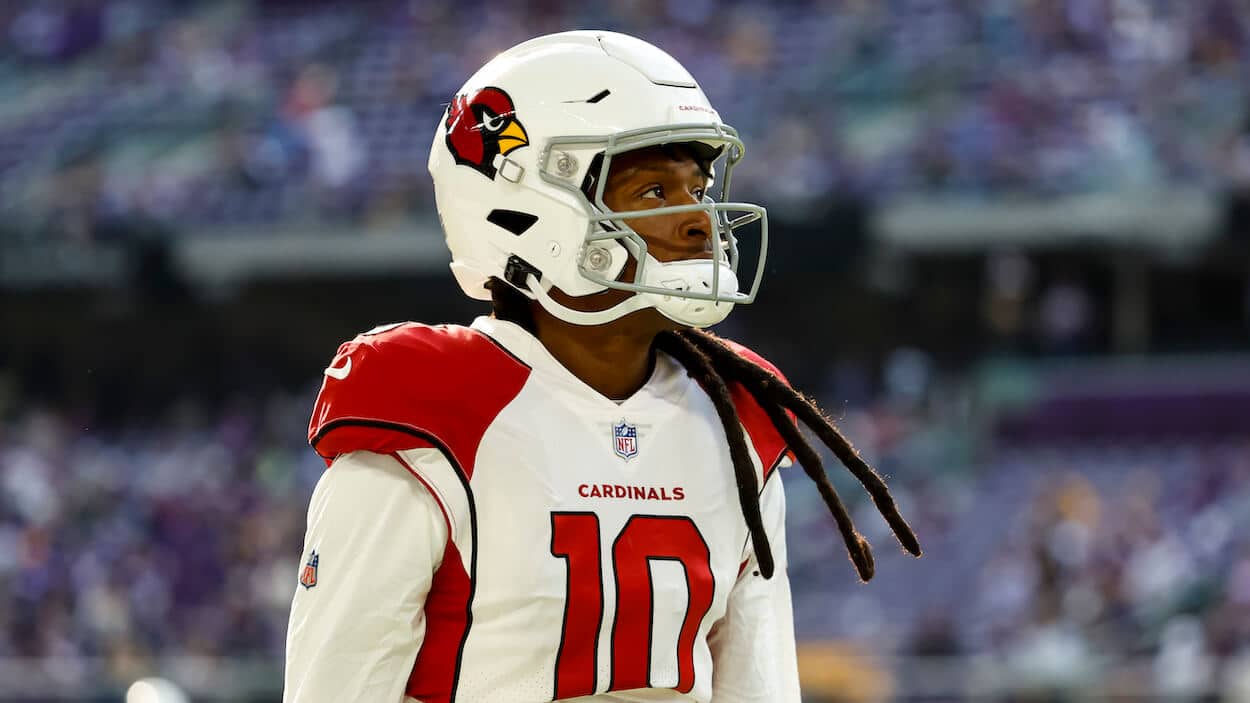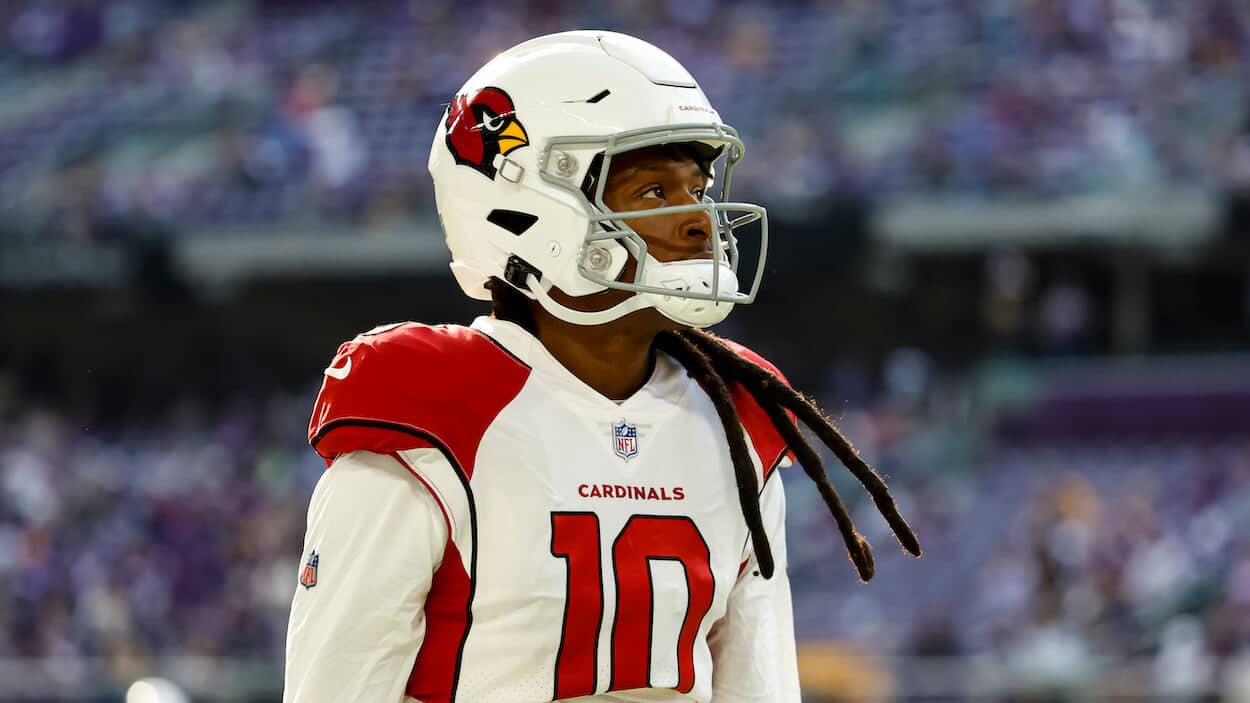 If a DeAndre Hopkins trade between the Bills and Cardinals does happen, it will slot in as the second-biggest trade in the 2023 NFL offseason.
So far, the biggest deal has been the Bears trading the No. 1 overall pick to the Carolina Panthers for WR D.J. Moore and a slew of picks. That deal looked like this:
Panthers get: 2023 No. 1 pick
Bears get: 2023 first-round (No. 9) and second-round (No. 61) picks, 2024 first-round pick, 2025 second-round pick
After that, the trade market has been relatively quiet outside of three deals for well-known pass-catchers. Interestingly, these deals didn't bring back as much as you'd think for the players. These deals are the Darren Waller trade between the Las Vegas Raiders and New York Giants:
Giants get: TE Darren Waller
Raiders get: 2023 third-round pick (No. 100)
The Brandin Cooks trade between the Houston Texans and Dallas Cowboys:
Cowboys get: WR Brandin Cooks
Texans get: 2023 fifth-round pick (No. 161), 2024 sixth-round pick
And the Elijah Moore trade between the New York Jets and Cleveland Browns:
Browns get: WR Elijah Moore, 2023 third-round pick (No. 74)
Jets get: 2023 second-round pick (No. 42)
The only other notable trades are cornerbacks Jalen Ramsey going from the Los Angeles Rams to the Miami Dolphins for a third-round pick and TE Hunter Long and Stephon Gilmore going from the Indianapolis Colts to the Cowboys for a fifth-rounder.