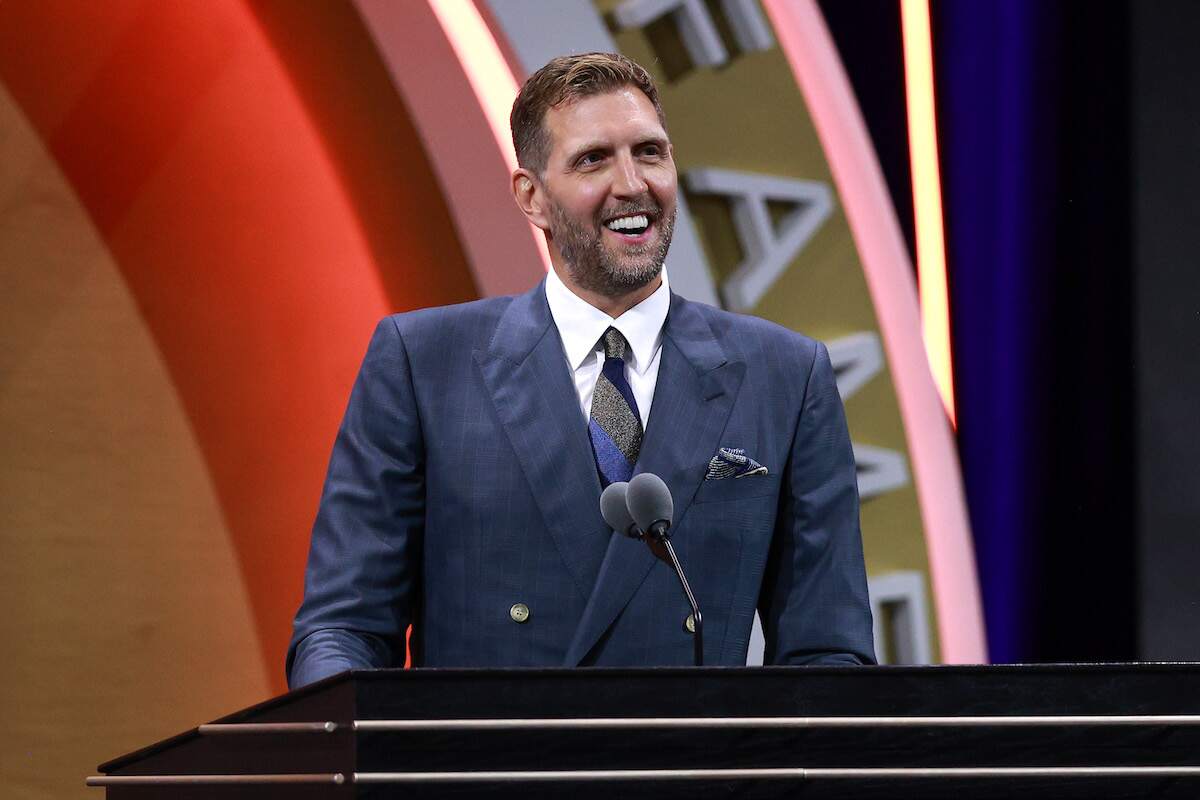 The 7 Defining Moments of Dirk Nowitzki's Hall of Fame NBA Career
These are the top seven moments from a Hall of Fame career brimming over with highlights.
Dirk Nowitzki is one of the greatest basketball players of all time and among the leading international talents the sport has ever seen. He spent his entire 21-year career with the Dallas Mavericks and earned a 2023 induction into the Hall of Fame as a well-earned testament to his greatness on the basketball court.
Here's a look at the seven moments that defined Nowitzki's NBA career.
Dirk Nowitzki's induction into the Naismith Memorial Basketball Hall of Fame
Ever since Dirk Nowitzki retired in 2019, fans expected that he'd be inducted into the Hall of Fame as soon as he was eligible. The rules state that a player must be retired for three years before they can receive that ultimate honor, and Dirk was indeed inducted on the first ballot.
Nowitzki entered the Hall of Fame on Aug. 12, 2023. He was joined by other basketball legends, including Dwyane Wade, Tony Parker, Pau Gasol, and Becky Hammon.
1. Nowitzki is part of the 50/40/90 club
Across his 21-year career as a Maverick, Nowitzki achieved many things. One of the more unique accomplishments was joining the 50/40/90 club.
The 50/40/90 club is reserved for players who shot at least 50% on their field-goal attempts, 40% on three-point attempts, and 90% on free-throw attempts during a season in which they had enough volume to qualify for all three categories.
As of the conclusion of the 2022-23 NBA season, just nine players have ever joined the exclusive fraternity: Larry Bird (twice), Malcolm Brogdon, Stephen Curry, Kevin Durant (twice), Kyrie Irving, Reggie Miller, Steve Nash (four times), Nowitzki, and Mark Price. Only Bird, Price, Miller, and Nash had submitted qualified seasons before Nowitzki's 2006-07 efforts.
The German big man gained entry into the club by slashing 50.2/41.6/90.4 during a year in which he averaged 24.6 points per game.
2. Dirk Nowitzki passes Wilt Chamberlain on the all-time career scoring list
Dirk Nowitzki has always been a scorer. He had three-point range that belied his size (7-foot-0, 245 pounds) and tormented defenders with his patented one-legged fadeaway.
On March 18, 2019, he capped off his career by passing Wilt Chamberlain on the all-time scoring list. Nowitzki finished his career with 31,560 points, leaving him sixth overall behind Michael Jordan, Kobe Bryant, Karl Malone, Kareem Abdul-Jabbar, and LeBron James. 
3. Nowitzki scores the game-winning shot against 'The Heatles' 
Many of Dirk Nowitzki's career-defining moments happened during his 2011 NBA Finals run.
One such moment came against LeBron James, Dwyane Wade, Chris Bosh, and the rest of the Heatles-era Miami Heat on the road in Game 2. The Mavericks were down by double digits, but they fought back and emerged victoriously, evening the series at a game apiece, after Nowitzki scored the winning lay-up over Bosh with 3.6 seconds remaining.
The Dallas superstar finished that contest with 24 points, 11 rebounds, and four assists while shooting 10-of-22 from the field.
4. Michael Jordan had a 'Flu Game,' and so did Dirk
Game 4 of the 2011 NBA Finals was Dirk Nowitzki's flu game.
Just like Michael Jordan before him, Nowitzki was sick. The Miami Heat stars even notoriously poked fun at his under-the-weather status.
Playing with a torn tendon in his middle finger and a 101-degree fever, Nowitzki fought his way to 21 points, 11 rebounds, and one assist, including a bucket with 14.9 seconds left that gave Dallas a three-point lead it wouldn't relinquish. His indefatigable efforts made up for his missed attempt in the closing stretch of Game 3 and leveled the series at two games apiece.
5. Dirk Nowitzki becomes a 14-time All-Star
Dirk Nowitzki was an NBA All-Star from 2002-12 and in 2013-14, 2014-15, and 2018-19. He also made the All-NBA squad every year from 2001-12.
Michael Jordan, Karl Malone, and Jerry West matched him with 14 All-Star appearances apiece, but only seven men have ever earned more: Shaquille O'Neal (15), Kevin Garnett (15), Tim Duncan (15), Julius Erving (16, including five ABA selections), Kobe Bryant (18), LeBron James (19), and Kareem Abdul-Jabbar (19).
Though his final nod came in 2018-19 during his age-40 efforts and was more of a lifetime achievement award than a deserved selection — he averaged just 7.3 points and 3.1 rebounds that year — it was still the ultimate testament to his longstanding excellence.
6. Dirk Nowitzki named MVP of the league
In addition to joining the 50/40/90 club in 2006-07, the German frontcourt star was named MVP for the first and only time in his career. He earned 83 of 129 first-place votes to give him a clear victory over Steve Nash, Kobe Bryant, and the rest of the field. In doing so, Nowitzki also became the first European MVP winner in league history, though Nikola Jokic and others have since joined him.
During that '06-07 campaign, Nowitzki averaged 24.6 points, 8.9 rebounds, and 3.4 assists in 78 appearances for the Mavericks. He engineered a brilliant regular season as Dallas went 67-15 before suffering an upset loss to the Golden State Warriors in the first round of the playoffs.
7. Winning the championship as the best player on the Mavs
Ultimately, winning matters.
Dirk Nowitzki leading the Dallas Mavericks to the 2011 title by beating the Miami Heat in six games is his singular career-defining moment.
Going into the series, LeBron James and Co. were heavily favored, and Nowitzki had a reputation for coming up short in the postseason. But shocking the world, the Mavericks won their first NBA championship. Nowitzki also flipped the individual narrative on its head, averaging 26.0 points, 9.7 rebounds, and 2.0 assists en route to being named Finals MVP.