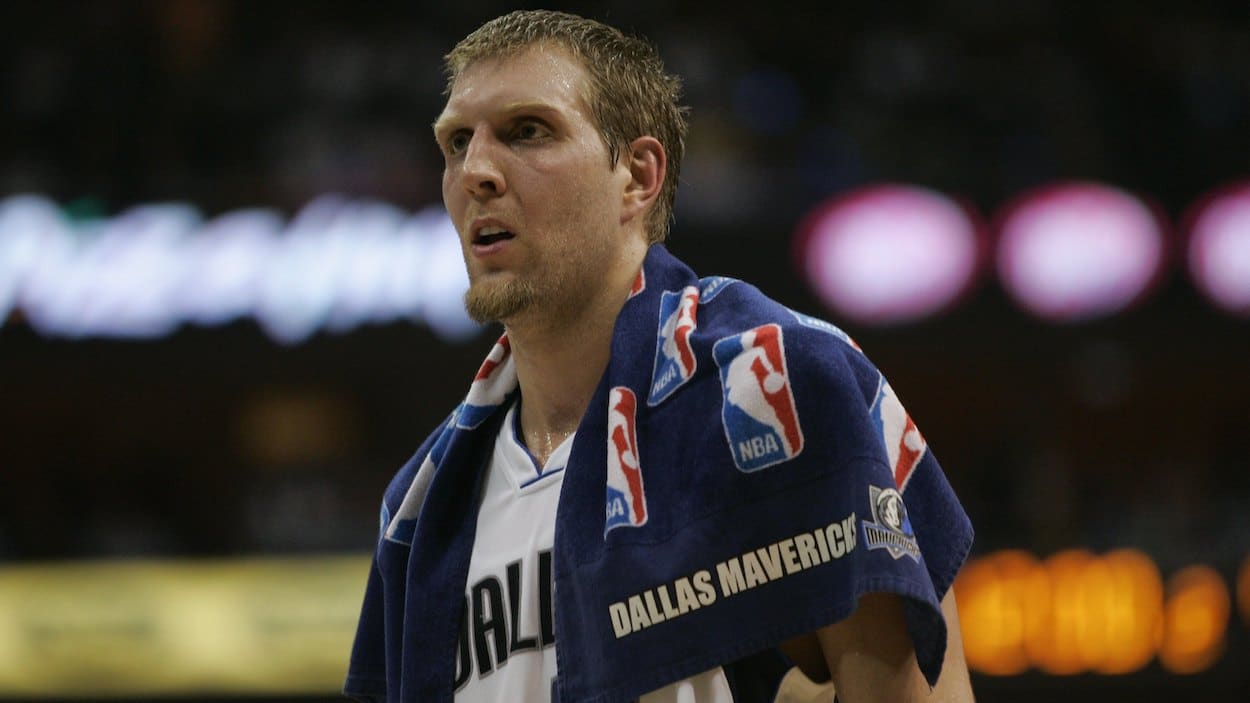 Dirk Nowitzki Tried to Turn Down the NBA MVP Trophy, but the League Wouldn't Let Him
Dallas Mavericks legend Dirk Nowitzki won his only NBA MVP Award in 2007, but after a historic playoff loss he didn't want it.
At the end of the 2006-07 season, Dallas Mavericks legend Dirk Nowitzki took home the NBA MVP Award. However, before the league announced the winner, the 8-seed Golden State Warriors historically upset the 1-seed Mavs. Nowitzki was so distraught after that low point of his career he tried to turn down the NBA MVP Award.
Dirk Nowitzki didn't want the 2007 NBA MVP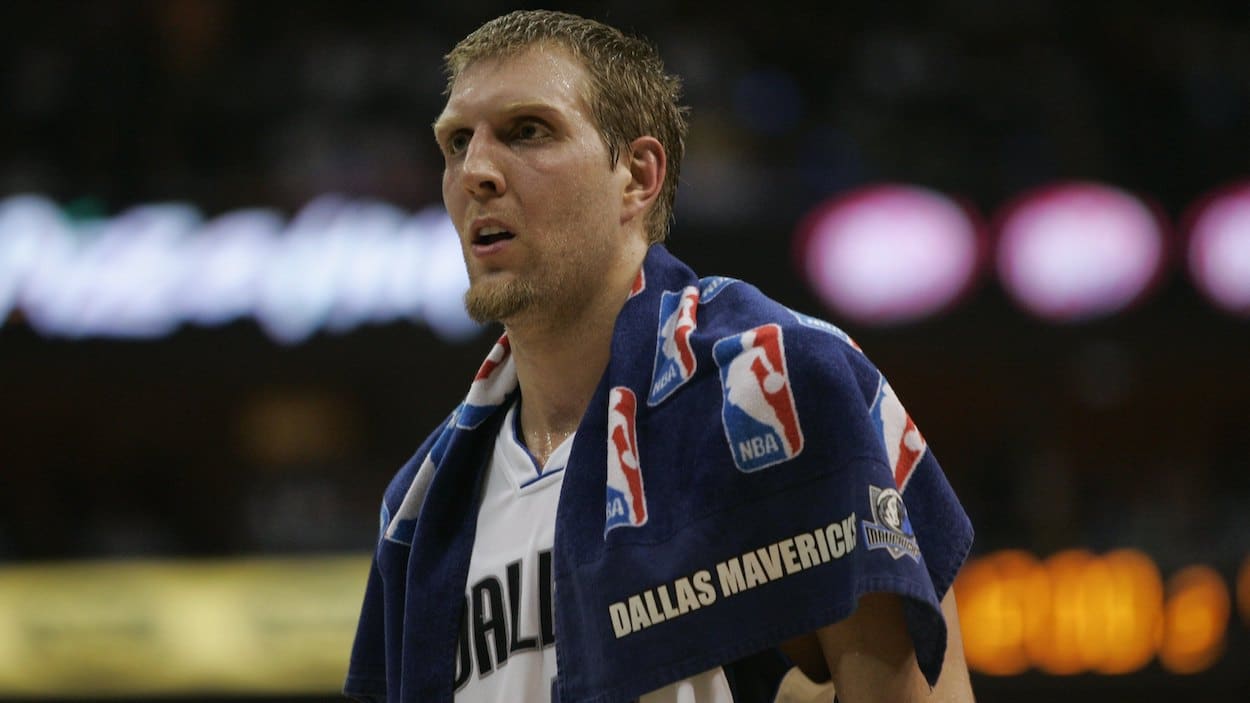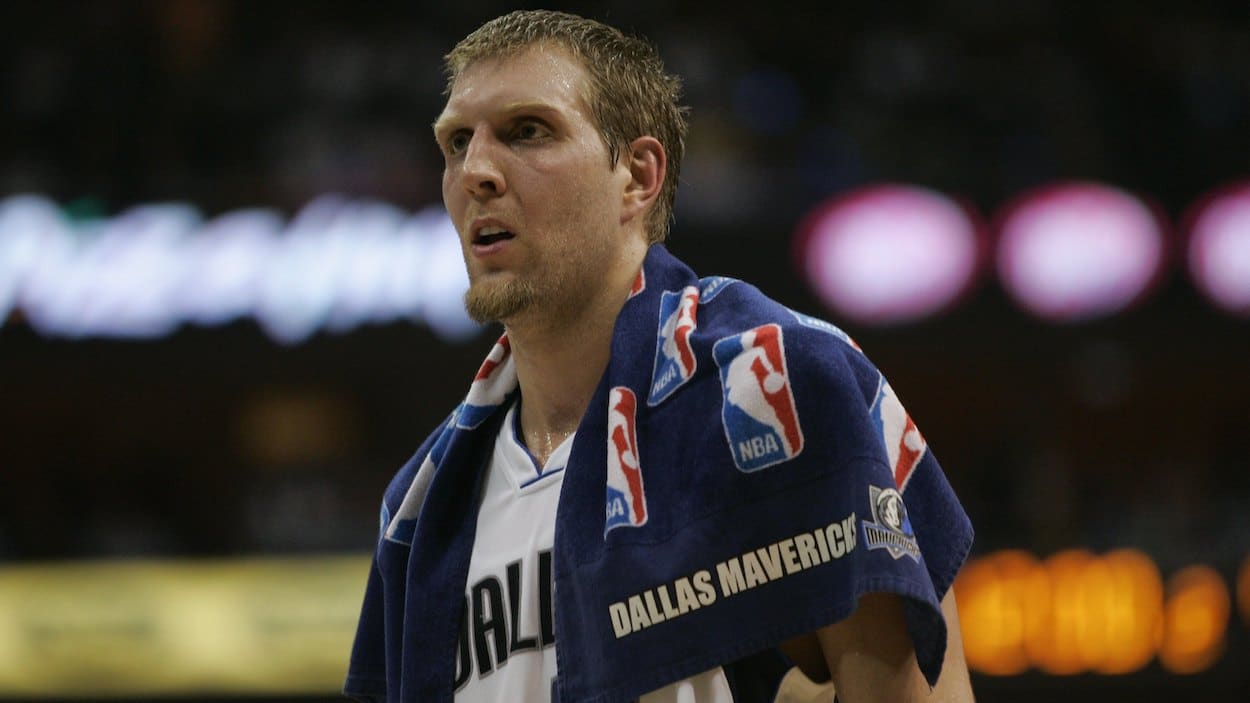 In 2006-07, there was no better player in the NBA than Dirk Nowitzki.
The Mavericks forward averaged 24.6 points, 8.9 rebounds, and 3.4 assists per game and shot 50.2% from the floor. He also led the league in win shares (16.3) and box plus/minus (+8.3). And most importantly, he led the Mavs to a first-place finish in the Western Conference with a 67-15 record.
Nowitzki won the MVP trophy by a significant margin that season. The big German got 83 first-place votes, nearly doubling up his former teammate, Steve Nash, who got 44 votes.
Heading into the 2007 NBA playoffs with a nice head of steam, the Mavericks should have easily dispatched their 8th-place opponent, the Golden State Warriors.
What Nowitzki — nor anyone else expected — is that a ragtag bunch led by Don Nelson that included Baron Davis, Monta Ellis, Jason Richardson, Al Harrington, Stephen Jackson, and Matt Barnes would upset the Mavs to become the now-famous "We Believe" Warriors.
After becoming just the third 1-seed in history to lose in the first round to an 8-seed, all Nowitzki wanted to do was hide. However, the NBA had other plans.
Speaking with Rachel Nichols on Showtime's Headliners, Nowitzki shared that he actually tried to turn down the MVP when he found out he might win it.
"I was embarrassed. I let the city and my team down, and all I wanted to do was go somewhere nobody knew me and go on vacation or something. And then, sure enough, I got the call from the NBA. 'Hey, you cannot leave yet or not quite yet. There is a chance you might get the MVP.' And I remember saying, 'Just give it to someone else.'
"You said you didn't want it?" Nichols asked incredulously.
"Just not this year," Nowitzki confirmed. "I was still so hurt. I was still so embarrassed about it, the situation."
Begging off aside, the NBA MVP Award did go to Nowitzki, and David Stern came to Dallas to present the award and have a press conference with the award-winning player, which Nowitzki calls "Some of the most uncomfortable moments of my career."
As hard as it was for Nowitzki to talk basketball after suffering a historic upset, he dealt with the situation in the right way — as he usually did — which is one of the reasons why he has so many fans around the league to this day.
"I took it like a man and talked about it and addressed it right away, how disappointed I still was," Nowitzki admitted.
Despite his feelings at the moment, Nowitzki now looks back at that honor (his one and only NBA MVP Award) more fondly.
"Now I look back at the MVP trophy — it's amazing. It was a great season with a great team," the forward now says.
Of course, it's now easier for him to feel this way in retirement.
Four years after the MVP debacle, after three more heart-breaking playoff exits, Nowitzki finally got over the hump with the Dallas Mavericks and won an NBA championship, defeating LeBron James, Dwyane Wade, and Chris Bosh's Miami Heat.  
Nowitzki retired almost a decade after that championship following the 2018-19 NBA season. He walked away as, by far, the greatest European player ever to play in the NBA, and in 2023, he will go into the Basketball Hall of Fame.