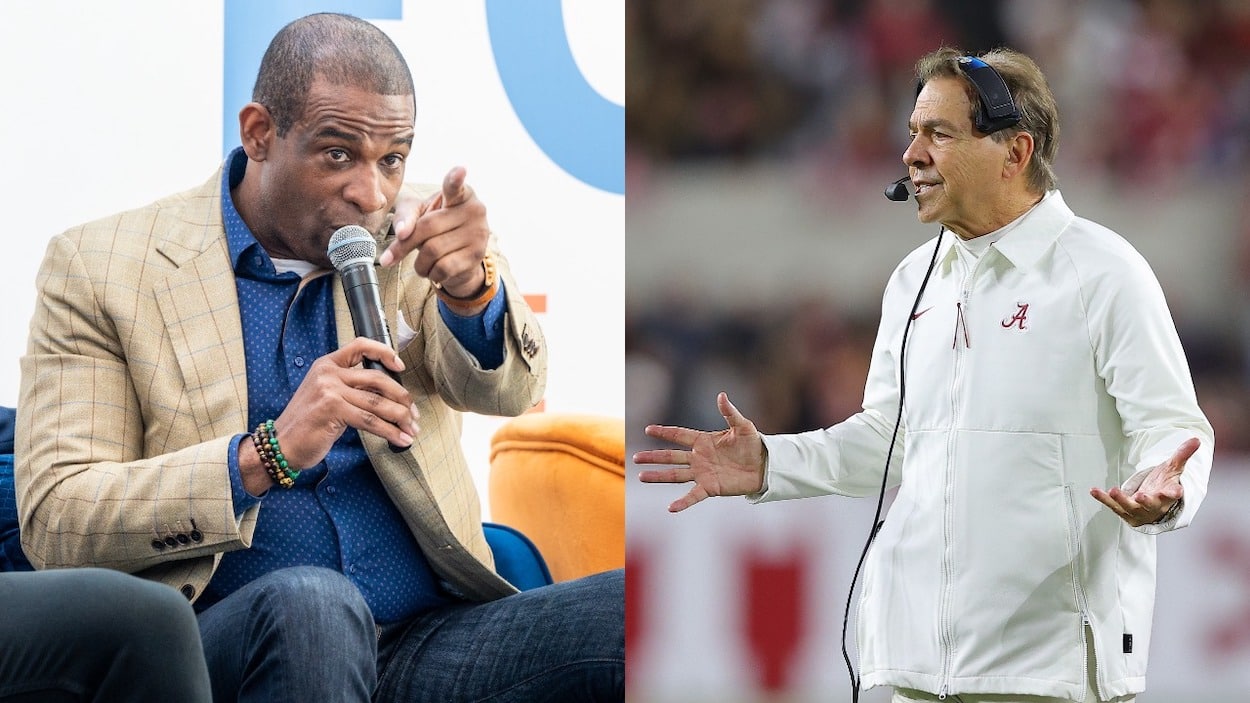 Deion Sanders Accuses Nick Saban of Trying to Get More Money From Alabama Boosters
Nick Saban called out Deion Sanders and Jimbo Fisher for paying recruits, but Sanders thinks he was really talking to his deep-pocketed Alabama donors.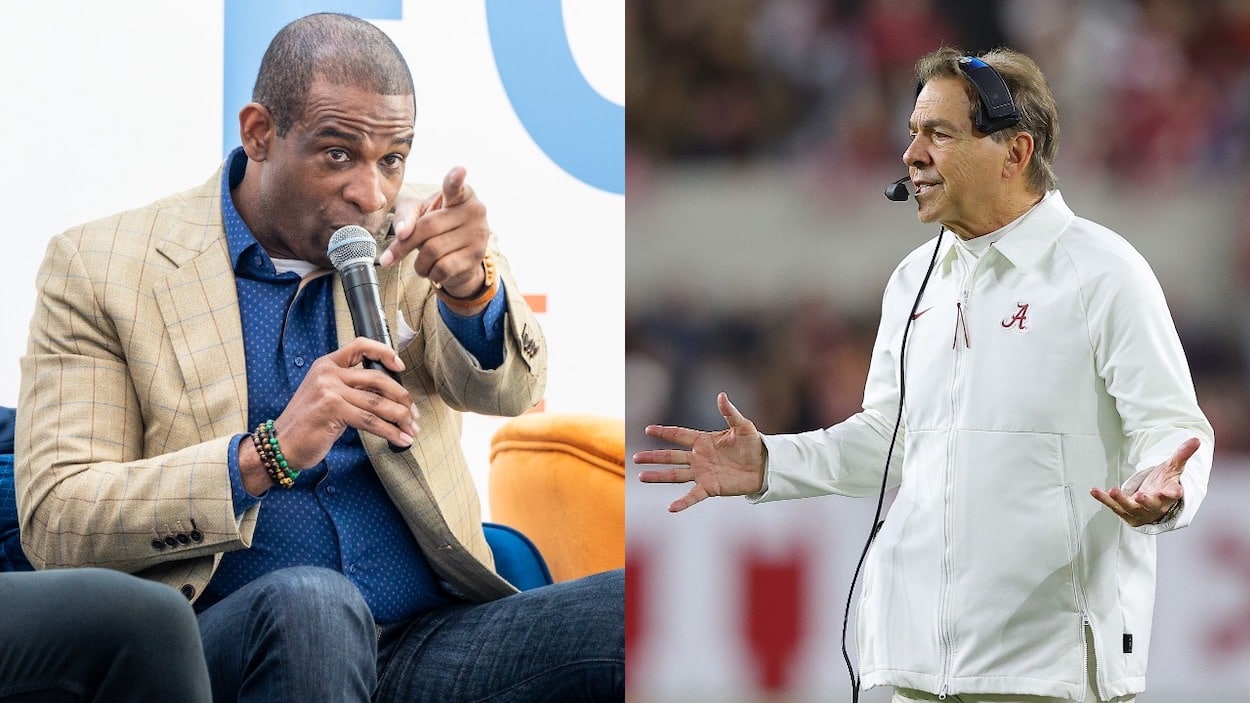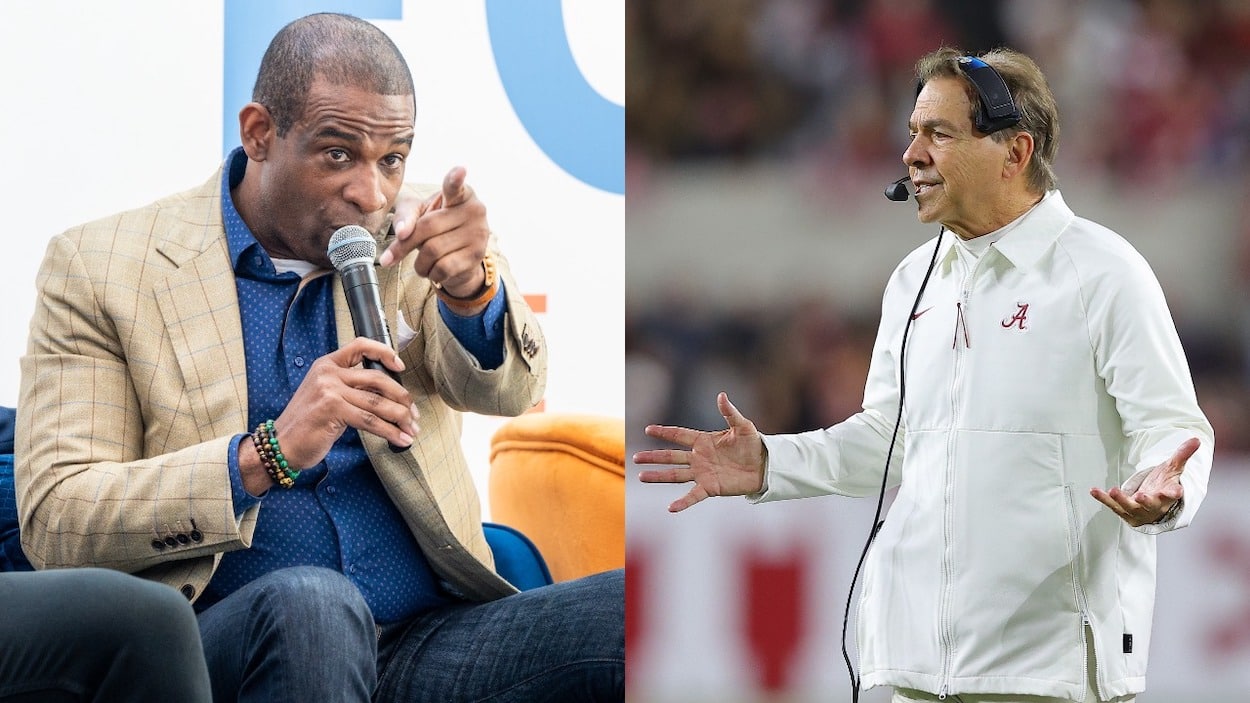 The biggest story in the college football world last week was Alabama Crimson Tide coach Nick Saban calling out Texas A&M's Jimbo Fisher and Jackson State's Deion Sanders for paying recruits. While the comments seemed like straightforward sour grapes from Saban, Sanders believes there was an ulterior motive behind the seven-time national champion's words.
Nick Saban accused Deion Sanders and Jimbo Fisher of paying for players under NIL rules
Sitting on a stage in Birmingham, Alabama, alongside Crimson Tide basketball coach Nate Oats last week, Nick Saban railed against name, image, and likeness rights enticing recruits to go to certain schools.
The head coach, who's dominated the landscape of college football for the better part of the last two decades, didn't just complain out loud. He named names.
Saban told the assembled crowd that his former coordinator, Jimbo Fisher, and Texas A&M "bought every player on their team" to get the nation's No. 1 recruiting class in 2022. He also claimed that Deion Sanders and Jackson State "paid a guy $1 million last year."
The failed NFL coach didn't stop with football either. He specifically accused the Miami Hurricanes of paying recruits $400,000 for their commitments.
Most observers outside of the Cotton State simply chalked this up to an old man being unhappy he was losing his stranglehold on his sport. However, Sanders thinks that Saban had more sinister motives behind his comments and wants to talk about it publically.
Deion Sanders says Nick Saban's comments were directed at his own boosters
After Nick Saban's inflammatory comments, Deion Sanders took to Twitter to call the coach out for his "LIE." After that, the Hall of Fame defensive back sat down with Jean-Jacques Taylor from Andscape.com (formerly ESPN's The Undefeated) to discuss the allegations.
Sanders told Taylor that he, like Jimbo Fisher, hasn't talked to Saban privately yet. In Sanders' case, he shared a specific reason for this.
"I haven't talked to Coach Saban. I'm sure he's tried to call. We need to talk publicly — not privately," Sanders said. "What you said was public. That doesn't require a conversation. Let's talk publicly and let everybody hear the conversation."
Despite not wanting to talk to Saban on the phone, Deion did say he still loves, admires, and respects the uber-successful Saban.
The Super Bowl winner also said that he doesn't even really believe that the comments were directed at him. Sanders thinks Saban's kvetching was a direct appeal for his boosters to cough up more money so that Alabama can "pay" players, too:
Coach Saban wasn't talking to me. Coach Saban wasn't talking to Jimbo Fisher. He was talking to his boosters. He was talking to his alumni. He was talking to his givers. He was trying to get money. That was what he was doing. He was just using us to get to where he was trying to get to.

Deion Sanders on Nick Saban
Sanders could be right, and Saban's comments could have been a clever way to ask his Alabama people for more money without asking for it. What makes that even more intriguing, though, is that both Sanders and Fisher have implied that Saban has paid players in the past.
Both coaches accused of paying players fired back cryptic shots at the Alabama head man
Whether Nick Saban was talking to Jimbo Fisher and Deion Sanders or his own boosters, the comments obviously got under the skin of the Texas A&M and Jackson State coaches.
While Fisher fired back with all guns blazing and Sanders took a more measured approach, there was one thing the coaches' responses had in common. They both took cryptic shots at Saban and implied he'd paid players in the past.
"I don't even wear a watch, and I know what time it is. They forget I know who's been bringing the bag and dropping it off," Sanders told Andscape.com. "I know this stuff. I'm not the one you want to play with when it comes to all of this stuff."
Similarly, Fisher said in his response to Saban, "Go talk to all the coaches who've coached for him. You'll find all the 'parity.' Go dig into wherever he's been. You can find out anything."
Fisher didn't stop there either. He also said, "Some people think they're God. Go dig into how God did his deal. You may find out about a guy — a lot of things you don't want to know."
Those comments from "Coach Prime" and Fisher seem to suggest that they both have direct knowledge of Saban (or at least the Alabama program) breaking (or at least bending) NCAA rules in the past.
Investigative reporters now have their marching orders, and there are surely at least a few who are doggedly pursuing these vailed accusations now. That means this story is far from over.
Like Sportscasting on Facebook. Follow us on Twitter @sportscasting19 and subscribe to our YouTube channel.