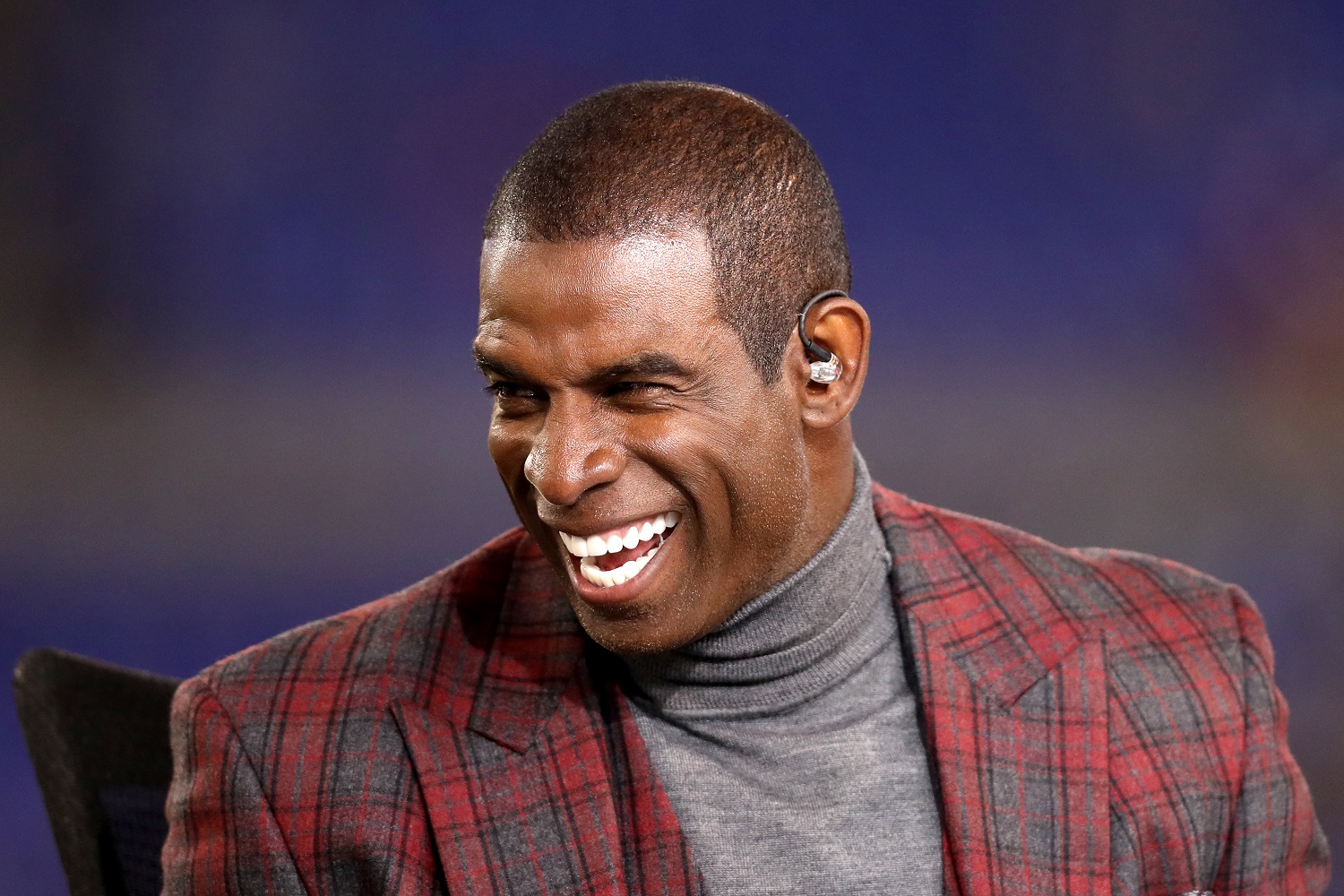 Deion Sanders' HOF Bust Looks Like 'a White Dude From Upstate New York'
Deion Sanders, who was inducted into the Pro Football Hall of Fame in 2011, has issues with his bust.
You had to see Deion Sanders play to believe what the man could do. Nicknamed "Prime Time" and "Neon Deion," Sanders was flashy and, at times, sensational as both a football and baseball player, and he scored a first by playing in a Super Bowl and a World Series.
If you did see him play football, he'd be hard to forget. And if you saw his bust in the Pro Football Hall of Fame, he'd apparently be hard to recognize.
Deion Sanders' professional career began in baseball
Deion Sanders' summer job while in college was more interesting than most. While a student at Florida State, Sanders also played professional baseball in the New York Yankees organization. He played primarily in the rookie league in 1988, but he made it all the way up the chain to the majors the following season, appearing in 14 games and homering twice for the Yankees.
Reporting to the Atlanta Falcons that fall to begin his NFL career should have been the end of Sanders' time on the diamond. Instead, he remained a two-sporter for more than half his career. After leaving the Yankees, he played for the Atlanta Braves, Cincinnati Reds, and San Francisco Giants.
His MLB career totaled 641 games with a .263 batting average, 39 home runs, and 186 stolen bases. He only played 97 games for the Braves in 1992 but still led the National League with 14 triples.
The NFL was where he really excelled
Deion Sanders played 14 NFL seasons as a defensive back and kick-return specialist after being selected No. 5 overall by the Atlanta Falcons in 1989. His career also took Sanders to the San Francisco 49ers, Dallas Cowboys, Washington Redskins, and Baltimore Ravens.
Sanders intercepted 30 passes in his first six seasons and 53 overall. He turned nine of them into pick-sixes to go along with six punt returns and three kickoff returns for scores.  He was also used from time to time at wide receiver, where he made 60 catches.
By the time he was done, Sanders was selected first-team All-Pro six times from 1992-98 and earned eight Pro Bowl invitations. He also played on Super Bowl-winning teams for the 49ers and Cowboys and earned the 1994 NFL Defensive Player of the Year Award as a 49er.
His biggest honor came in 2011 with his induction into the Pro Football Hall of Fame in Canton, Ohio.
Deion Sanders' Hall of Fame Bust doesn't look right
The Pro Football Hall of Fame induction ceremony is a one-day event, but enshrinement is forever. Players are immortalized with busts that are supposed to capture the players' appearance.
Taking part in Barstool Sports' Pardon My Take podcast, Sanders was asked his  feelings regarding the fact that his bust bears scant resemblance to him. Sanders initially had only one objection. (H/T Syracuse.com)
"Only thing I'm angry about is why would they take the bandana off?" he asked. "It don't make no sense. Like, you told me you wanted it to be me? That was me."
As the podcast hosts dug deeper into the subject, Sanders relented and admitted something else is askew with the sculptor's take on his appearance.
"It looked like a white dude from Upstate New York. Like his name was Bruce or Harold. It looked like his name was Harold. That's really what it looked like. It don't look like a 'Prime.' It was Harold."

Deion Sanders
All stats courtesy of Pro Football Reference and Baseball Reference