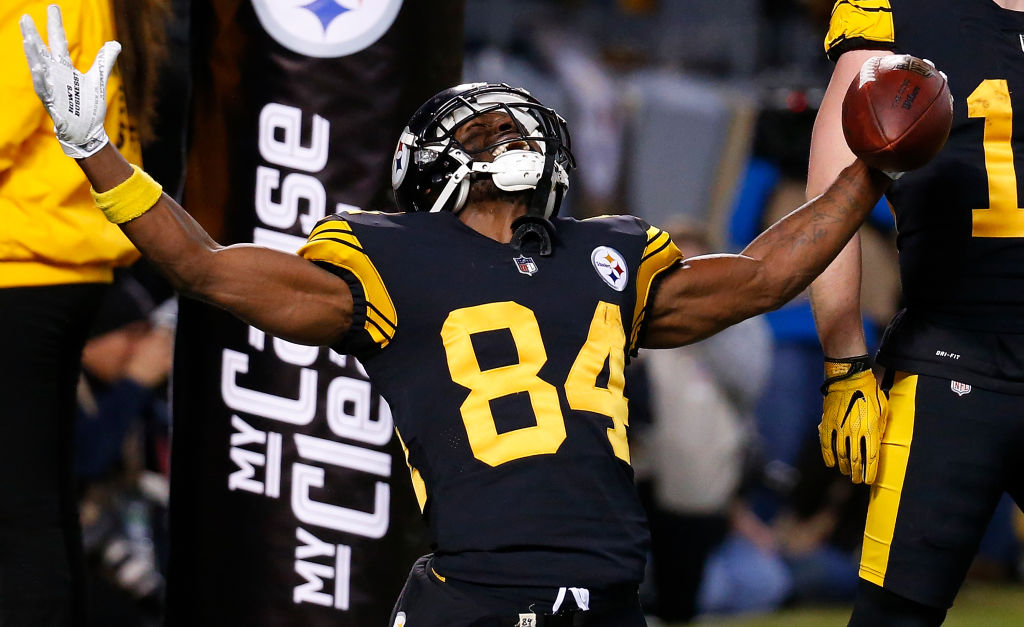 Deion Sanders Thinks Antonio Brown Will Return to NFL Better Than Before
Deion Sanders had a brash style and often rubbed players the wrong way. Today, Sanders is mentoring Antonio Brown and is seeing positive results.
Antonio Brown has proven he's one of the best players in the NFL when he takes the field on Sundays. In recent years, however, Brown has made headlines for all the wrong reasons for numerous off-field incidents. Hall of Famer Deion Sanders knows Brown and said that's going to change in 2020.
Antonio Brown's troubled last few years
From 2010-2018, the first nine seasons of Antonio Brown's career with the Pittsburgh Steelers, he produced highlight after highlight. All those highlights added up to league-leading numbers in multiple categories, including most total receptions, most total receiving yards, most yards per game average, and most total receiving touchdowns.
In February 2019, it all came crashing down. After a falling out with quarterback Ben Roethlisberger, Brown wanted out. A month later the Steelers traded him to Oakland, and it's pretty much been downhill from there.
After multiple issues in Oakland, the Raiders released Brown before he played a single down. He signed with the New England Patriots and played a single game before allegations of sexual assault and rape became public. The Patriots released Brown.
Since his September release, Brown landed in jail for burglary and battery following an incident at his Florida home with a moving company. In late January, the wide receiver was taken off house arrest and unshackled from a GPS ankle monitor. Upon his exit from the courthouse, Brown showed contrition and acknowledged he had put himself in that spot. Brown sounded accountable. Could he possibly be on the right track?
Deion Sanders mentors Antonio Brown
According to Deion Sanders, Brown is on the road to recovery and redemption. In a recent post on Instagram, Sanders shared a Facetime screenshot and personal comments he had on the wide receiver and his future.
"Had to check on my Prodigal Son AB today! When I tell u I'm proud of him I do mean I'm proud of him. He's working on himself, his family and his game 1 day at a time just like you and I. #Truth. The REDEMPTION story is gonna be so darn good because it's gonna be REAL!"
Brown isn't the first wide receiver Sanders has offered guidance. In the past, Sanders has mentored Michael Crabtree, Dez Bryant, and others. All these players have been criticized for their attitudes and subsequent conduct detrimental to the team.
Sanders' compassion is a result of the former superstar defensive back seeing a little bit of himself in players like Brown. There was a time when Sanders could have used a little guidance of his own. 
Sanders and his past troubles
In his prime, Sanders was an elite athlete like Brown. He became a diva. That brash style, while helpful in gaining an edge on the opponent, often rubs teammates the wrong way. 
While Sanders was earning All-Pro honors and helping the Dallas Cowboys win the Super Bowl in the 1995 season, he encountered his share of problems with teammates. In the book, Boys Will Be Boys, Jeff Pearlman quoted former Cowboy players and the effect Sanders had on the locker room.

"When Deion came in, something changed for the worst. Guys who should have been studying football on a Wednesday were focused on other things."

Former Dallas Cowboys defensive back Kevin Smith
"You led by example, and Deion's example wasn't very good," offensive lineman Dale Hellestrae echoed.
Years later, with hindsight as his guide, Sanders appears to be reflecting on his playing days and disruptive behavior and trying to help other athletes avoid making the same mistakes. 
Whether or not you liked Prime Time's style in the past or who he is today, you have to give him credit for trying to steer guys down the right path. Hopefully, Sanders's guidance and encouragement will get Brown on the right track, and the four-time All-Pro can return to the game and make headlines for his top-level talent and the impressive things he can do on the field.