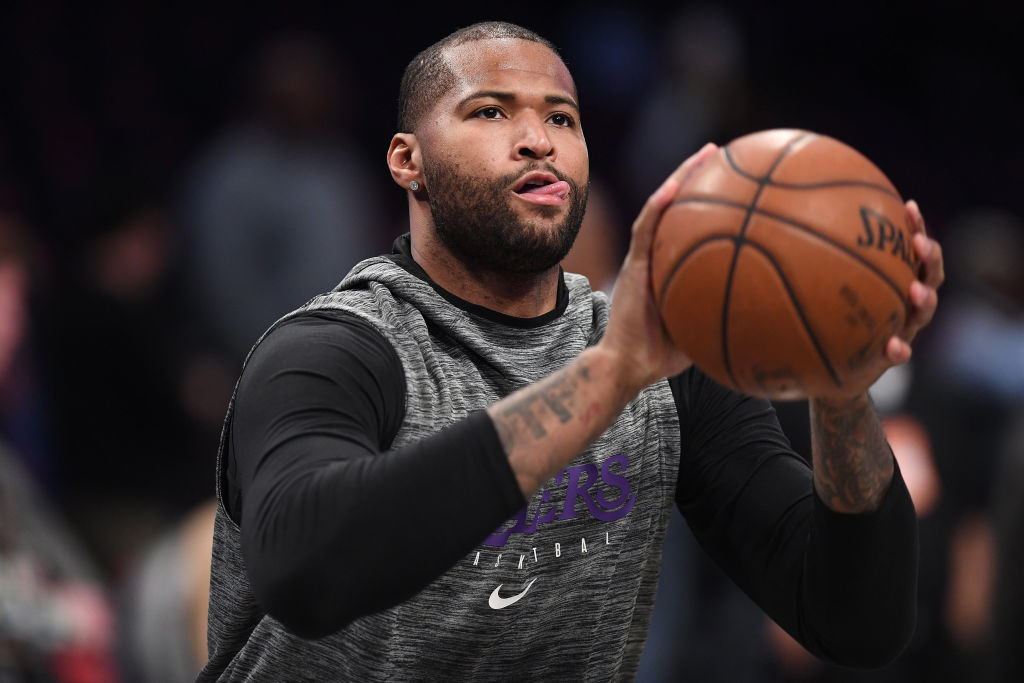 Demarcus Cousins Once Said That He Didn't Want to Be 'Boogie' Anymore
While DeMarcus Cousins broke into the NBA with the nickname 'Boogie' he once said that he wanted to leave the nickname behind.
In the world of professional sports, there have been plenty of iconic nicknames. While titles like "the Iron Horse" and "The Greatest" will stand the test of time, it's safe to say DeMarcus "Boogie" Cousins won't be one for the record books. In fact, the injured center once said that he didn't to be called Boogie anymore.
While the NBA big man initially picked up his nickname in college, he eventually grew tired of the title. In 2019, he decided to hang up Boogie for good and go back to simply being DeMarcus Cousins.
DeMarcus Cousins' unlucky basketball career
On the court, it's impossible to argue with DeMarcus Cousins' talent. The big man, however, hasn't always had the best luck during his basketball career.
After a strong high school career in Alabama, Cousins headed to the University of Kentucky to team up with John Wall and head coach John Calipari. While he only spent one season with the Wildcats, Cousins posted strong numbers in blue and white; he averaged 15.1 points and 9.8 rebounds per outing before entering into the 2010 NBA draft.
The Sacramento Kings selected the center with the fifth-overall pick and slotted him into the starting lineup. While there were some off-court issues—Cousins was sent home from a road trip by Paul Westphal, confronted an announcer after a game, and punched Patrick Beverly, among other things—his talent still shone through. During his six and a half seasons with Sacramento, Cousins averaged 21.1 points and 10.8 rebounds per night.
In February 2017, Cousins was traded to the New Orleans Pelicans; while he continued to play well, everything came to a halt when the big man tore his Achilles in January 2018. He then signed a deal with the Golden State Warriors and appeared in 30 games, only to miss more time with a torn quad. The same cycle would repeat itself at the start of the 2019-20 campaign, as Cousins joined the Los Angeles Lakers and promptly tore his ACL.
The birth of Boogie
By the time he arrived in the NBA, DeMarcus Cousins had acquired the nickname Boogie. There are conflicting stories, however, about how that trend began.
Some claimed that Cousins earned the nickname during high school after an altercation with a coach. As Lonnae O'Neal explained in The Undefeated, though, that story is nothing more than a myth. Boogie has a much more benign origin.
At the University of Kentucky, former NBA guard and then assistant coach Rod Strickland took notice of Cousins' grace on the court. "I would be playing ball, and I would do moves that guards would do, and coach Strickland said, 'Man, you got a lot of Boogie," Cousins explained, according to the Mercury News. "Every time I walked into the gym, he would say, 'What's up Boogie!' and it just stuck."
DeMarcus Cousins eventually got sick of being called Boogie
While Boogie had benign origins, that didn't change the nickname's reality for DeMarcus Cousins. In 2019, the big man decided he had enough.
In her feature, Lonnae O'Neal walks through the various challenges Cousins faced throughout his career. From being targeted by constant fouls as a young player to battling through injuries in the pros, the center's time on the court was never completely straight forward. He had become a larger than life figure, expected to be the face of a franchise; he was Boogie, not DaMarcus anymore.
"And there's something else he's letting go of," O'Neal wrote. "Something that, at times, has weighed him down and blown him out of proportion. 'It's just like, Jesus Christ! It's so much extra put on with 'Boogie,' Cousins says."

"He's had time to face himself in the past year, and he's come to terms with the things that scare him," she continued. "I don't want to be Boogie,' Cousins says. 'I just wanna be DeMarcus."
With all of that being said, though, Cousins also told ESPN's Erin Andrews that he "doesn't mind" being called Boogie, but dislikes when people drag it out in a childish way. His Twitter handle has also remained @BoogieCousins, for what it's worth.
Stats courtesy of Sports-Reference and Pro-Basketball-Reference