Dennis Rodman Says His Former Hall of Fame Teammate Called Him 'the Devil' Straight to His Face in an Odd Team Plane Interaction: 'What Are You Talking About?'
Dennis Rodman had a couple of legendary stints with the Detroit Pistons and Chicago Bulls, but his time with the San Antonio Spurs probably didn't go the way he hoped it would. Rodman only spent two seasons with the Spurs, and while he played well, the team fell short of winning a title.
Not achieving the ultimate goal was probably pretty disappointing. But it appears Rodman had another issue to worry about during his time in San Antonio: his relationship with fellow Hall of Fame big man David Robinson.
Dennis Rodman had a short stint with the Spurs
Dennis Rodman entered the NBA in 1986 with the Detroit Pistons, and he played a valuable role in two of their NBA title runs. However, in 1993, the Pistons traded him to the Spurs, and he played there for the next two seasons.
Dennis had some of his best years while in San Antonio. After leading the NBA in rebounding with 18.7 and 18.3 per game on the Pistons the previous two seasons, he led it in boards again for a third and fourth consecutive year in 1993-94 and 1994-95.
Rodman averaged 5.6 points and 17.1 rebounds combined in those seasons.
Hall of Fame center David Robinson also played alongside him in the frontcourt during those years, and he had two of his best campaigns as well. Robinson led the NBA with 29.8 points per game in 1993-94, and he won MVP in 1994-95. 
However, the Utah Jazz beat the Spurs 3-1 in the first round in 1993-94, and the Houston Rockets devastatingly beat them in six games in the Western Conference Finals in 1995.
The Spurs then traded Rodman to the Bulls that offseason.
David Robinson called Dennis 'the Devil'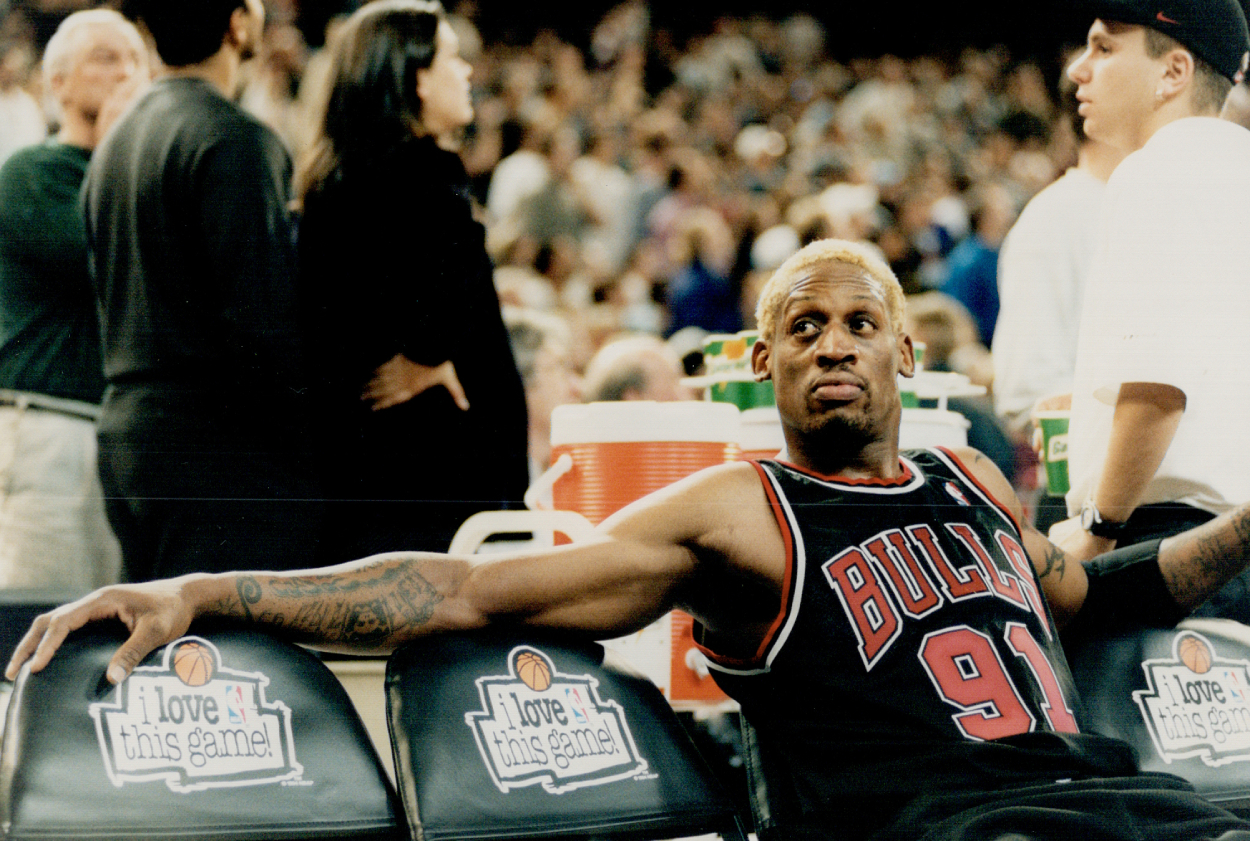 It's no secret that the personalities of the two big men didn't quite mesh. David Robinson was known as one of the nicest guys in the league. Dennis Rodman, on the other hand, was a "bad boy." He dyed his hair and often got into trouble during games with frequent ejections.
In an article recently written by Mychal Denzel Smith in GQ, Rodman revealed that Robinson called him "the Devil."
"He bonded easily with anyone who could seemingly offer the kind of unconditional love that he longed for.

Which is why his time in San Antonio was such an uneasy fit. Of note was his frontcourt running mate David Robinson, the All-Star center, who didn't play with the kind of toughness Dennis was accustomed to coming from Detroit, where they manhandled opponents and were prepared to win both the game and the ensuing fistfight. From the very beginning they were an awkward pairing. Dennis says that one time, on the team plane, Robinson interrupted Dennis while he was playing Nintendo with a teammate. 'I said, "David? Why you looking at me?"' Dennis remembers. 'He said, "Why you got to be the Devil all the time?" I said, "What? The Devil? What are you talking about?" He said, "You just got to be different from everybody."'"

Mychal Denzel Smith in GQ
Well, that sounds harsh. Luckily for Robinson, "the Devil" eventually took his talents to Chicago.
Dennis Rodman won three championships with the Bulls
Once Dennis Rodman left the Spurs, he went on to have significant success in three seasons with Michael Jordan, Scottie Pippen, and the Chicago Bulls.
Rodman led the NBA in rebounds per game for three more consecutive seasons in Chicago, making it seven straight overall, and he averaged 5.2 points and 15.3 boards combined across those campaigns. The Bulls also won a championship in every season Dennis played for them.
Rodman then ended his career by playing in 23 games for Los Angeles Lakers in 1998-99 and 12 with the Dallas Mavericks in 1999-2000.
So, what about David Robinson? He won two championships in San Antonio without The Worm in 1998-99 and 2002-03.
Together, Dennis Rodman and David Robinson may not have achieved all their goals. But they both still finished their careers as two of the greatest basketball players in NBA history.
Note: At the time of publication, David Robinson's representation had not yet responded to a request for comment.
Stats courtesy of Basketball Reference