Dennis Rodman Seemed to Take 'Great Pride in Not Scoring' Points, According to Former Bulls Teammate Steve Kerr: 'It Was Really Bizarre'
When looking at Chicago Bulls legend Dennis Rodman, it's hard not to talk about his hair or off-court endeavors. The Worm's personality was (and still is) as big as his play during his NBA career.
But while his persona is as unique as it gets, his on-court mentality was also one of a kind.
Rodman put up some strange stat lines on the basketball court during his time in the league, and his former Bulls teammate Steve Kerr even once said that he seemed to actually take pride in not scoring.
Dennis Rodman was a rebounding machine for the Pistons, Spurs, and Bulls
When experts debate the greatest rebounders of all time, Dennis Rodman is always one of the first names discussed.
Starting in his sixth NBA season with the Detroit Pistons, Rodman led the NBA in rebounds per game in seven consecutive years. He averaged as many as 18.7 for Detroit in 1991-92, and he recorded 17.1 per game in two seasons with the San Antonio Spurs in 1993-94 and 1994-95. The two-time All-Star also pulled down 15.3 boards per game for the Bulls from 1995-96 through 1997-98.
This led to some wild stat lines.
Dennis the Menace had six games in the 1993-94 season where he scored zero points and pulled down 20-plus rebounds. He also had a two-game stretch during that year where he totaled zero points and 49 boards. In another game for the Bulls in 1997, Rodman recorded just six points to go with 29 rebounds.
All in all, the Southeastern Oklahoma State product averaged 13.1 rebounds for his career (which is 11th in NBA history). He is also in the top 25 all-time in total boards with 11,954. He, however, only scored 7.3 points per game during his NBA tenure and recorded 6,683 total.
Steve Kerr said The Worm seemed to take pride in not scoring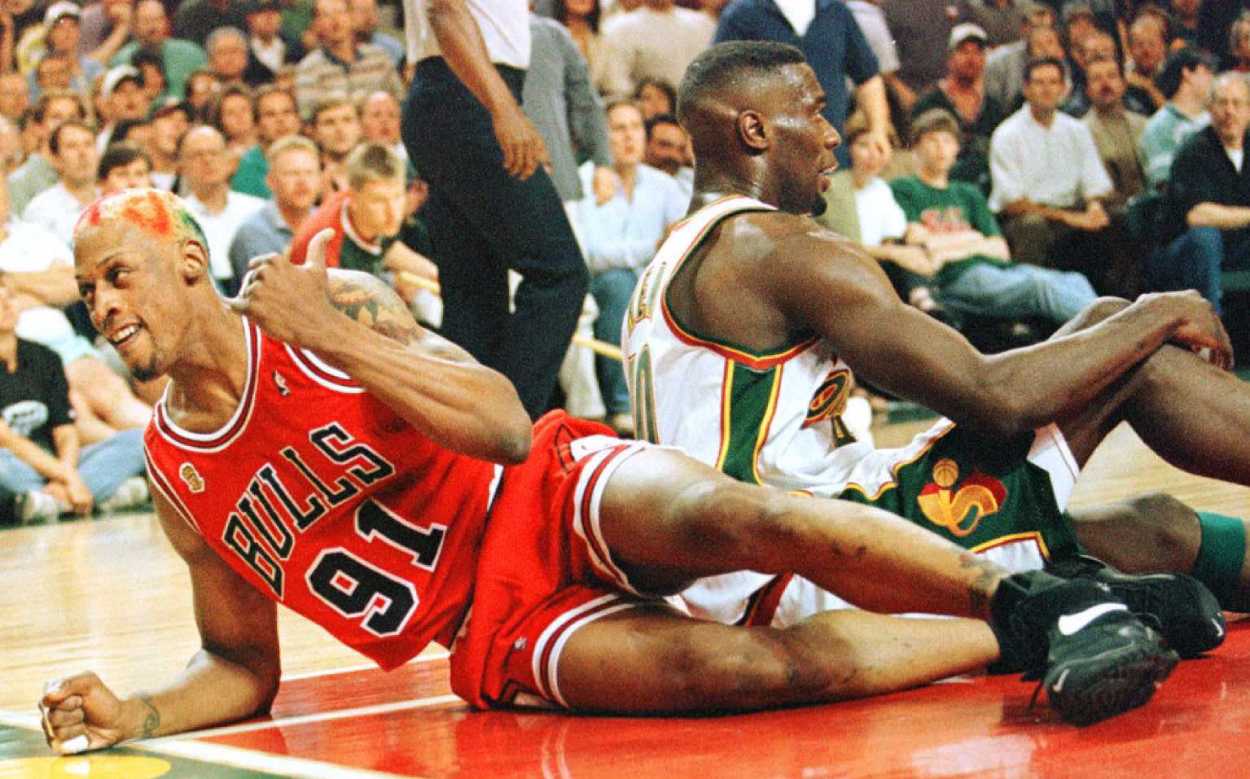 Most players take pride in scoring as many points as they can. The majority of NBA MVPs have led their respective teams in points per game. They were also one of the league's top scorers during their specific award-winning campaigns.
Dennis Rodman, though, didn't take pride in his scoring numbers. The Hall of Famer liked to get as many rebounds as he could; so much so that he would seemingly try not to score points.
"I think he took great pride in not scoring," his former Bulls teammate Steve Kerr said on a May episode of the Tolbert, Krueger, and Brooks Podcast. "It was really bizarre. When we were in Chicago together, he would have games where he would get an offensive board and literally have a layup, and he would just throw it back out, I think hoping that we would miss another shot so that he could get another offensive board."
Kerr's belief is probably correct. Despite frequently having the ball in his hands with all the rebounds he pulled down, Rodman only attempted 4.8 shots per game during his three seasons with the Bulls. He likely had many more opportunities to shoot than just those five.
But although his playing style was unorthodox, Rodman's teammates benefited from it. During a game with the Spurs in which he scored no points and had 28 rebounds, David Robinson and Dale Ellis combined for 55 points. Michael Jordan also dropped 47 on the night Dennis had 29 rebounds and six points for the Bulls in 1997.
Sure, he sacrificed his own scoring numbers, but he also helped his teammates put up some massive stats.
However, don't think for a second that Rodman still didn't have some big scoring games himself from time to time. He could get the ball in the hoop if he wanted to.
Dennis Rodman still had some big scoring games during his NBA career
Dennis Rodman never put up big scoring numbers during his time with the Spurs and Bulls (nor did he during his final two NBA seasons with the Los Angeles Lakers and Dallas Mavericks). The most he scored during those years was 17 for San Antonio in 1994-95.
But he had several big games for the Pistons early in his career.
In 1990-91, the five-time NBA champ had a career-high 34 points on 15-of-21 shooting. He also made 4-of-5 free-throw attempts and pulled down 23 boards. During a 1989 game, Rodman also scored 32 points and pulled down 21 rebounds for the Pistons, and he had a 30-point, 18-rebound outing during a contest for Detroit in 1988.
No, he didn't put up numbers like that on a typical night, as the most points Dennis averaged in a season were 11.6 in 1987-88, but he could do it when he wanted to.
Dennis Rodman was one of the most unique players to ever play in the NBA, and we will likely never see a player like him again.
Stats courtesy of Basketball Reference