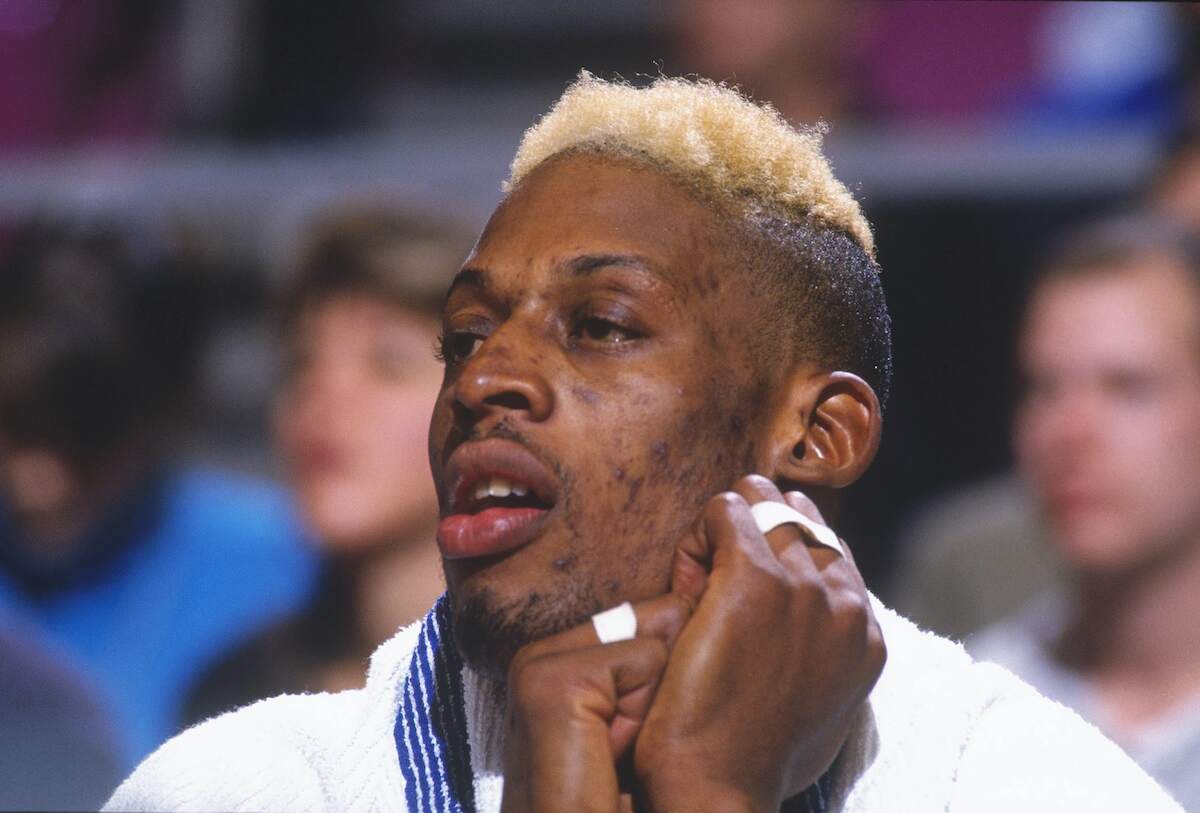 Dennis Rodman Showed Up Late to the Grand Opening of the Alamodome Because He Was Busy Bleaching His Hair
Over the years, Dennis Rodman rocked plenty of hairstyles. One of them, though, made him late for the Grand Opening of the Alamodome.
While pro sports has seen many colorful characters over the years, few can top Dennis Rodman. Even though he was a tough defender and fearless rebounder, most fans probably recall the forward for his fashion choices, off-court antics, and his inability to be anything other than unabashedly himself.
During his time in the NBA, Rodman sported quite a few distinctive hairstyles. During his time in San Antonio, however, a trip to the stylist took longer than he expected, clashing with a prior commitment.
Dennis Rodman proved himself with the Detroit Pistons before heading to San Antonio
Thanks to the sheer pop-cultural dominance of Michael Jordan, it's easy to associate Dennis Rodman with the Chicago Bulls. Before ever reaching the Windy City, though, the forward had already suited up for two other NBA teams.
While Rodman didn't seem like a star athlete growing up, he eventually returned to the hardwood after a sudden growth spurt. He spent a single semester in junior college before heading to Southeastern Oklahoma State. There, he started to dominate the competition. NBA teams took notice.
The forward joined the Detroit Pistons in the second round of the 1986 NBA draft and found an immediate fit. His toughness and fearless play were right at home with the Bad Boys. Rodman spent the first seven seasons of his career in the Motor City, winning three championships and establishing himself as a premier defender. Then, in 1993, he asked to be traded.
Rodman showed up late to a Spurs commitment due to a hair appointment
That trade took Dennis Rodman from the Detroit Pistons to the San Antonio Spurs. Once the forward landed in Texas, he was ready to show the world who he really was. This included, among other things, shaking up his hairstyle.
As detailed in his book, Bad As I Wanna Be, Rodman decided to bleach his hair a platinum blonde. There was one problem, though.
"I had it done the day they unveiled the Alamodome," Rodman wrote. "All the team investors, tons of media, and about five thousand fans were there to watch us do drills and shoot around. I was thirty minutes late because the dammed bleach job took too long."
The assembled crowd, however, didn't seem to mind Rodman's late arrival. "When I finally got to the arena, they introduced me, and I took off my RODMAN EXCAVATION cap and let the world see the new me. The place went absolutely nuts."
Dennis Rodman kept changing up his style after that
In total, Dennis Rodman's time in San Antonio only lasted two seasons. No matter where he was playing, though, the forward's style kept evolving.
Over the years, Rodman sported a variety of hair colors, ranging from neon green to designs like leopard print and a smiley face. His looks were even known to cause delays on a Chicago highway. The forward also sported plenty of piercings and, on one occasion, donned a wedding dress to promote his book.
While Dennis Rodman was never a perfect person, either on or off the court, he quite literally made the NBA a more colorful place.