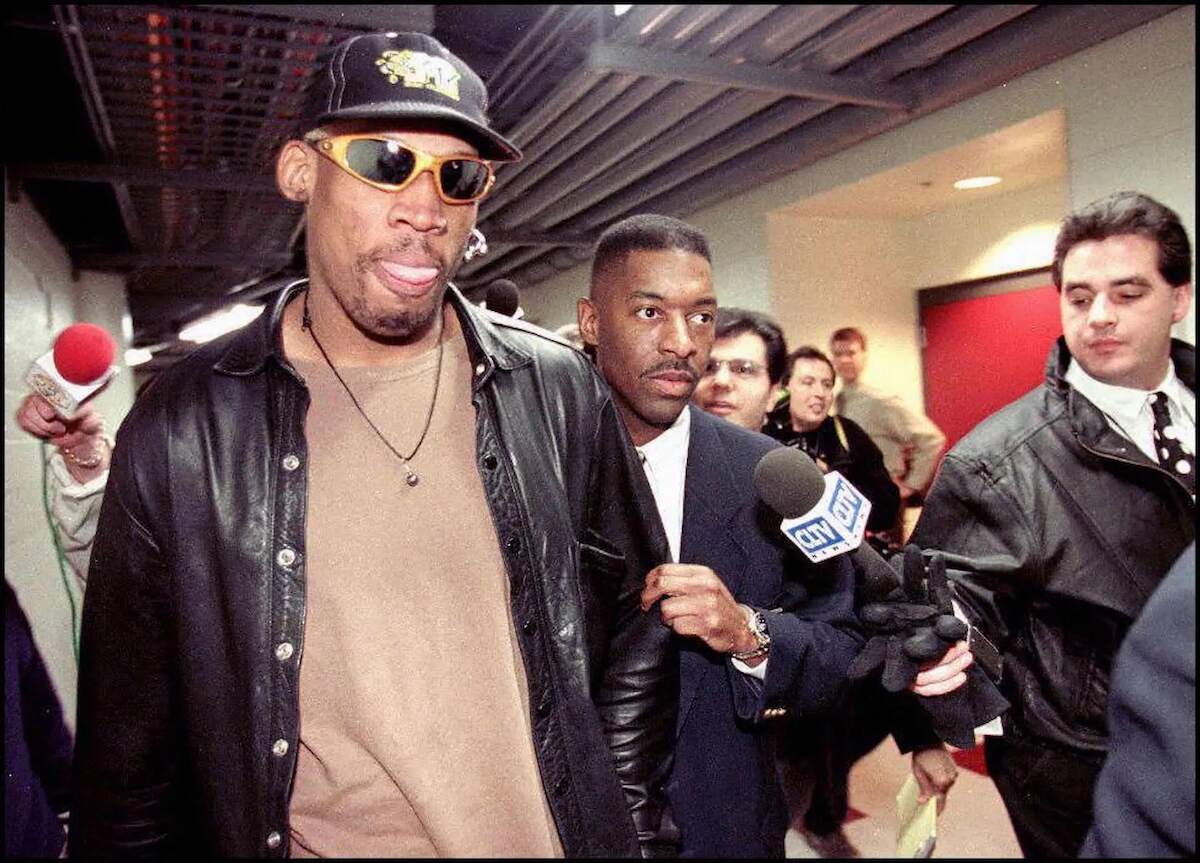 Dennis Rodman Had to Pay a Record-Setting $50,000 Fine After Cursing Out an Entire Religion
Dennis Rodman was no stranger to trouble during his NBA career. He once earned himself a $50,000 fine for cursing out an entire religion.
Even if you never saw him hit the hardwood, virtually every basketball fan knows Dennis Rodman. While the Worm was a pretty good player in his own right, his on-court exploits were usually overshadowed by his questionable choices. One of those bad decisions, however, proved to be pretty regrettable, even by the forward's standards.
The Chicago Bulls' trip to the 1997 NBA Finals is most remembered for Michael Jordan's famous flu game, but Dennis Rodman still managed to make headlines. During the series, the forward cursed out an entire religion, earning himself a $50,000 fine.
Dennis Rodman had an impressive basketball career
When you hear the name Dennis Rodman, you probably think of a man with plenty of jewelry and colorful hair. While that's not an incorrect image of the forward, he does deserve some credit for his basketball skills, too.
Rodman didn't always look like a talent, though; growing up, he only spent half a season riding the bench on his high school basketball team and could barely make a layup. After a growth spurt, however, he returned to the hardwood. After cutting his teeth in junior college and at Southeastern Oklahoma, he was ready for the NBA.
When the 1986 NBA draft rolled around, the Detroit Pistons snagged Rodman with the 27th overall pick; his fierce defense and strong rebounding made him a perfect fit with the Bad Boys. Despite winning two championships in Michigan, things didn't end happily for the Worm. He ultimately demanded a trade and was dealt to the San Antonio Spurs.
After a brief spell in Texas, Rodman joined the Chicago Bulls, where he slotted in alongside Scottie Pippen and Michael Jordan to do the dirty work. He won three more titles in the Windy City before seeing out his career with the Lakers and Mavericks.
While it's easy to write off Rodman as a bit of a sideshow, he still put together quite the NBA career. He spent 14 seasons in the association, averaging 7.3 points and 13.1 rebounds per game for his career; in addition to five NBA championships, he also won two Defensive Player of the Year titles and earned a place in the Basketball Hall of Fame.
Making headlines for things other than basketball
Dennis Rodman's exploits weren't limited to the basketball court, though. The forward, for better or worse, has always had a knack for making headlines, no matter what he's doing.
Many of Rodman's antics need no introduction. He frequently changed the color of his hair and once donned a wedding dress, explaining that he had married himself. He dabbled in pro wrestling, had relationships with both Madonna and Carmen Electra, and insisted that Larry Bird received extra praise because of his race. In recent years, he has made trips to North Korea and befriended Kim Jong-un.
Rodman has found himself in more serious trouble, too. He once kicked a cameraman — the forward ended up paying a $200,000 settlement — and has had some run-ins with the law over the years.
Dennis Rodman once received a $50,000 fine for his comments about Mormons
During the summer of 1997, the Chicago Bulls faced the Utah Jazz in the NBA Finals. The pressure of the situation, it seems, got to Dennis Rodman.
According to Deseret News, Rodman told reporters that "It's difficult to get in sync because of all the f—ing Mormons out here. And you can quote me on that." While Phil Jackson said the forward was using Mormons as a generic nickname for people from Utah, the NBA didn't care.
As documented by a New York Times report from June 1997, Rodman received a $50,000 fine from the NBA; at the time, it was the largest sum a player had ever been ordered to pay. "I have indicated in previous actions that insensitive or derogatory comments involving race or other classifications are unacceptable in the NBA," then-Commissioner David Stern said. "Dennis Rodman's comments were exactly the kind of offensive remarks that cannot be tolerated or excused."
Stats courtesy of Basketball-Reference