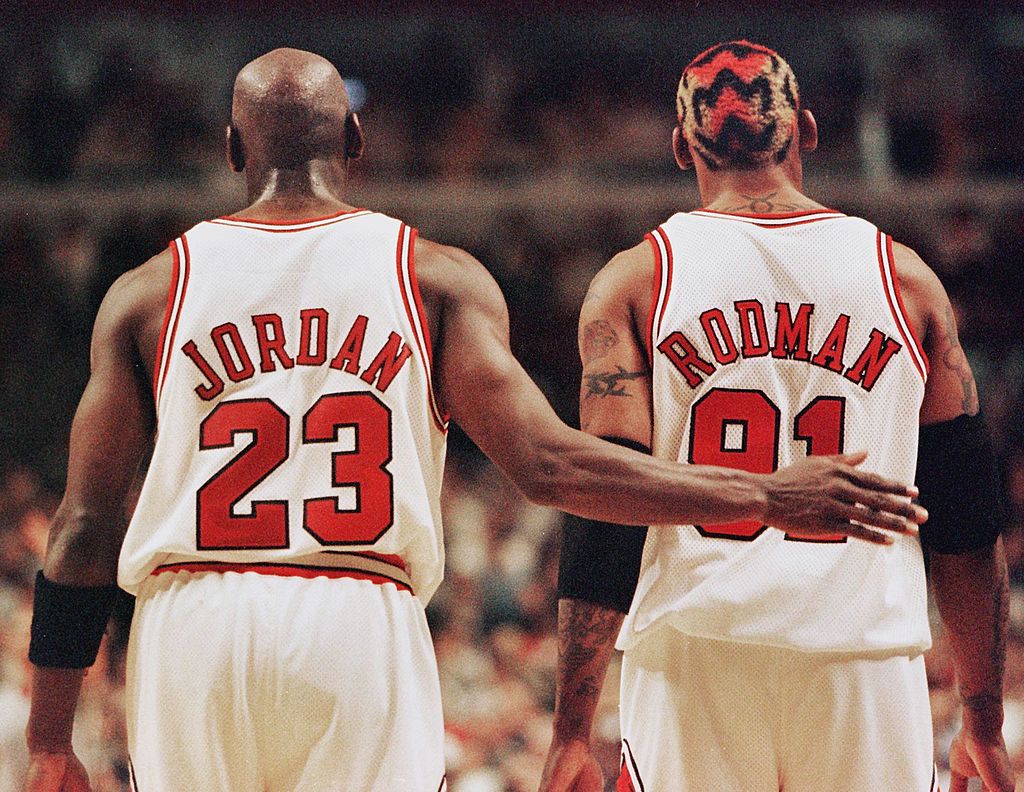 Dennis Rodman and Michael Jordan Never Spoke to Each Other Beyond the Basketball Court
Dennis Rodman might have helped Michael Jordan win three NBA titles, but their relationship was nonexistent away from the court.
While it's easy to focus on hard statistics, chemistry plays an important role in sports. In order to succeed at a high level, the entire team needs to be on the same page. During their time with the Chicago Bulls, however, Dennis Rodman and Michael Jordan had a different sort of relationship.
On the court, Jordan, Rodman, and Scottie Pippen all complimented each other perfectly. That relationship, though, ended with the final buzzer; other than their time on the court, Rodman never spoke to his two teammates
Dennis Rodman's unconventional road to joining the Chicago Bulls
While Dennis Rodman may have transcended professional sports and become a pop-culture figure, he made his name on the basketball court. The forward didn't have the easiest road to the NBA, though.
Growing up in Texas, Rodman struggled to make an impact athletically. He was too small to make his high school football team; while he managed to make the basketball team, he quit after half a season of riding the bench. After graduation, he famously took a job as an airport janitor but decided to try basketball again after a sudden growth spurt.
Rodman then spent a semester playing ball at Cooke County Junior College before failing out of the school. That brief time on the court, however, caught the attention of Southeastern Oklahoma State; there, Rodman would blossom into a true talent.
After a strong showing at a pre-draft camp, Rodman became the 27th overall pick of the 1986 NBA draft. He landed with the Detroit Pistons and immediately became one of the "Bad Boys;" he was never the most talented offensive player, but proved to be an invaluable defender and rebounder.
An all-business relationship with Michael Jordan
After his time with the Pistons and a brief spell on the San Antonio Spurs, Dennis Rodman joined the Chicago Bulls. While he proved to be the perfect complement to Michael Jordan and Scottie Pippen on the court, the three stars never developed an off-court relationship.
"We never talked to each other," Rodman explained in 2019 on the Pardon My Take podcast. "The only time we talked to each other was probably on the court. Off the court, we never talked to each other."
While the three Chicago Bulls would even sit separately in restaurants, they had a mutual respect for each other on the hardwood. While there was some tension, it was grounded in a collective will to win rather than animosity.
"If you ever see the videotapes of us playing in games back in the day, we really never b—-ed at each other at all," Rodman continued. "It was more like we were so mad at each other because we couldn't perform that night."
The Dennis Rodman-Michael Jordan partnership paid off
It doesn't take an incredible amount of basketball knowledge to figure out why Dennis Rodman and Michael Jordan didn't click. His Airness is defined by a restless pursuit of greatness; Rodman, on the other hand, donned a wedding dress, dabbled in pro wrestling, and had anything but a one-track mind. Despite those differences, though, their time with the Chicago Bulls was incredibly successful.
Rodman and Jordan spent three NBA campaigns together, starting in 1996. The Bulls would win the league title during each of those seasons; Rodman was a key contributor, averaging 5.2 points and 15.3 rebounds per game during his time in the Windy City.
Dennis Rodman may have never become friends with Michael Jordan and Scottie Pippen, but that wasn't why he joined the Chicago Bulls. The Worm helped the club win titles; at the end of the day, that goal was something he, Jordan, and Pippen could all agree on.