Dennis Rodman Once Threw an Epic Birthday Party That Included Kamikaze Shots with a Famous ESPN Personality He Thought Was Craig Sager
NBA legend Dennis Rodman did (and probably still does) everything full-throttle. Rodman always gave max effort, whether it was going after a rebound with more ferocity than anyone on the court or partying harder than anyone else off it. This included an epic birthday bash in Chicago.
The soiree had everything you'd expect from a Rodman-hosted party, including girls dancing in cages and a seemingly endless line of shots. It also had a very well-known ESPN personality who chronicled the whole thing. Despite the fact Rodman thought he was TNT analyst Craig Sager.  
Dennis Rodman loved to party when he wasn't playing basketball
Rodman was an unlikely NBA star. He played college ball at the tiny Southeastern Oklahoma State University. The Detroit Pistons selected him in the second round and, for his career, he only averaged 7.3 points per game.
However, The Worm became the best rebounder in NBA history (he led the league in rebounding seven times) and a tenacious defender. His skills in these areas were so valuable to championship teams he found crucial roles on both the Bad Boy Pistons and Michael Jordan's Chicago Bulls.
His colorful hair and flamboyant personality made him a fan favorite, and Rodman's penchant for partying made him a nightlife icon.
The stories of his partying, especially in Las Vegas, are legendary. There was the time he flew back and forth from Vegas to New York to see Madonna, the time he threw seven parties in seven days, and, of course, the time Jordan had to fly to Vegas to get him back during a Bulls season.
Dan Patrick shared a story about hanging out at (maybe) Rodman's birthday party
Radio host and former Sportscenter anchor Dan Patrick recently joined The Ryen Russillo Podcast and shared his own Rodman party story that involves a case of mistaken identity.
"The only time I ever [hung out with athletes] was in Chicago," Patrick told Russilo. "Dennis Rodman was hosting a birthday party. I don't even know if it was Dennis' birthday, but he was celebrating a birthday party."
Patrick then set the scene he walked into:
And, it was the second floor of a bar, it was called the Crow Bar, and there were women who were dancing in cages. It was one of those where you go, 'uhh.. what is going on here?' And I go up, second floor, and there are a few players that are there – a few former players – Rodman is there with a Chicago Police shirt on, and he's got his arm around a guy and his arm around a girl. And, there were probably 20 to 25 kamikazes on the bar. Whenever you went up to talk to Dennis, you had to do a shot.

Dan Patrick on Dennis Rodman
The current NBC host decided this was his night to party with Rodman, and the Hall of Fame forward welcomed him in. Although, he confused Patrick with another sports media star:
So I ended up staying there for too long, and he kept calling me 'Sags,' he thought I was Craig Sager. He'd go 'Hey Sags! Sags! You gotta do a shot.' After a while, I just went by 'Craig Sager.' I just went, 'Alright, he doesn't – he's never gonna get it right.'
Even though Patrick had a great time and came away with an amazing story, he paid the price for his night with Rodman the next day.
Patrick struggled the following day, but Rodman didn't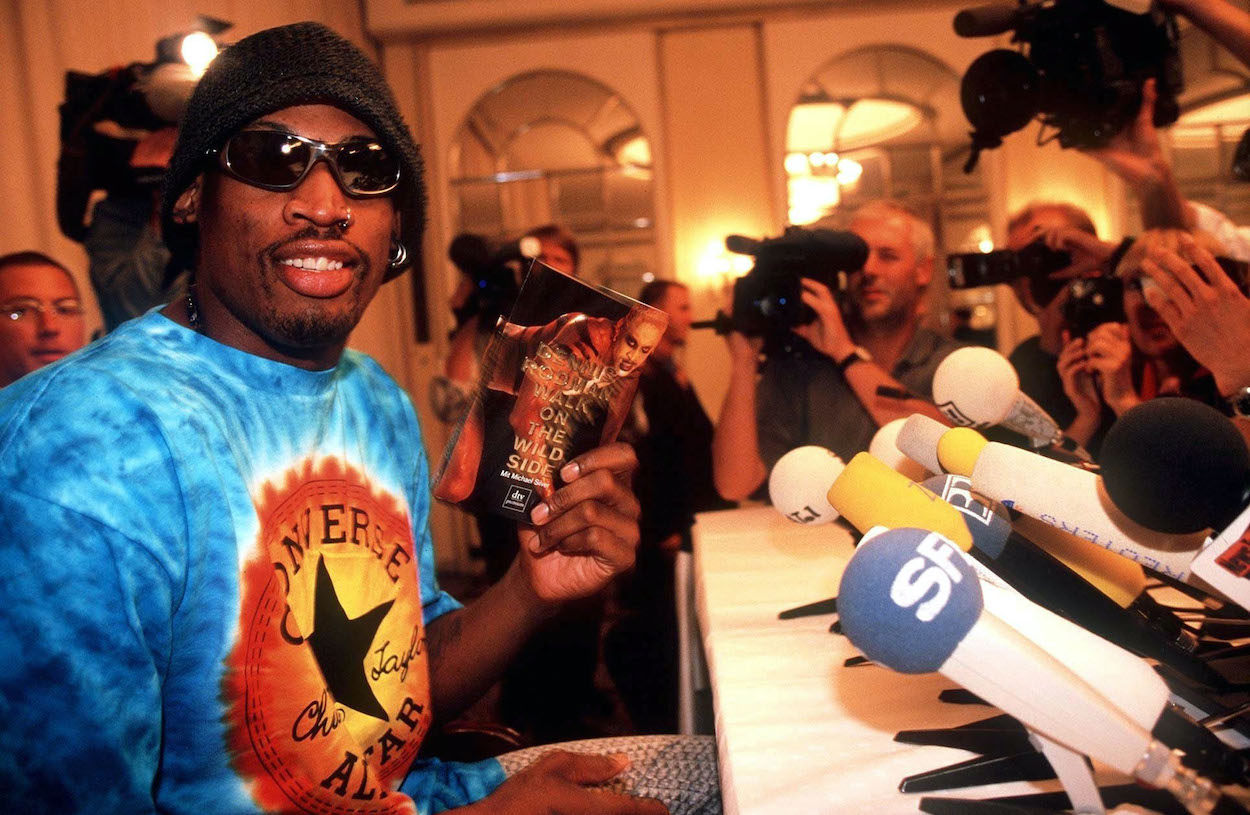 Patrick/Sager sounded like he hung a little too late and accepted a few too many invitations to do a shot with Rodman. The Sunday Night Football host shared that he was in rough shape the following day:
The next morning, I show up for shootaround, and I am hungover. And I see Steve Kerr and Jud Buechler, and they go, 'Tried to keep up with Rodman, huh?' And I go, 'Ahhh, my God.' I said, 'Is he here?' 'Oh, yeah, yeah!' He's bouncing – Rodman was unbelievable. And that night, I think he had like 18 rebounds, played like nothing, it was just – I paid the price because I was hanging out – if you want to call it [that] – with Dennis Rodman. But he still thinks he was probably drinking with Craig Sager.

Dan Patrick on Dennis Rodman
Patrick may have regretted his night with Rodman the day after but now seems to look back on the night fondly.
The moral of this story is that you should never pass up an opportunity to party with Dennis Rodman, no matter who he thinks you are. But, you have to be ready to pay the price the morning after.
All stats courtesy of Basketball Reference