Dennis Rodman Won 3 Championships With the Bulls, but Phil Jackson Said He Was 1 of the Last Players He Wanted to Trade For: 'He Was Down at the Bottom of the List'
A major storyline in The Last Dance docuseries was Dennis Rodman's role in helping Michael Jordan and the Chicago Bulls win their last three championships. Rodman's rebounding and defensive prowess proved crucial for the Bulls, especially considering the fact they didn't have a single player who averaged over 8.1 rebounds in 1994-95, the season before they acquired him.
However, Rodman almost didn't go to Chicago. In fact, head coach Phil Jackson said he was on the bottom of the list of players he wanted to acquire.
Dennis Rodman's skills were exactly what the Bulls needed
Chicago needed a rebounder heading into the 1995-96 campaign, the team's first full year with Michael Jordan back on its roster after his nearly two-season hiatus to play baseball. In 1994-95, Scottie Pippen led the Bulls with 8.1 boards per game, and Will Perdue was behind him with 6.7. (Jordan averaged 6.9, but he only played in 17 games that season.)
Dennis Rodman, on the other hand, was the league's best rebounder.
He started his career with the Detroit Pistons and was crucial to their two championship runs in 1989 and 1990, averaging a combined 9.2 boards in those playoff runs. In 1991-92 and 1992-93, though, Rodman officially became the best rebounder in the NBA, recording over 18.0 per game in both those seasons.
He then continued crashing the boards successfully with the San Antonio Spurs in 1993-94 and 1994-95, leading the league in that category again. But he wasn't necessarily a great fit in San Antonio, which led to his move to Chicago.
Phil Jackson said Dennis was 'at the bottom of' his list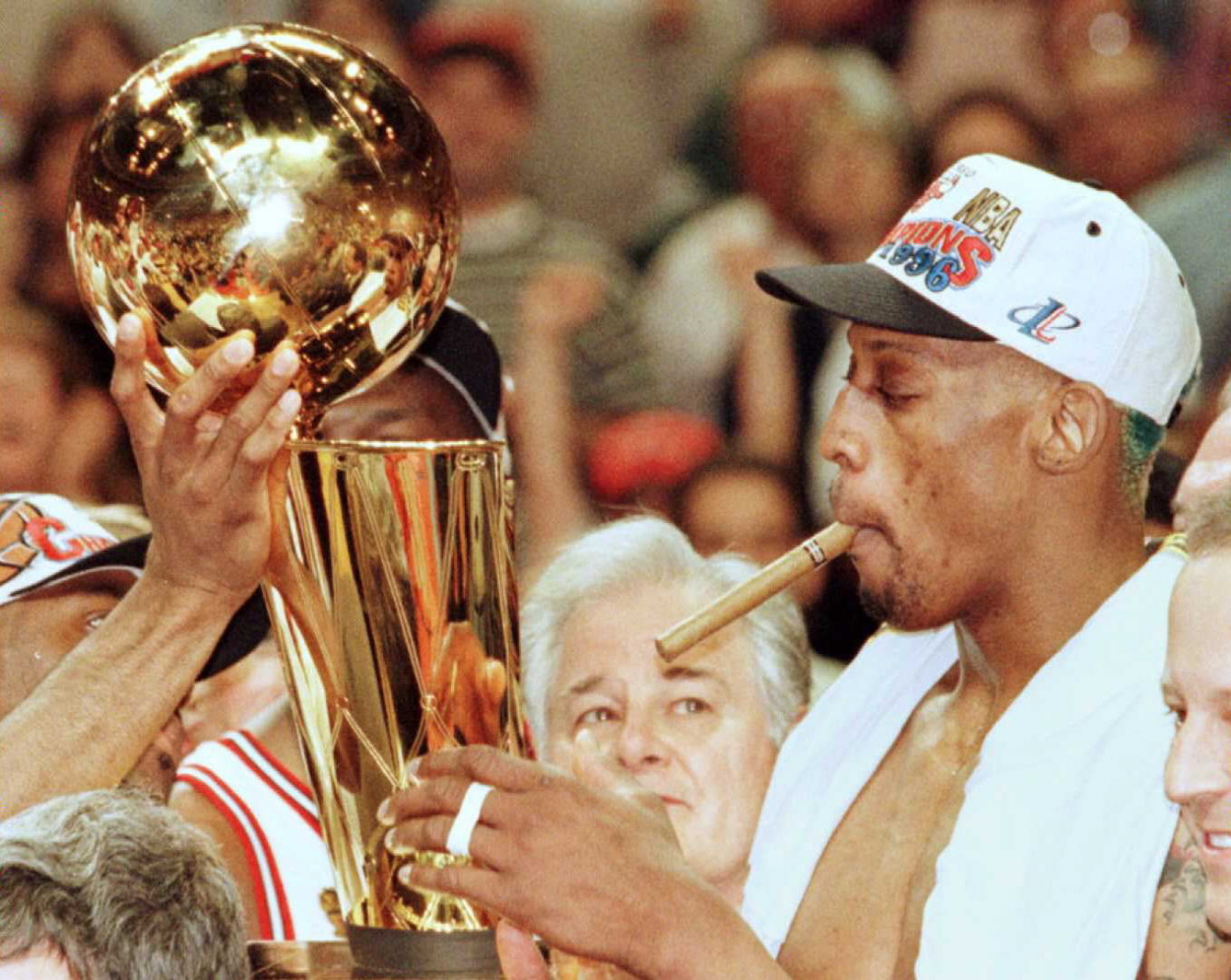 The Bulls traded Will Perdue for Dennis Rodman in 1995 in a move that shook up the basketball world. But Phil Jackson didn't initially want The Worm to be the player who fillled his team's rebounding void.
"I think Derrick Coleman was the first on the list that I had," Jackson said, according to a recent GQ piece about Rodman.
As alluded to earlier, Jackson said this of where Dennis was on that list, per GQ: "He was down at the bottom of the list."
So, why would he not want Rodman? Well, there was, of course, the fact the two-time All-Star played for the Pistons during the years the Bulls had an intense rivalry with them. However, his personality also created storylines off the court and got him into trouble with frequent ejections on it.
It all worked out, though, and the Bulls went on to win three more titles.
Phil Jackson is likely glad the Bulls traded for Dennis Rodman
Even with all his off-court endeavors, Dennis Rodman had tremendous success with the Bulls.
He led the NBA in rebounds per game each year he played in Chicago, averaging as many as 16.1 in 1996-97. Rodman also played hard on the defensive end pretty much every night, giving the Bulls exactly what they were looking for when they traded for him in 1995. All in all, his play helped the team win a championship in all three of his seasons, increasing the total number of Jordan era titles to six.
So, what about the guy who was on top of Phil Jackson's list? 
Derrick Coleman was a solid player and a better scorer than Rodman. But he never became the elite rebounder Dennis was, only averaging over 10.0 boards five times in his 15-year career. Rodman accomplished that feat 10 times and even averaged over 15.0 six times.
Dennis Rodman may have been on the bottom of Phil Jackson's list, but trading for him proved to be one of the greatest moves the Bulls ever made. There's a chance they wouldn't have won those final three titles had he not been on their team.
Stats courtesy of Basketball Reference