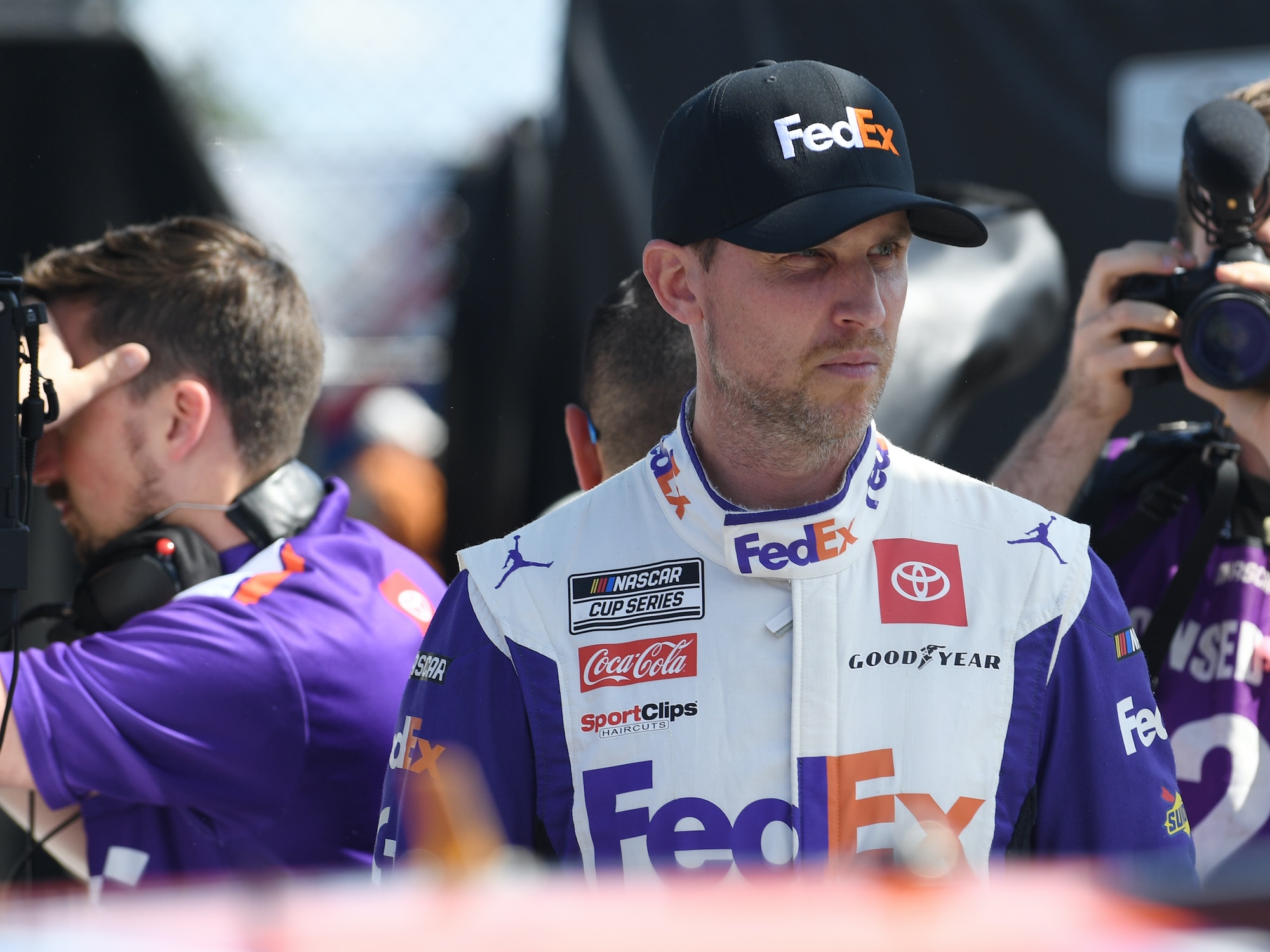 Denny Hamlin's Rollercoaster Season Continues With More Bad News This Week Just Days After 23XI Racing Gets First Win of 2022
Denny Hamlin's up-and-down year continued this week. After Kurt Busch earned 23XI Racing's first win of the season at Kansas, Hamlin received bad news about his No. 11 team that could play a factor in the upcoming weeks.
This season Denny Hamlin must feel like he's been helplessly riding on a rollercoaster more than piloting his No. 11 car. His team and his 23XI Racing organization have undoubtedly experienced their share of ups and downs in the 2022 Cup Series season. 
This week has been a perfect example. After the excitement and celebration of Kurt Busch's first win in the No. 45 car at Kansas, Hamlin and his teams have been on the receiving end of a couple pieces of bad news that could play a factor in affecting the overall success in the future. 
Denny Hamlin up-and-down season summed up at Kansas
Sunday at Kansas for Denny Hamlin was a microcosm of his season on multiple levels. The three-time Daytona 500 winner's day didn't begin on a good note, as he had to start from the rear of the field due to unapproved adjustments. 
The No. 11 car, like the rest of the Toyotas, had speed to burn and promptly made its way through the field, only to have equipment interference on two separate pit stops send him to the tail end. Hamlin impressively overcame both of those infractions and finished fourth. 
His 23XI Racing team had a rollercoaster of a day as well, particularly Bubba Wallace. The No. 23 car appeared to be one of the top-5 fastest cars on the day, making more passes than any other driver in the race. Unfortunately, he had to make so many passes due to two costly pit penalties. Sound familiar? Wallace finished 10th.
In addition to Wallace and Hamlin finishing inside the top 10, the day ended on an especially high note with Kurt Busch capturing his first win with the second-year organization.  
Panel upholds suspension of Hamlin crew chief and pit crew members
Denny Hamlin's pit crew problems at Kansas are nothing new. In fact, he was supposed to be without crew chief Chris Gabehart and two members of the team after losing a wheel during the Dover race two weeks earlier. However, the team appealed the suspension, and the crew chief and full pit crew were in action on Sunday.
They won't be in action for the next four points races after the All-Star Race in Texas this weekend as the National Motorsports Appeals Panel denied the appeal on Wednesday. 
While the panel ruled against Hamlin and his team, it did alter the penalty, changing the suspension to four points races, allowing the No. 11 team to work together at the non-points race at Texas Motor Speedway before the suspensions go into effect the following week at Charlotte at the Coca-Cola 600.
Kurt Busch confirms bad personal news
Hamlin's bad news on his team comes just 24 hours after Kurt Busch confirmed tough personal news of his own that he and his wife were getting divorced. 
According to documents obtained by TMZ, Busch's wife filed for divorce in Florida last week, declaring that the marriage is "irretrievably broken." The documents also revealed Busch had ended his wife's access to their joint banking account and credit cards last month and requested that she leave the family home by the first week of June.
Busch confirmed the news, according to Fox's Bob Pockrass.
"Upon inquiry by various press outlets today, I am heartbroken to confirm that my wife Ashley and I are working to dissolve our marriage," he said. "Divorce is a personal and private matter and I hope our privacy will be respected."
After experiencing the highs of Busch's win on Sunday in Kansas, Hamlin and his teams have endured multiple hits of bad news. This weekend at Texas, with his team fully intact for one more race, pulling off the win and bringing home the million-dollar prize would certainly soften the blows, and fall in line with the rollercoaster season. 
Like Sportscasting on Facebook. Follow us on Twitter @sportscasting19 and subscribe to our YouTube channel.