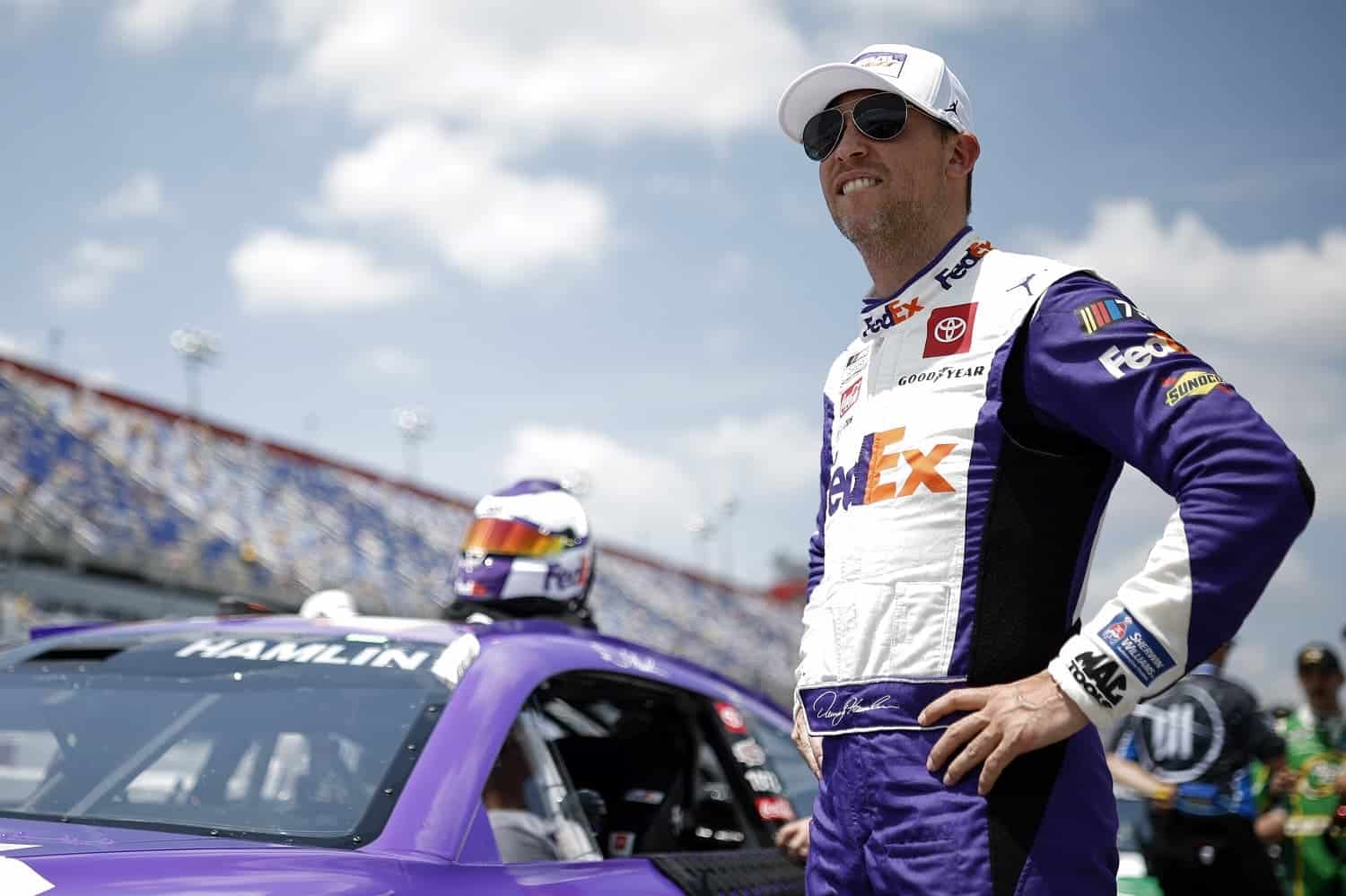 Denny Hamlin Says It's 'Time' for a Beloved NASCAR Track To Do Better
Denny Hamlin thinks Martinsville can do better with one of NASCAR's better-known traditions.
What's next for Denny Hamlin to come out against? Baseball? Hot dogs? Apple pie? Chevrolet? Well, the latter is a given – particularly if Ross Chastain is driving – considering Hamlin drives a Toyota, but we digress.
It seems Hamlin, born in Florida but raised in Virginia, has a bone to pick with Martinsville Speedway, three hours from his childhood home.
Martinsville has been a good track for Denny Hamlin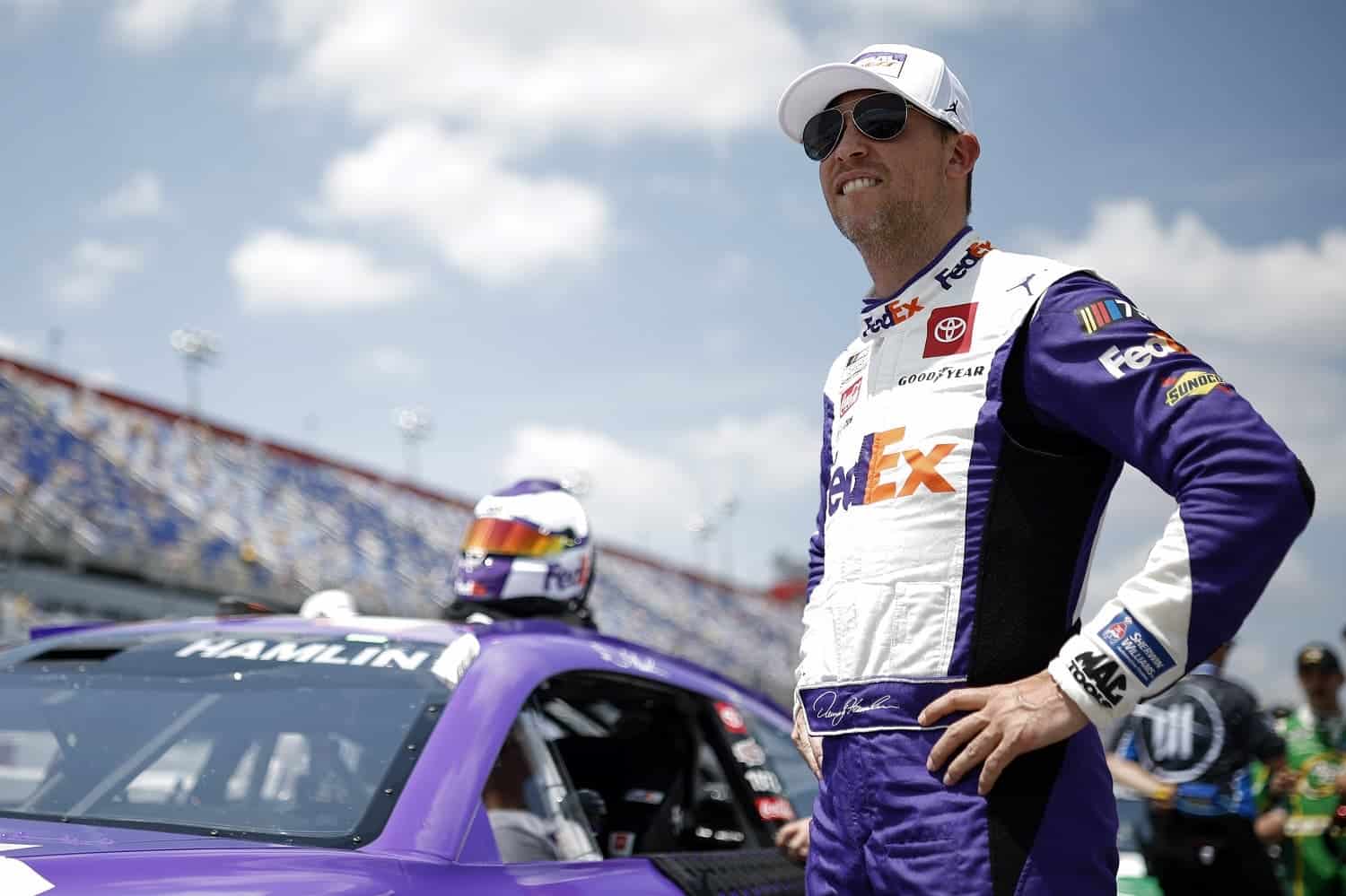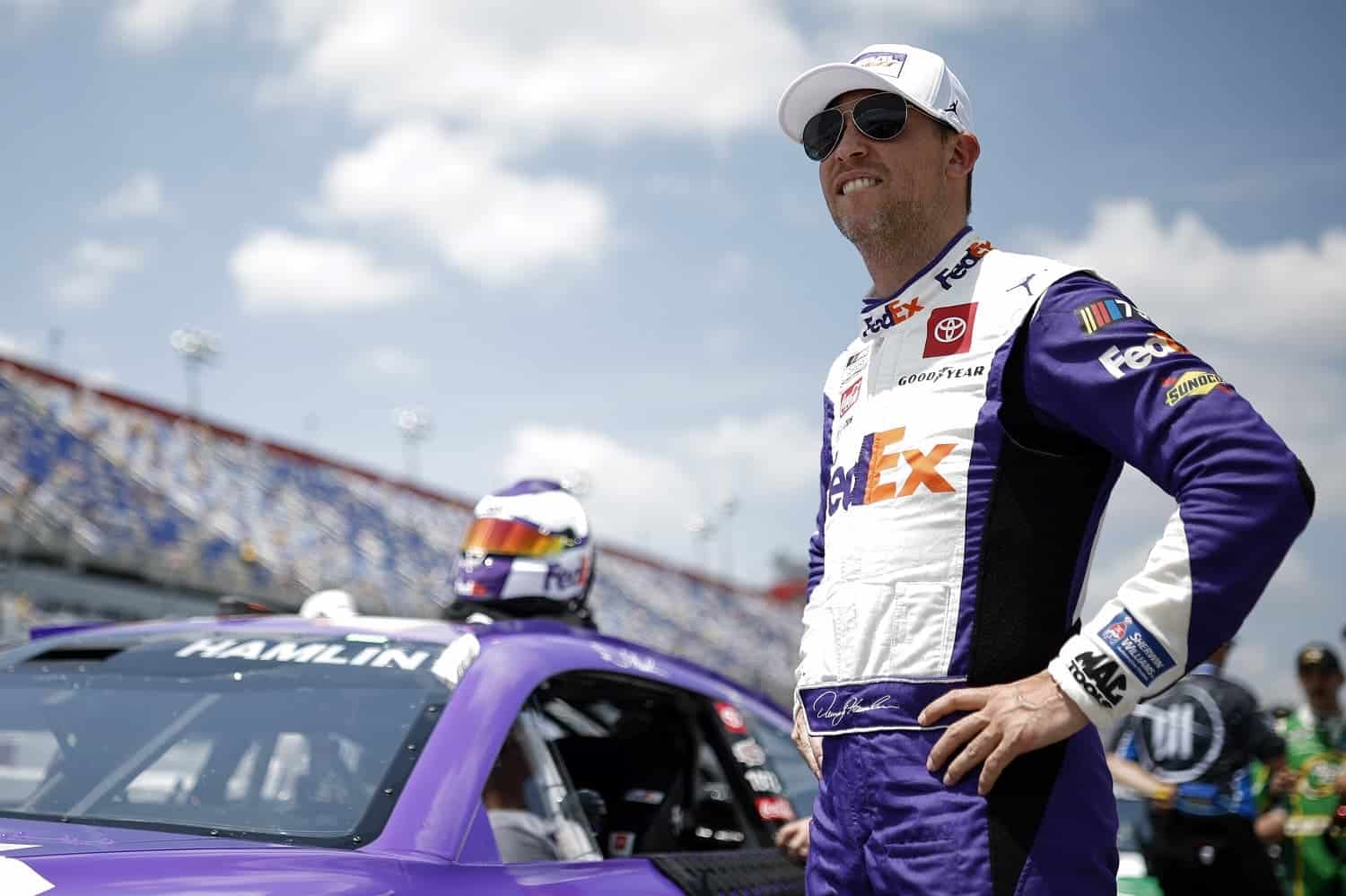 There was a time when you could just about set your watch by Denny Hamlin at Martinsville Speedway. The driver of the No. 11 Toyota won four Cup Series races there from 2008-10 and added a fifth victory in 2015. He's placed in the top five in 18 of 35 starts there and owns a pair of victories in the truck series for good measure.
The combined seven wins constitute 10.3% of his 68 career victories in a career that will conclude with enshrinement into the NASCAR Hall of Fame. Each of those victories came with a paycheck and a trophy.
In the case of Martinsville, the trophy is a nearly seven-foot-tall grandfather clock. It's a one-of-a-kind reward … unless you have seven of them.
Denny Hamlin knows he's stirring up trouble for himself
"Oh man I'm about to get dragged," Denny Hamlin began one of his tweets last week. When you see that, it generally prefaces an opinion or observation that deserves to get dragged. But that isn't necessarily the case here because Hamlin made a reasonable point about the grandfather clocks that Martinsville Speedway presents to winners.
"Is this a trophy or a piece of art?" the Joe Gibbs Racing driver continued. "Does it say winner anywhere on it? Date? I love cool unique trophies but feel like they should look like trophies."
Hamlin then proceeded to move in for what he called his "kill shot" in explaining why he doesn't consider the Martinsville clock all that prestigious.
"You can buy one from the store right down the road," he wrote. "Only 2 of my clocks actually have any writing on them saying signifying they were 'won.' It's just a clock that families of means owned about 40 years ago."
Jenna Fryer, who covers racing for The Associated Press, responded by pointing out that Jimmie Johnson, a nine-time winner from 2004-16, possesses "an entire warehouse of clocks."
Responded Hamlin: "I do as well. That's where they are. 7 grandfather clocks in my foyer would seem a bit weird."
The NASCAR track's tradition began in 1964
Denny Hamlin's observation that anyone could buy the clocks awarded as trophies at Martinsville wasn't new ground for him. He made a similar comment in a USA Today story in 2019, by which time dozens of NASCAR drivers had earned them on the track.
The Cup Series has been coming to Martinsville since 1949, the sport's inaugural year under the NASCAR banner. The tradition of presenting the huge timepieces, manufactured by Ridgeway Clocks, began in 1964 with winner Fred Lorenzen. Track founder H. Clay Earles saw it as a way for the winner's entire family to share in the success.
There comes a point, however, at which drivers do have to say enough is enough. For Jimmie Johnson, eight was enough. He gave one of his prize clocks to Bruton Smith, the founder of track operator Speedway Motorsports.
Got a question or observation about racing? Sportscasting's John Moriello does a mailbag column each Friday. Write to him at [email protected]