Denver Broncos Legend and Hall of Famer Floyd Little Entering Final Days of Battle with Cancer
Floyd Little earned All-American honors three times as a running back at Syracuse University. He was a star with the Denver Broncos and became known as "The Franchise" because his signing was so influential it helped the team avoid relocating in the 1960s. In May, it was announced that Little was in a fight for his life battling an aggressive form of cancer. Sadly, that fight appears to be entering its final phase. 
Floyd Little has a Hall of Fame career with the Denver Broncos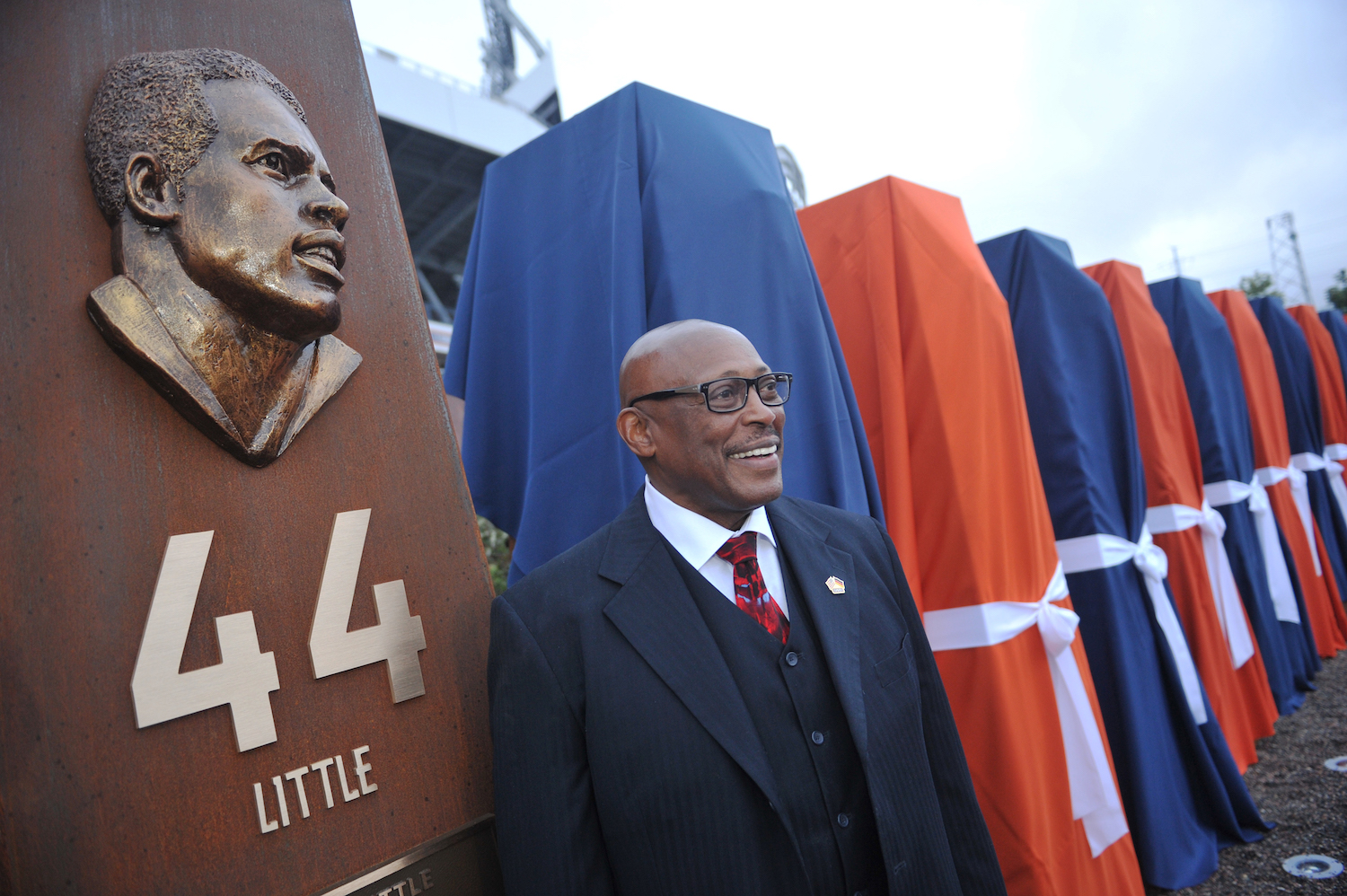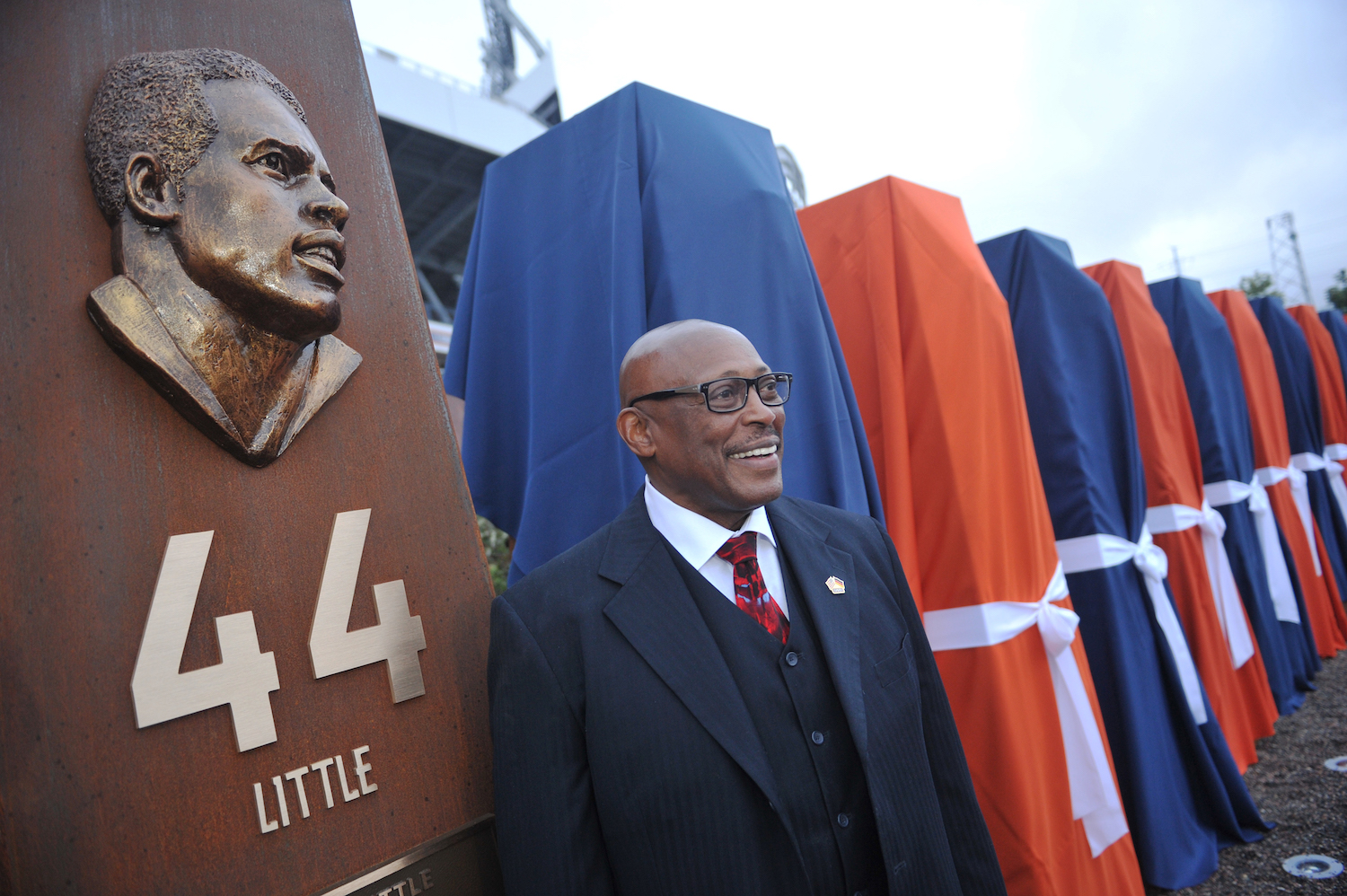 Floyd Little played three years at Syracuse University and proudly donned the No. 44 jersey, following in the footsteps of superstar running backs Jim Brown and Ernie Davis. The Denver Broncos drafted the three-time All-American with the No. 6 overall selection in the 1967 NFL Draft.
With Little's signing, Broncos fans instantly became enthusiastic about a team that had struggled for years and almost left town a few years earlier. Little helped the team on and off the field for nine seasons. 
After leading the NFL with 1,626 all-purpose yards his rookie season, he earned five Pro Bowls and one All-Pro honor during the next eight seasons, which included leading the NFL in rushing with 1,133 yards in 1971. He led the NFL in total yards during his nine years in Denver.  
He was also an ambassador of the team off the field as he and his teammates would go door-to-door encouraging voters to approve funds to build a new stadium. For his dual efforts, he was aptly nicknamed "The Franchise." 
Floyd Little battling cancer 
After retiring, Floyd Little was recognized for his college career and inducted into the College Football Hall of Fame in 1983. The Broncos welcomed him a year later as a member of the inaugural class of the club's Ring of Fame. In 2010, he was inducted into the Pro Football Hall of Fame alongside other inductees Emmitt Smith and Jerry Rice.
In May of this year, former Syracuse teammate Pat Killorin reported that the 78-year-old Little, who lives in Las Vegas with his wife DeBorah, was in a new fight, battling against an aggressive but treatable form of cancer. Killorin created a GoFundMe page to help raise money for the ailing Hall of Famer, which ultimately raised more than $130,000.
"No doubt it will be the toughest fight of his life," Killorin wrote on the GoFundMe page. "Although he has lived a full life admired and enjoyed by many, Floyd doesn't believe he has yet written, with his Lord and Savior Jesus Christ, the final play of his life."
Entering the final days of his battle
Killorin has provided periodic updates on Floyd Little's condition throughout his battle with cancer. Killorin's most recent update posted on Facebook this weekend had a sobering tone. 
"Today, we are going to talk about a new stage in Floyd's journey. Hospice," Killorin wrote. "Floyd's courageous battle with a difficult disease [cancer] is now at a critical stage in his life. This is a time when a husband and wife must make important decisions regarding potential end of life decisions."
Little's wife DeBorah added more information in a Facebook post on Sunday morning.
"Floyd's doctors determined that his cancer treatments were not performing well so they discontinued treatment and strongly recommended hospice care," she wrote on her Facebook page. "He has been under hospice care for two weeks and two days. As for the question, "How is Floyd?" … taking it one day at a time."
In Sunday's game, the Broncos rushed for 189 yards in a 20-13 upset win over the Miami Dolphins. After the game, Broncos' head coach Vic Fangio gave one of the team's game balls to Little and his family.
All stats courtesy of Pro Football Reference.