Deshaun Watson May Want the Denver Broncos, but Why Would They Want Him?
It's probably not the best time for Deshaun Watson to get picky. The disgruntled Houston Texans quarterback has stayed away from the team for several months after demanding a trade. He also has 22 lawsuits against him from women who allege he sexually assaulted or harassed them. The quarterback has reportedly told an ex-teammate he now wants to play for the Denver Broncos. Watson doesn't have a whole lot of leverage, and it's absurd to think he'll be able to go wherever he wants.
Deshaun Watson reportedly tells former teammate he wants to play for the Denver Broncos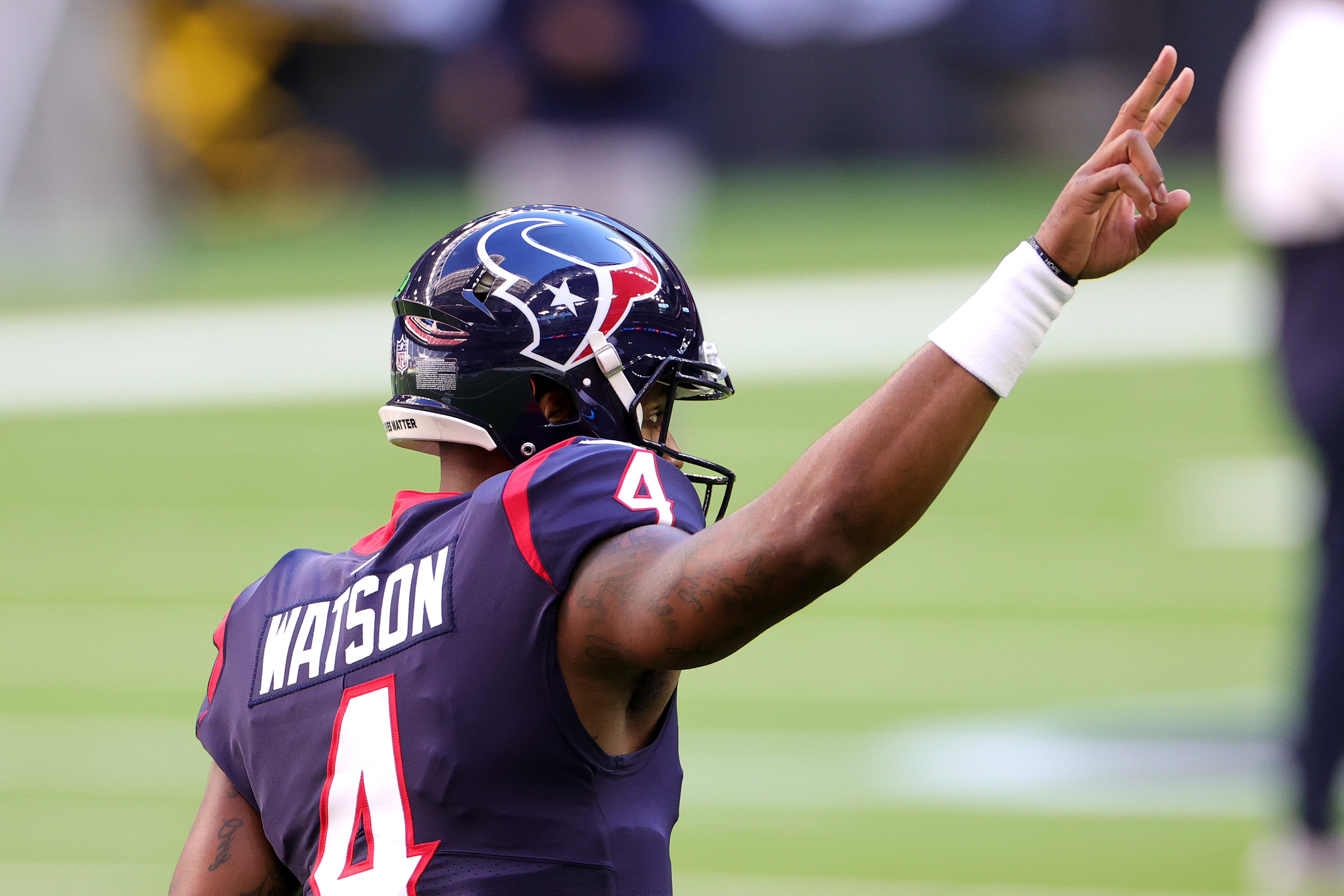 Not only has Watson demanded the Texans trade him, but he's now reportedly requesting where he wants to play. During Aqib Talib's Catchin' Fades podcast, Watson's former teammate, Kareem Jackson, revealed Watson told him he wanted to play for the Broncos.
"I've got a great relationship with Deshaun," said Jackson, a member of the Broncos. "I've been talking to him the last couple of weeks, man, and like, all he's been telling me is like, 'Jack, just tell 'em, like, that's where I want to be.' He's like, 'I want to be in Denver.'"
Jackson and Watson were teammates in Houston during the 2017 and 2018 seasons. Watson is sticking to his plans of wanting out of Houston. He hasn't attended any of the team's voluntary organized team activity sessions.
Why would the Denver Broncos want Deshaun Watson?
Watson is apparently unhappy with the Texans because they hired a new general manager and coach without getting his input. They also upset him by trading his biggest weapon, wide receiver DeAndre Hopkins, prior to the 2020 season. The Texans did, however, lock up Watson with a contract extension worth $156 million over four years.
The Broncos secured Teddy Bridgewater through a trade with the Carolina Panthers in August. Bridgewater is a veteran quarterback who will mesh with Denver's young and talented wide receivers. Yes, Watson is an upgrade over Bridgewater, but he's much cheaper and has no baggage.
The Broncos are paying Bridgewater $3 million this year (the Panthers are paying him an additional $7 million). Watson is scheduled to make $10.5 million this year before his extension kicks in, and he makes $35 million in 2022.
At this point, the salary would be the least of Denver's worries. Although there have been no criminal charges filed against Watson, he's had 23 lawsuits filed against him, with one withdrawing her case. He's disgruntled, makes a ton of money, and his reputation is questionable at best. The Broncos, or any other team at this point, would be foolish to throw draft picks or players at the Texans for Watson until the case is settled.
Watson's damaging allegations should be his priority
Watson would be a major distraction to whatever team he's suiting up for in 2021. Football, at this point, shouldn't be the biggest concern for the quarterback. He should be aiming to clear up his legal issues even though his lawyer, Rusty Hardin, said the allegations against his client are a "money grab." In April, he even went as far as saying all 22 women are lying.
"The answer to the question of whether we are saying that all 22 plaintiffs are lying about the allegations of sexual misconduct by Mr. Watson is a resounding yes," Hardin, said in an April statement, according to USA Today.
It tough to fathom that 22 women who don't know each other are all making up their stories. "You have 22 women coming forward all asserting the same thing," said David Ring, a Los Angeles attorney who has represented sexual assault survivors. "That's a whole lot different than one or two. With one or two, Deshaun Watson can take them on and put up some defenses. But when you've got 22, it's Harvey Weinstein all over again." Ring is not involved in the Watson case. 
The NFL is also conducting its own investigation and could hand down a punishment. Watson's problems go well beyond the Houston Texans not asking for his input on their GM search. He appears delusional in demanding a trade and then selecting his own team as 22 lawsuits stare him in the face.