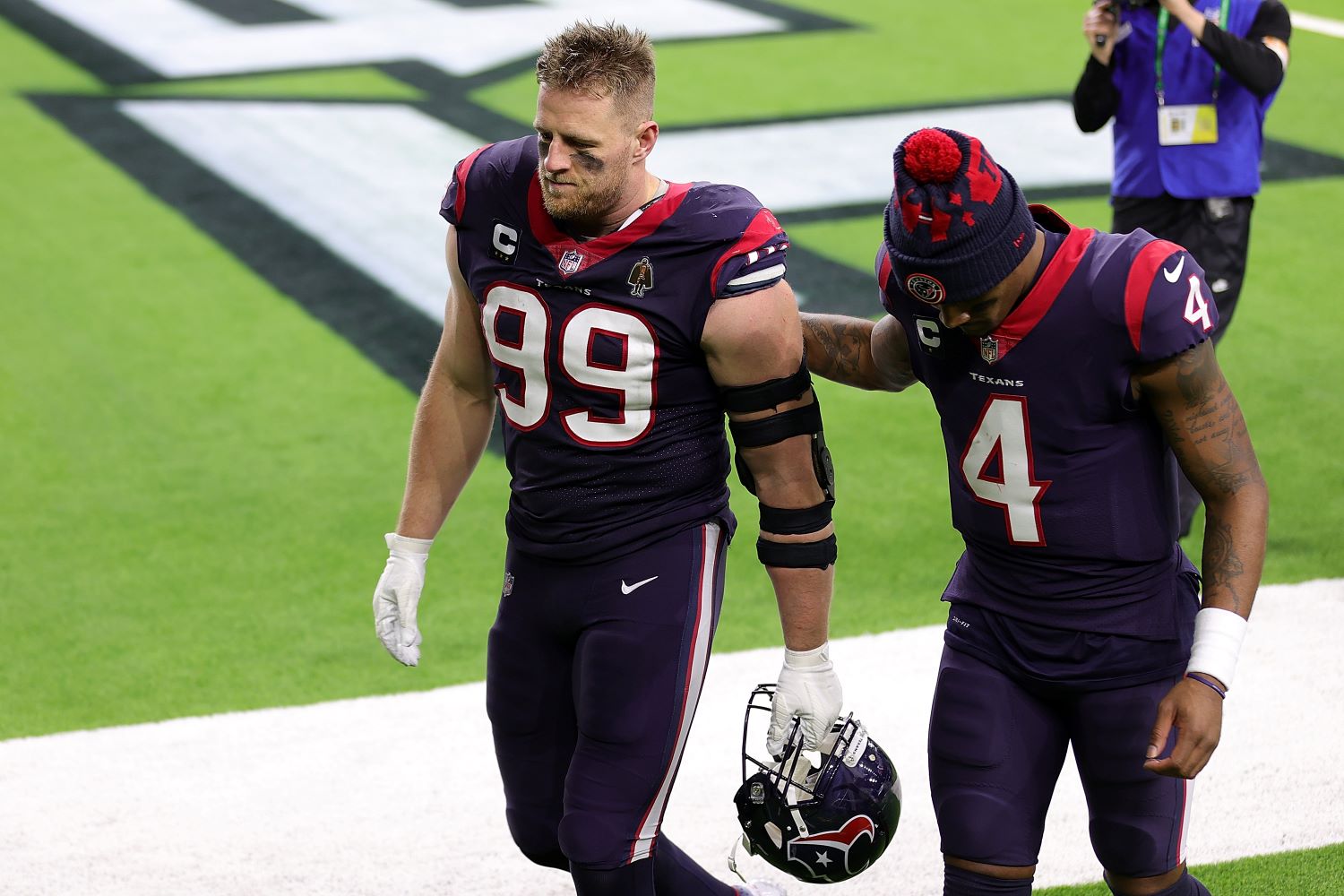 The Texans Have Forced Deshaun Watson to Discuss a Nightmare Scenario With His Teammates
Despite recently signing a $156 million contract, Deshaun Watson has already talked to Texans teammates about the ultimate doomsday scenario.
When Deshaun Watson signed a $156 million contract extension with the Houston Texans in September, it should have left no doubt about his future with the franchise. But four months later, the idea of the star quarterback becoming the face of another NFL team seems to be growing more realistic by the hour.
In fact, the three-time Pro Bowler has already talked to his teammates about making the Texans pay for their unforgivable mistake. Can Houston find a way to fix things with its most important player? Or will Watson force the franchise to find him a new home?
Houston went back to New England for its latest hire
The Texans certainly have an affinity for former New England Patriots employees. They first plucked from the Bill Belichick tree back in 2014 by hiring Bill O'Brien as head coach.
Prior to his two-year stint at Penn State, the Massachusetts native worked for New England from 2007-2011. In his final season with the team, O'Brien served as offensive coordinator. The Patriots advanced to the Super Bowl due largely to a high-powered offense that finished third in scoring and second in total yards.
Although he turned the Texans into a perennial playoff contender, O'Brien failed to win a championship. He also made a number of stunning personnel moves, including trading away Deshaun Watson's No. 1 target, DeAndre Hopkins.
Ironically, while O'Brien ultimately got fired during the 2020 season, Jack Easterby, the former Patriot he brought in to help him, remains a powerful figure in Houston despite not having a background in scouting or player personnel.
Even though bringing in former New England employees hasn't exactly worked out well, that didn't stop Houston from hiring Belichick's trusted confidant to be its new general manager. On Tuesday, Nick Caserio signed a six-year, $30 million contract with the Texans. The 45-year-old has never worked for another NFL team besides the Patriots.
The Texans committed an unforgivable mistake with their most important player
It certainly wasn't a total shock to see the Texans go back to their Patriots roots to find their next GM. After all, Houston tried to pry Caserio away last year before New England filed tampering charges.
Still, the move did come as a surprise to the team's most important player. And as a result, Deshaun Watson is "infinitely more bothered" with his team.
According to Adam Schefter of ESPN, the star quarterback offered input on potential GM candidates. But instead of considering or consulting with their highly-paid and highly-productive franchise player, the Texans "neither considered nor consulted" with anyone Watson endorsed.
Incredibly, Watson learned about the Caserio hire on social media like the rest of the world. Of course, he tweeted, "some things never change…" later that night.
Despite meeting with Texans owner Cal McNair on several occasions, Watson ultimately got ignored during the process. He had hoped Houston would "respect the feelings of the group he was trying to represent," according to ESPN's sources.
Yet, McNair hired someone who didn't even make the final candidate list compiled by the professional search firm he hired to help find the team's next GM. By keeping Watson in the dark and not valuing his opinion given his value and importance to the franchise, Houston absolutely committed an unforgivable mistake.
Deshaun Watson has been forced to have a tough talk with his teammates
Connecting the dots with everything going on with the Deshaun Watson situation can be a little tricky. But now that we know how the Texans handled the hiring process for their GM vacancy, things start to make much more sense.
Without a doubt, McNair (or whoever actually runs the organization) created a problem that never needed to exist. Even if the Texans had their sight set on a particular candidate, they should have at least shown Watson the respect to do even some surface-level digging into candidates he endorsed.
Instead, they've upset their quarterback to the point that he's already talked to teammates about making the team pay for its unforgivable mistake.
According to Pro Football Talk, Watson has "quietly broached with teammates the possibility of requesting a trade."
If that's indeed the case, it sure sounds like the 25-year-old already has one foot out the door. And considering how poorly the organization has been run throughout his career, it's hard to knock Watson for exploring a change of scenery.
Still, it seems crazy to think that a franchise that already has the most important piece of a championship puzzle would actually trade that asset away. However, the Texans may not have much of a choice.
Because if they've truly fractured their relationship with Watson beyond repair, then Caserio's first move as GM may involve getting rid of the only sure thing in Houston other than James Harden falling short in the playoffs.
Like Sportscasting on Facebook. Follow us on Twitter @sportscasting19.