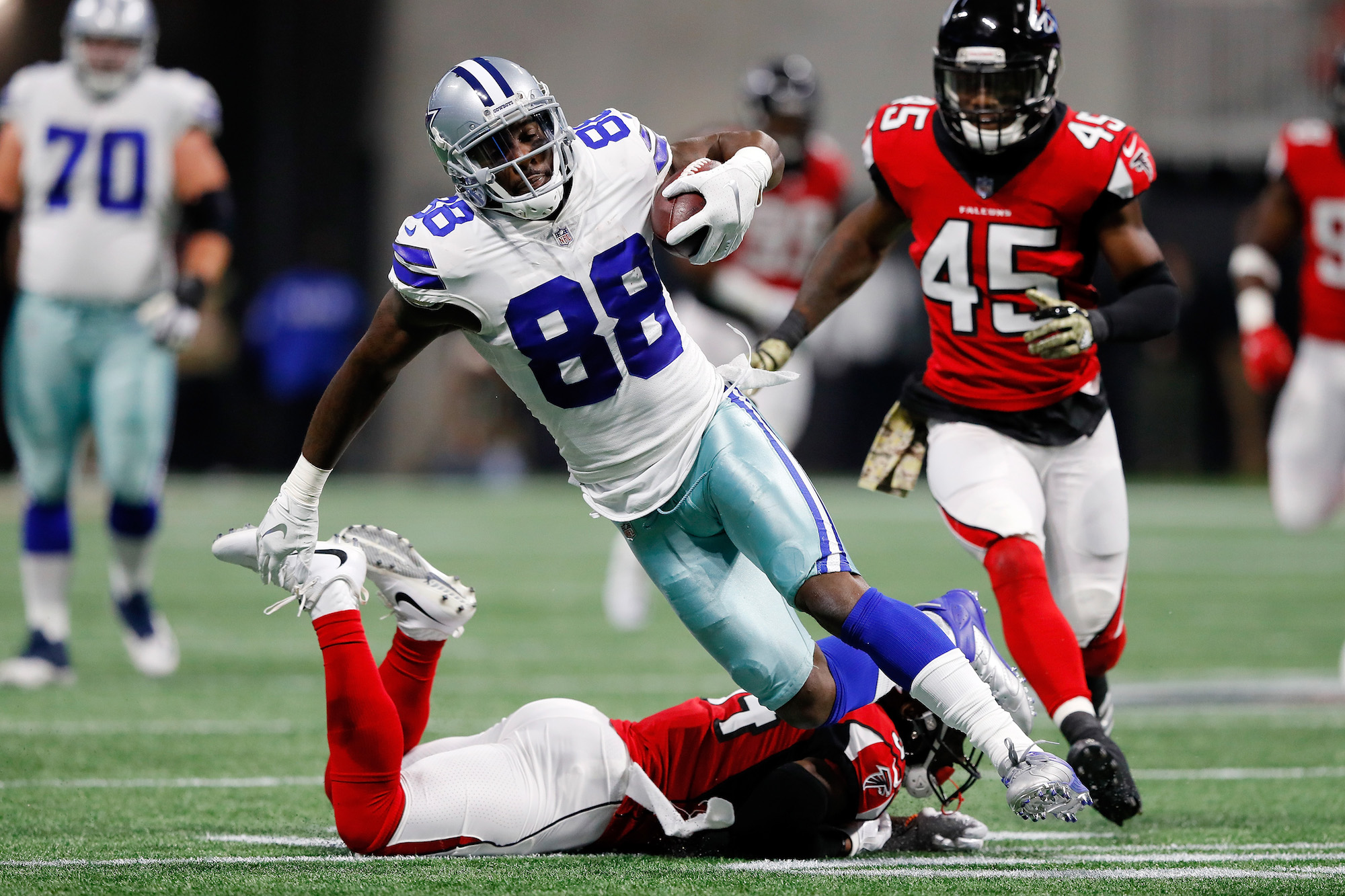 Dez Bryant Started His Football Career With a Set of Stolen Equipment and Some Divine Intervention
Long before joining the Dallas Cowboys and making millions, Dez Bryant had to steal a helmet and shoulder pads just to play football.
Once a player reaches the NFL, equipment is no longer a major concern. Unless you're Antonio Brown, helmets and pads are simply part of the job; every player knows what they like, can get exactly what they need, and simply suit up on Sundays. Dez Bryant, however, had to do things a bit differently during his youth.
Long before the star receiver suited up for the Dallas Cowboys, Bryant faced an incredibly tough childhood. His football career, in fact, began with a set of stolen equipment.
Dez Bryant's rise to football prominence
By the time Dez Bryant joined the Dallas Cowboys, he was already a big name on the football scene. The receiver started making a name for himself and high school and only went on from there.
After playing football and running track at Lufkin High School, Bryant headed to Oklahoma State. During his first season with the Cowboys, the receiver pulled in 43 passes for 622 yards and six touchdowns; he followed that up with a 1,480 yard, 19 touchdown sophomore campaign.
While Bryant seemed poised for another monster season the following fall, he would barely get to see the field. After three playing three games for the Cowboys, the receiver was deemed ineligible for action by the NCAA; as documented by an ESPN report from the time, he lied about a meeting with Deion Sanders during the offseason.
Bryant never played another snap in the NCAA. After the 2009 season ended, the receiver entered into the NFL draft; he ended up landing with the Dallas Cowboys toward the end of the first round.
The receiver's football career started with some stolen equipment
Once Dez Bryant signed his first NFL contract, he earned more than $8 million in guaranteed money. Growing up, however, the wide receiver experienced a much different reality.
As explored in Paul Solotaroff's Rolling Stone profile of the receiver, Dez grew up "on the wrong side of Lufkin, Texas." His mother, who was only 15 when she gave birth, worked as a motel housekeeper; she eventually started selling drugs to help make ends meet.
Bryant rarely had enough food to eat—"you'd be lucky if you had a Hot Pocket for dinner," he recalled—and was beaten by his mother, who eventually served time in prison. The boy had one salvation, though: football. Even that love, however, was almost crushed by the family's circumstances.
After Angela Bryant got out of jail, she and Dez tried to enroll him in youth football. They quickly encountered a problem, though, as they learned players needed to pay for their own equipment. On the way home, however, fate intervened.
"But I swear on my life, I was blessed that day," Bryant told Solotaroff. "There was this abandoned trailer, and on the stoop outside, I seen these shoulder pads and helmet sitting there. The craziest s–t was, they actually fit me. I stole those, man. I stole 'em, and I played."
Dez Bryant won't have to worry about money anytime soon
If not for that stolen set of equipment, Dez Bryant might not have ever become a professional football player. Once he hit the pros, however, financial issues became a thing of the past.
As a first-round pick, Bryant landed a five-year, $11 million contract from the Dallas Cowboys. He lived up to that price tag on the field, poling up 5,424 yards and 56 touchdowns over the course of the deal; the Cowboys then slapped $12 million franchise tag on the receiver but inked him to a $70 million extension before the season began.
Although Bryant didn't reap the full rewards from that contract—he was released after the 2017 season and hasn't played in the NFL since—the receiver still earned more than $57 million during his professional career. CelebrityNetWorth also estimates his fortune at $4 million; that's certainly a long way from stealing shoulder pads and a helmet as a kid.
Stats courtesy of Sports-Reference and Pro-Football-Reference. Contract information courtesy of Spotrac