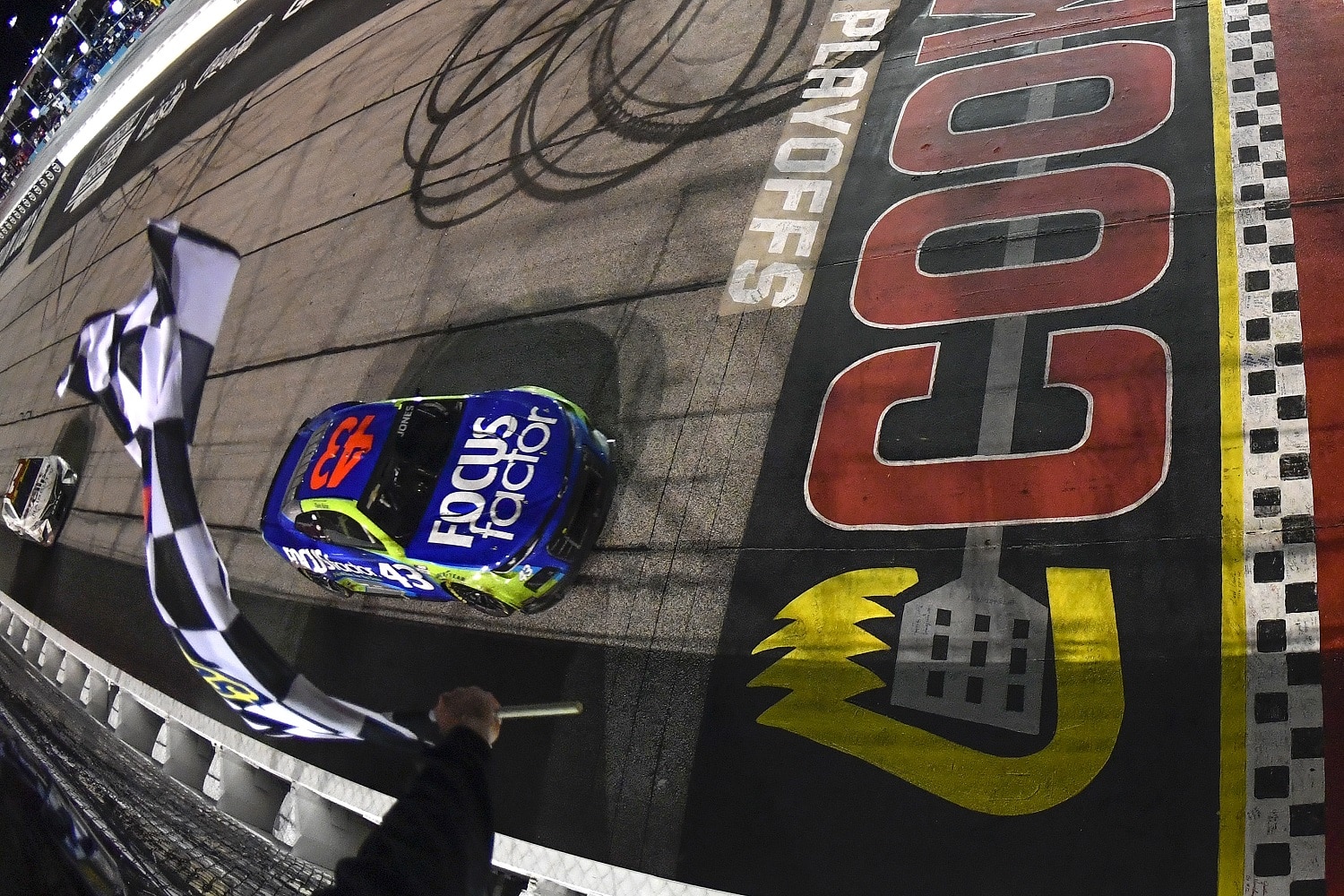 NASCAR Mailbag: Did Erik Jones Foul Up the Playoffs by Winning at Darlington?
Fans of other sports may not understand how NASCAR can mix playoff contenders with also-rans for the final 10 weeks, but there isn't a great alternative.
One by one, Chase Elliott, Kevin Harvick, and Kyle Busch fell by the wayside at Darlington Raceway. Suddenly, it was Erik Jones vs. Denny Hamlin for the victory, with Hamlin having much more at stake as a NASCAR playoff participant.
Jones took the checkered flag. In the course of scoring his third career victory in the Cup Series, he also denied Hamlin an automatic transfer into the next phase of the playoffs.
NASCAR runs an open race as a last-chance qualifier right before the All-Star Race. Isn't there a way of similarly separating the non-playoff cars from those that are still contending for the championship? (From K.D. via Gmail)
Would you watch an eight-car playoff race at Homestead-Miami? How about a 12-car race at Talladega? I strongly suspect the answer is, "No." Even a short track like Bristol wouldn't be compelling viewing with just 16 cars.
And, not to drag money into it, but NASCAR teams depend heavily on sponsorships (See: Busch, Kyle) to make it through the season. Businesses won't pay full price for a shot to see their car win the consolation bracket in the last 10 races of the season.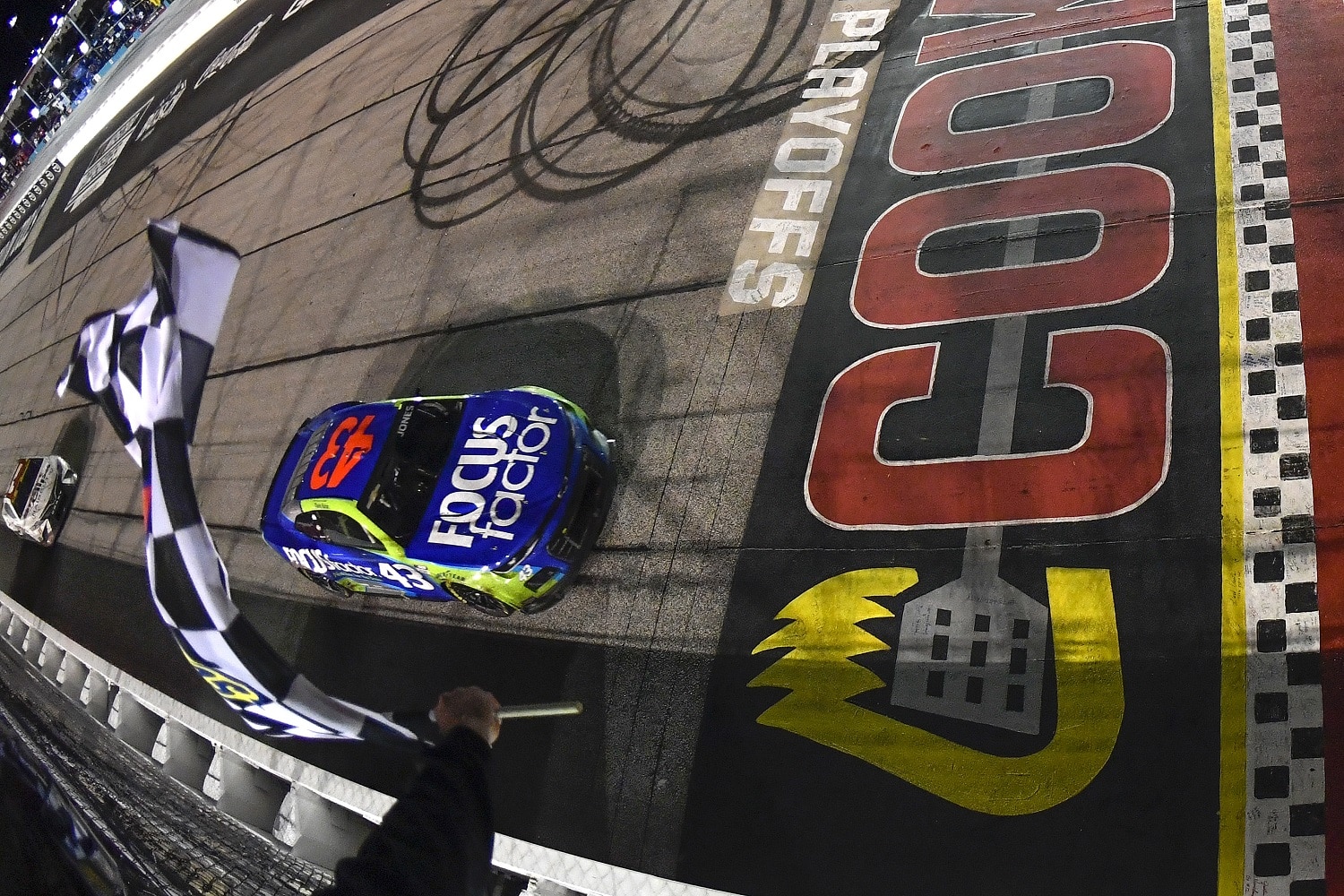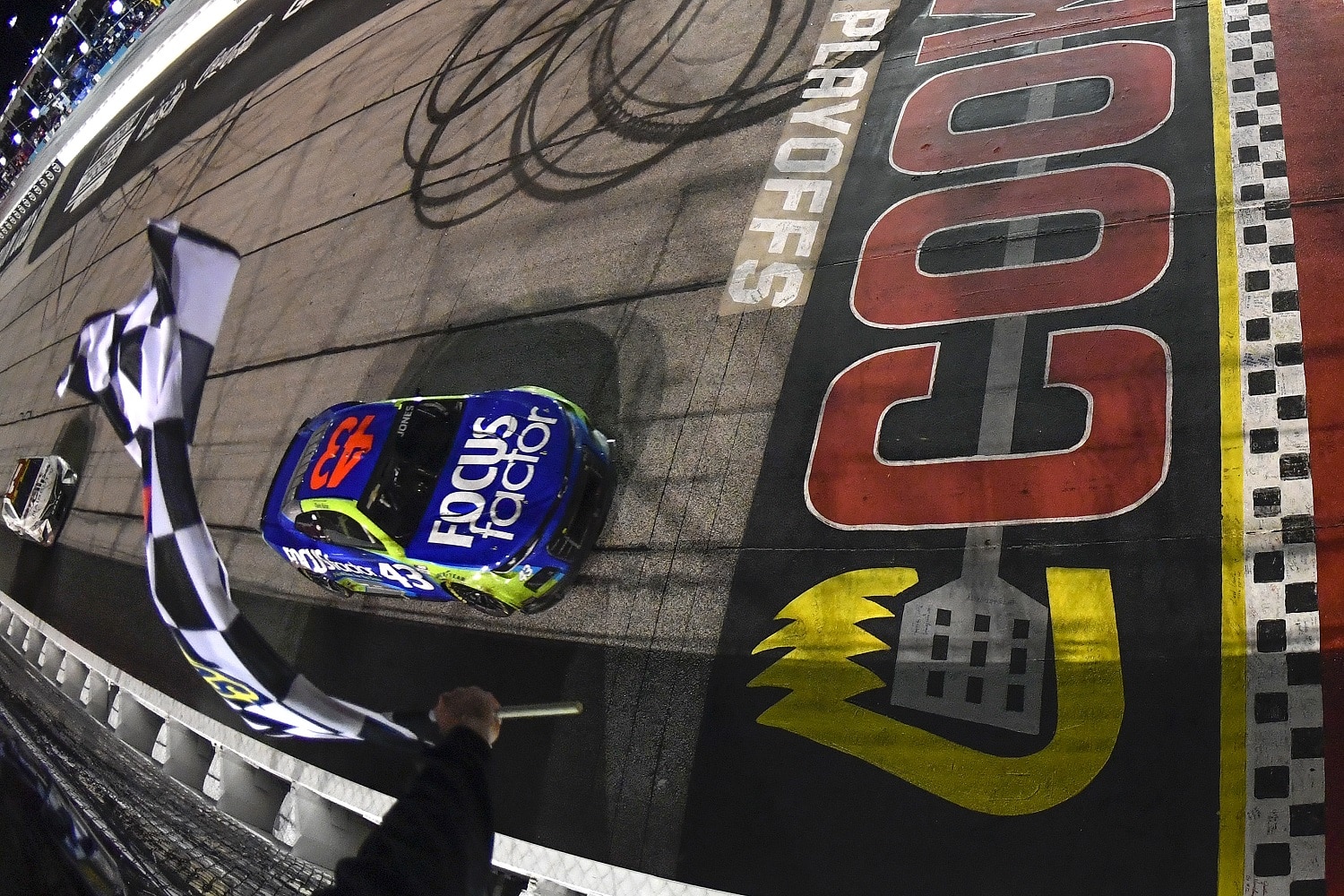 The one workaround fans discuss is a return to the pre-playoff days of determining the championship on season-long points. Unfortunately, that gets us back to a scenario in which someone could build an insurmountable lead with two or three races to go.
What's that? You say that's a non-issue? Try telling that to Formula 1 executives who'll see TV ratings drop once Max Verstappen clinches the World Drivers' Championship in Japan, rendering the U.S. Grand Prix and three races after that moot.
While it's true that Jones' victory ended up costing Denny Hamlin an automatic transfer into the next round, Hamlin still picked up a bunch of points to shoot him up from sixth to third in the standings.
The current format is the least-dirty fire suit in the NASCAR hamper. Every driver deserves to race for the win. As long as Ricky Stenhouse Jr. doesn't spin out Kyle Busch with 20 laps to go in the next two months, let's stick with what we've got.
Thank goodness NASCAR has rid itself of Texas Motor Speedway. The All-Star Race belongs anywhere but there. (From S.W. via Gmail)
While I can't say I disagree about the quality of All-Star Races there, Texas Motor Speedway hasn't been the only culprit. NASCAR has mucked the event up with gimmicky formats that casual viewers and even hardcore fans can't grasp.
But TMS has become a single-groove track that fans aren't flocking to on race weekends. North Wilkesboro Speedway is going to lack some of the amenities of modern tracks, but a $1 million first prize for a race on a short track will be more fun than what we've been getting. Upon further review, however, $2.5 million would have a nicer ring to it.
As for TMS, my fear is that owner Speedway Motorsports will be tempted to follow its Atlanta Motor Speedway model and aim for the 1.5-mile superspeedway look to lure NASCAR back. Having witnessed two rounds of demolition derby at Atlanta, I can vouch that we don't need any more of that. God invented Daytona and Talladega for that sort of nonsense.
Did you see the survey "revealing" Florida and Alabama as the states where NASCAR races average the most DNFs? I'm banging my head against the wall (sarcasm) while looking for the common denominator. (From L.N. via Gmail)
NASCAR banned Confederate flags, so it must be hurricane-related, right? Nothing else can possibly make sense.
Like Sportscasting on Facebook. Follow us on Twitter @sportscasting19 and subscribe to our YouTube channel.
Got a question or observation about racing? Sportscasting's John Moriello does a mailbag column each Friday. Write to him at [email protected].