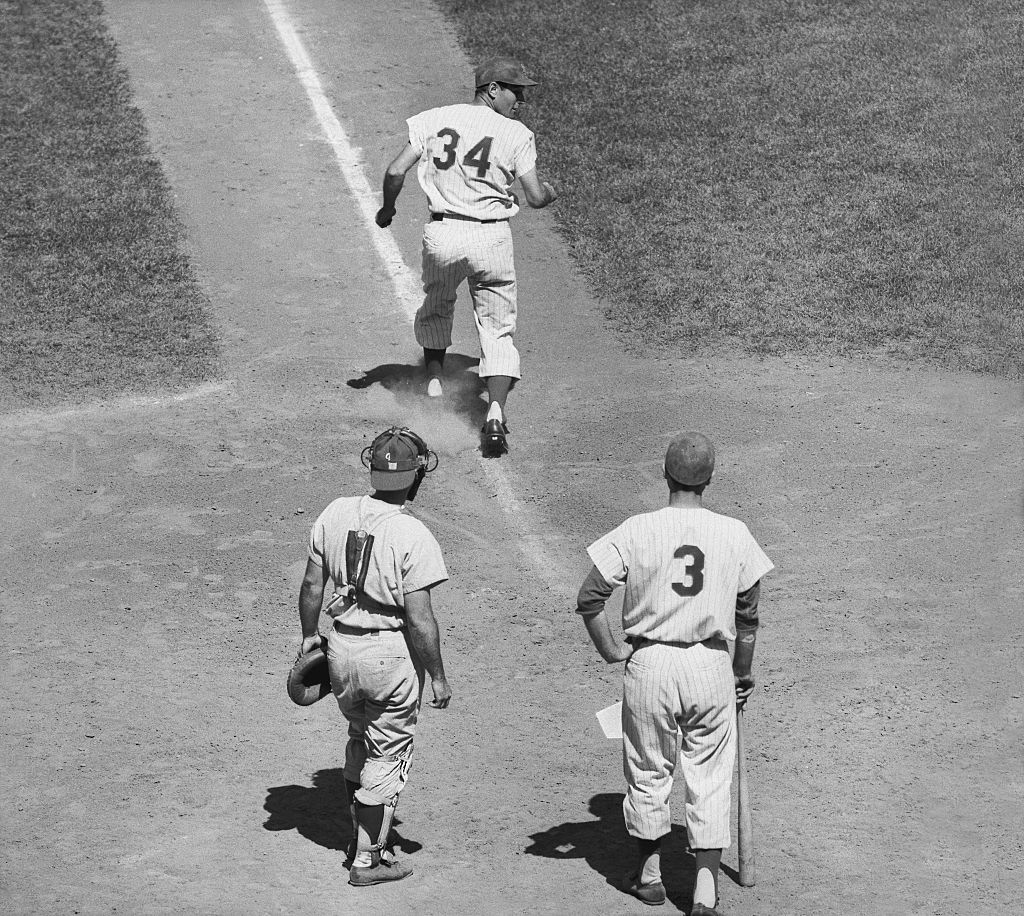 Did Jimmy Piersall Really Run the Bases Backwards When He Hit His 100th Home Run?
Did former Major league Baseball player Jimmy Piersall really run the bases backwards after hitting his 100th home run?
Jimmy Piersall was a 17-year veteran of Major League Baseball. He was a two-time MLB All-Star and two-time Gold Glove winner. He was one of the sport's greatest characters of the game, but he also suffered from mental illness. His condition, combined with his antics on the baseball diamond led to his autobiography, and later a movie about his life, titled Fear Strikes Out.
Piersall broke into the big leagues with the Boston Red Sox
Age the age of 18, Jimmy Piersall became a professional baseball player, signing a contract with the Boston Red Sox in 1948. In 1950, Piersall, an outfielder, made his Major League Baseball debut with the Sox. He played in six games and went 2-for-7 at the plate with four walks.
In 1952, Piersall broke into the big leagues for good, playing in 56 games, but a series of bizarre events cut his season short. First, he engaged Billy Martin of the New York Yankees in a fight before a Sox-Yankees meeting. He then got into an altercation with teammate Mickey McDermott that same year and then was demoted to the minor leagues.
When Piersall was in the minors, he was ejected multiple times in three weeks. Piersall was suspended and at that time he checked himself into a Massachusetts mental hospital, where he was diagnosed with "nervous exhaustion."
Piersall's battle with mental illness
Like Jimmy Piersall, his mother, Mary, suffered from mental illness. From 1936-46, she was often committed to a sanitarium. "If my father was preparing supper when I got home, it wouldn't be necessary for us to exchange a word," Piersall said. "I knew that meant my mother had gone away again."
It didn't take long for Piersall to establish himself as a sideshow on the baseball field. And he soon displayed the signs of the mental illness that had stricken his mother. An antagonist of fans and umpires alike, he called attention to himself by taking bows after almost every catch.
Despite all this, Piersall was a very good baseball player. He returned to the Red Sox in 1953 and finished ninth in the Most Valuable Player voting. Piersall tied an MLB record for hits in a nine-inning game, going 6-for-6 on June 10. He was an all-star in both 1954 and in 1956. During the '56 season, Piersall led the league in doubles. He also finished with 14 doubles and 87 RBIs.
In Fear Strikes Out, Piersall wrote, "Probably the best thing that ever happened to me was going nuts. Whoever heard of Jimmy Piersall until that happened?"
Piersall smacks 100th home run
Jimmy Piersall's antics continued throughout his career. In 1960, when playing for Cleveland, he threw an orange at the scoreboard. He also threw a bat at Yankees pitcher Jim Coates. He once pulled out a water pistol and shot water at an umpire's face. In an interview back in 1952, Piersall talked about the stunts he pulled.
"I was a ripe subject for sportswriters and columnists. I gagged up one thing after another, and almost everybody but the men on the field thought I was a riot," he wrote. "I made life miserable for the umpires with absurd and violent protests over routine decisions. I stormed and screamed and even once cried like a baby. I mocked my teammates and got into fistfights with friends and foe alike."
On June 23, 1963, while playing for manager Casey Stengel and the New York Mets, Piersall smacked the 100th home run of his career off Philadelphia Phillies pitcher Dallas Green. Piersall went back to his antics and ran the bases backwards. (He did not run from third to home, but turned around and ran backwards from first to home). Stengel was not amused and cut Piersall two days later.
Stengel, however, did pay Piersall a major compliment at one point in his career, saying "I thought Joe DiMaggio was the greatest defensive outfielder I ever saw," said Stengel, who managed DiMaggio from 1949-51. "But I have to rate Piersall better."