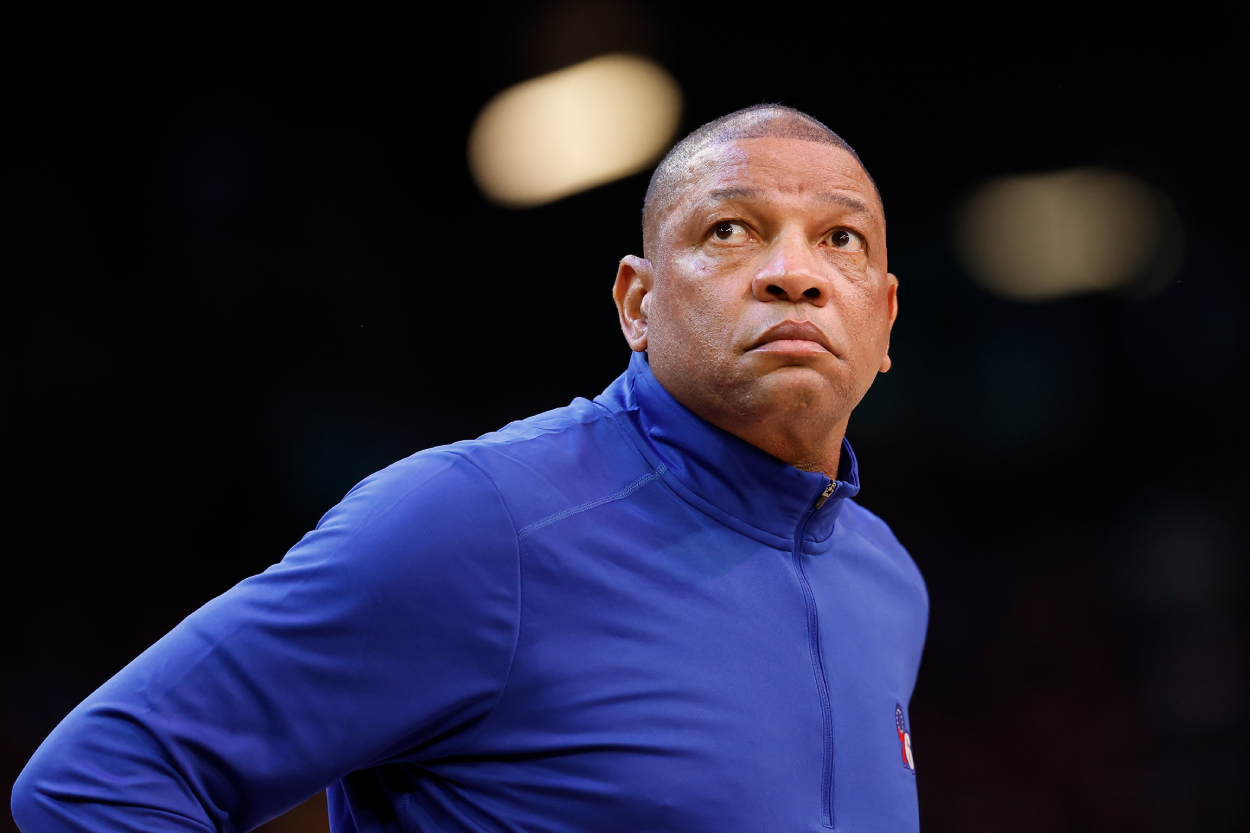 Doc Rivers' Job Security Questioned by Jalen Rose
Doc Rivers' job could be on the line in the Philadelphia 76ers' next couple of games, and Jalen Rose doesn't know if he should return next season if they lose.
A week ago, it looked like the Philadelphia 76ers were about to sweep through the first round of the NBA Playoffs. They have since put their brooms back in the closet.
On Thursday, they will try to avoid playing in a Game 7 when they travel to Canada for a Game 6 with the Toronto Raptors.
No team in NBA playoff history has ever lost a series after jumping out to a 3-0 advantage, but if it were to happen to any coach, it would be Philly's Doc Rivers. His squads have a history of choking away big leads, so losing to the Raptors isn't out of the question.
And Rivers likely wouldn't be able to come back from such a tragic loss. In fact, former NBA player Jalen Rose thinks he will be on his way out of Philadelphia if the incident occurs.
Jalen Rose questioned Doc Rivers' job security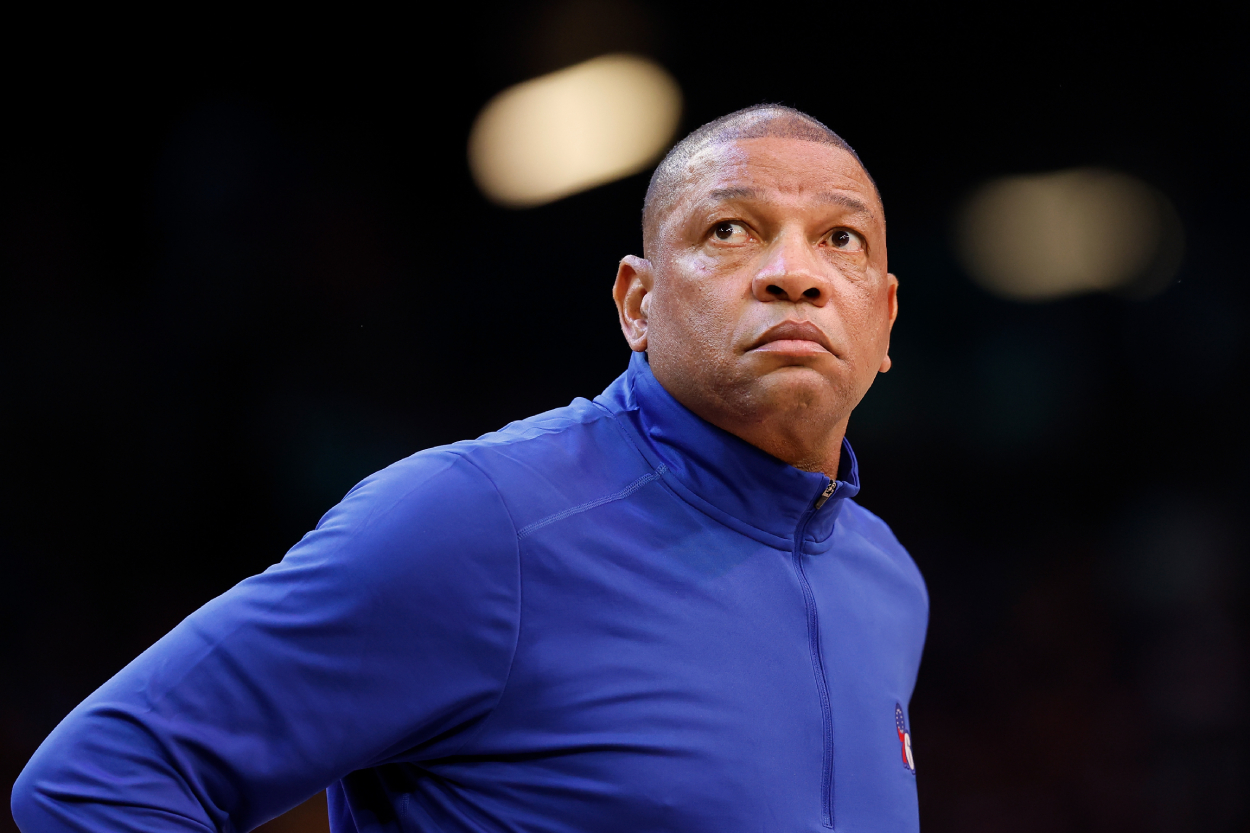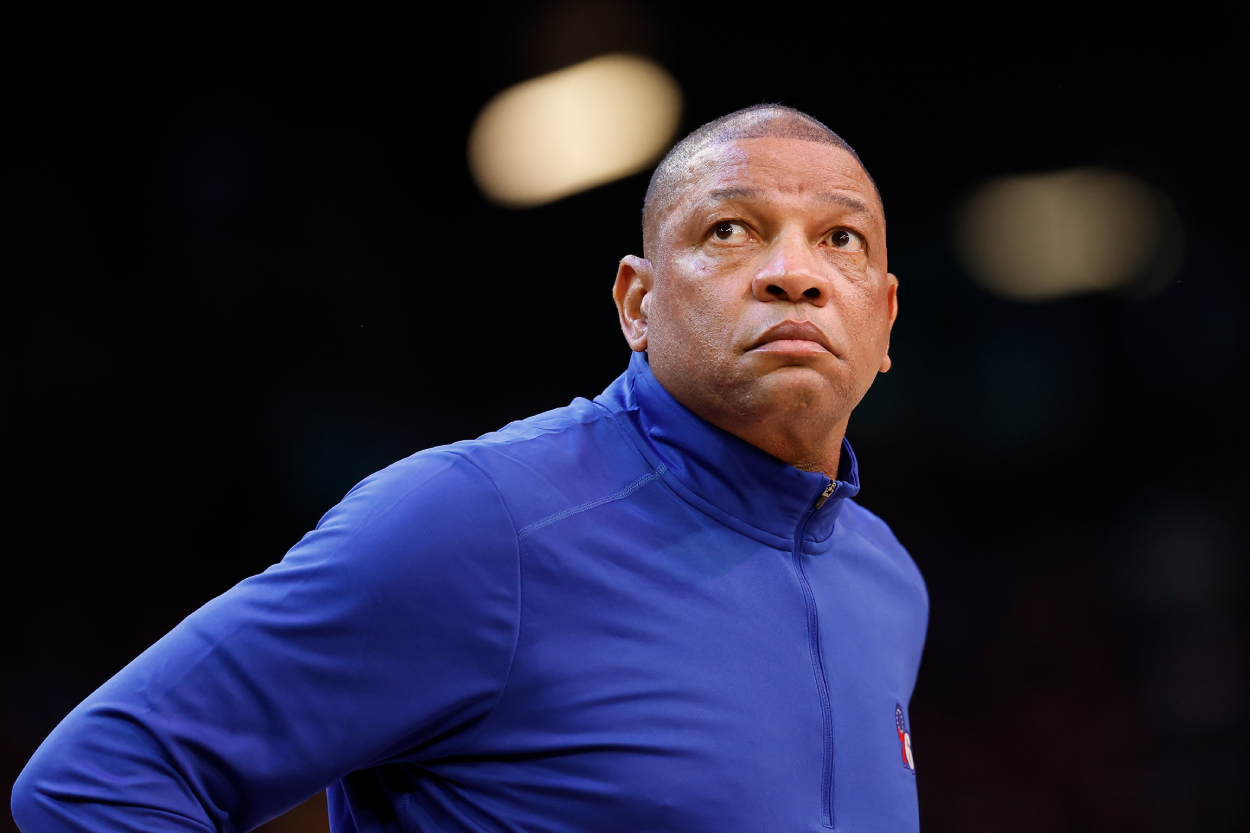 If the 76ers were to lose a series after leading 3-0, especially with Joel Embiid (injured or not) and James Harden, it would instantly put another stain on Doc Rivers' legacy.
Sure, Rivers won an NBA championship with the Boston Celtics and led them to another NBA Finals two seasons later, but he has also been the king of blowing leads. Prior to this postseason, Doc had five of the eight largest blown playoff game leads in the last two years (h/t All Clippers). He is also the only coach in history to lose three series after leading 3-1.
So, a first-round loss to the Raptors would likely be a fireable offense for Rivers.
"As now you [dig] deeper, you're gonna say, 'Hold on, is Doc Rivers the reason?' That's what people gonna say if they lose," Jalen Rose said on the April 26 episode of Jalen and Jacoby. "… Say the Raptors were to come back and win this series, you can't bring Doc back. … I love Doc Rivers. He's one of the top 15 coaches in the history of the NBA. … But you can't bring him back if they lose."
Rose is probably right. The 76ers had an excellent chance to go on a deep playoff run last year. They entered the postseason as the No. 1 seed in the East, but they lost in the conference semifinals. Another early exit would have people questioning Rivers' leadership.
So, can the Sixers save his job and win in Game 6?
Can the 76ers win Game 6 against the Raptors?
There's a good chance that Philadelphia loses in Game 6. Matisse Thybulle, a 2020-21 All-Defensive Team selection, won't play in Toronto due to his vaccination status. Joel Embiid is also battling a thumb injury, and James Harden has looked like a shell of himself, only averaging 18.4 points on 37.3% shooting in the series.
The x-factor offensively will be Tyrese Maxey. The second-year guard averaged 26.7 points on 60.0% shooting in the first three games. In the last two, he recorded just 11.5 points per game and shot 34.6% from the field.
If the 76ers can defend the Raptors without Thybulle and get Maxey going on the other end of the court, they can close out the series in Game 6. However, that will be a tall task with Embiid playing through injury and the team not yet finding an answer for Pascal Siakam.
So, the series could come down to a Game 7 in Philadelphia. And it won't just be the season on the line; Doc Rivers' job will also depend on the outcome.
Stats courtesy of Basketball Reference