Dolphins Coach Mike McDaniel Hilariously Rips Commanders Owner Daniel Snyder as $6 Billion Sale Looms
At the NFL Annual Meeting, the Dolphins' Mike McDaniel had the best one-liner about a possible Commanders sale and cheap owner Daniel Snyder.
There is a Washington Commanders sale looming. Now two bids of $6 billion are submitted and ready for the approval of owner Daniel Snyder. At the NFL Annual Meeting, coaches and owners alike all weighed in on the situation, with current Miami Dolphins head coach and former Commanders assistant Mike McDaniel landing the zinger of the week with a shot at how cheap Snyder is.
The Commanders sale was the talk of the NFL Annual Meeting
At the NFL Annual Meeting, everything from kickoff rules to Thursday Night Football flex games is on the table.
However, outside of the Lamar Jackson trade demand, the biggest topic of conversation is the possible sale of the Commanders franchise by embattled owner Daniel Snyder.
WUSA9 (Washington D.C.) sports anchor Darren M. Haynes captured a ton of reaction to the potential sale and posted the videos on his Twitter account.
Indianapolis Colts owner Jim Irsay was again vocal about the sale, saying that "a sale taking place [would be] greatly beneficial for everyone." He also said that the ability to force another NFL owner out is in the league bylaws for a reason, but "you hope to never get down those trails."
Current Commanders head coach Ron Rivera admitted his frustration trying to prepare for a new season with a tenuous ownership situation. And he wasn't the only coach to weigh in.
The Washington franchise was a cradle of future coaches in the early 2010s under Mike Shanahan and Jay Gruden. A whopping five current NFL head coaches were on the staff in those years, including Kyle Shanahan (49ers), Sean McVay (Rams), Matt LaFleur (Packers), Mike McDaniel (Dolphins), and Kevin O'Connell (Vikings).
LaFleur weighed in on the situation, admitting, "Having experienced it, it's not shocking we're at this point."
The one-liner of the week came from McDaniel, though.
The best line was a zinger at Daniel Snyder from Dolphins coach Mike McDaniel
When Darren M. Haynes sat down with current Dolphins coach Mike McDaniel, he surely knew he'd get some gold for the unorthodox head man.
McDaniel was an offensive assistant and then wide receivers coach from 2011-13. After short stints with the Cleveland Browns and Atlanta Falcons, he became Kyle Shanahan's right-hand man with the San Francisco 49ers from 2017-21. He is now entering Year 2 as the Dolphins coach.
When Hayes asked McDaniel about Daniel Snyder's potential $6 billion sale, the coach was at first diplomatic.
"When I worked there, I felt as though [Snyder] was a guy who lived his whole life to be the owner of that particular team. So, it is surprising, I guess, just because of my experience," McDaniel said.
Then he delivered the shot of the day regarding Snyder's cheapness.
"I'm just more looking at it, the fact that, wow! The organization is worth that much, and I couldn't get free coffee?" McDaniel quipped.
From incredibly serious charges of sexual misconduct and running a toxic work environment to petty things like charging his coaches for coffee, it doesn't seem like anyone will be sorry to see Snyder go.
We now have two $6 Billion bidders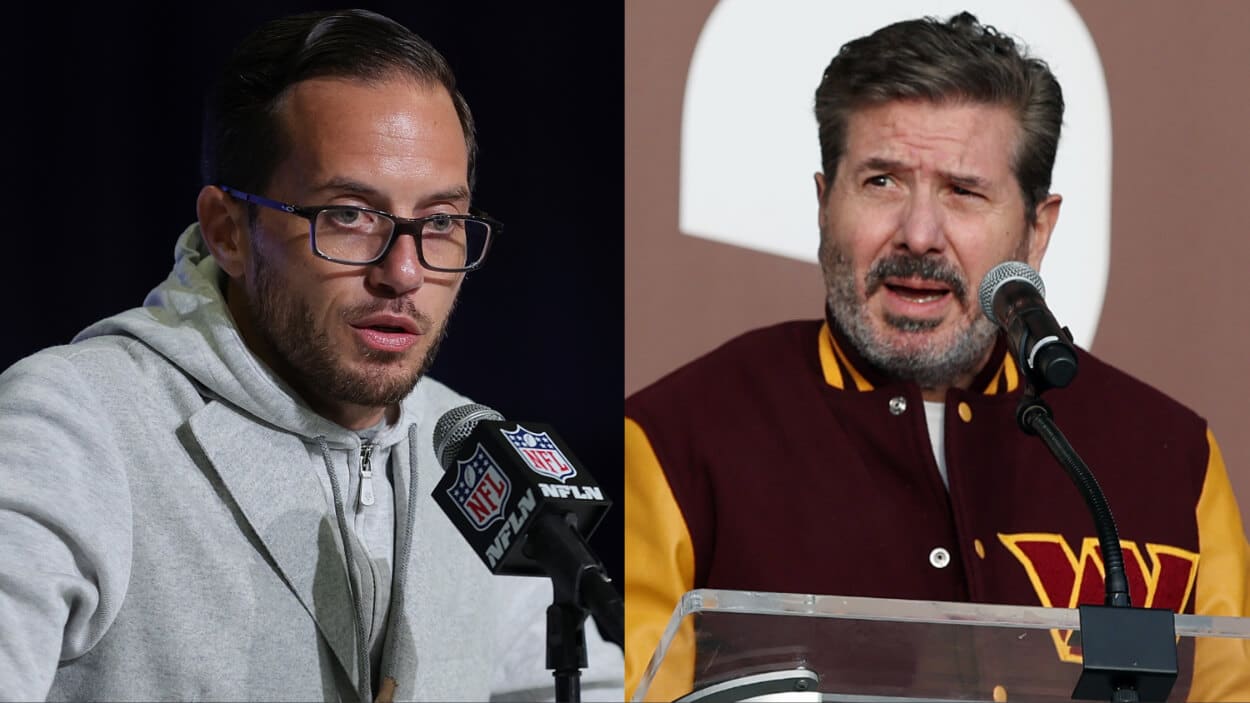 The Denver Broncos sold to a group of Walmart heirs for a North American sports record of $4.65 billion last offseason.
While the Broncos are a great franchise, it doesn't come with the cache of the team in the nation's capital. That's why, as a condition of considering a sale, Snyder set his price tag at a whopping $6 billion.
If Snyder gets that number, it will be the biggest sports team sale in the world, topping the $5.3 billion American businessman Todd Boehely and his group paid for Chelsea in the English Premier League in 2022.
While $6 billion may seem lofty, even by the incredibly high pro sports team standards, it now seems like Snyder will get at least that. At the NFL Annual Meeting, reporters announced two official bids for the Commanders franchise.
Adam Schefter tweeted on Tuesday that "The Josh Harris/Mitchell Rales group, which owns includes Magic Johnson, officially has submitted a fully-financed bid that meets Dan Snyder's $6 billion asking price." Harris leads groups that also own the NBA's Philadelphia 76ers and New Jersey Devils in the NHL.
Schefter and ESPN NBA insider Brian Windhorst are also reporting, "Canadian billionaire Steve Apostolopoulos has become the newest potential bidder to tour the Washington Commanders."
Now comes the hardest part, though. Daniel Snyder has to accept one of these bids, giving up the team he dreamed of owning as a child and stepping away from the NFL.