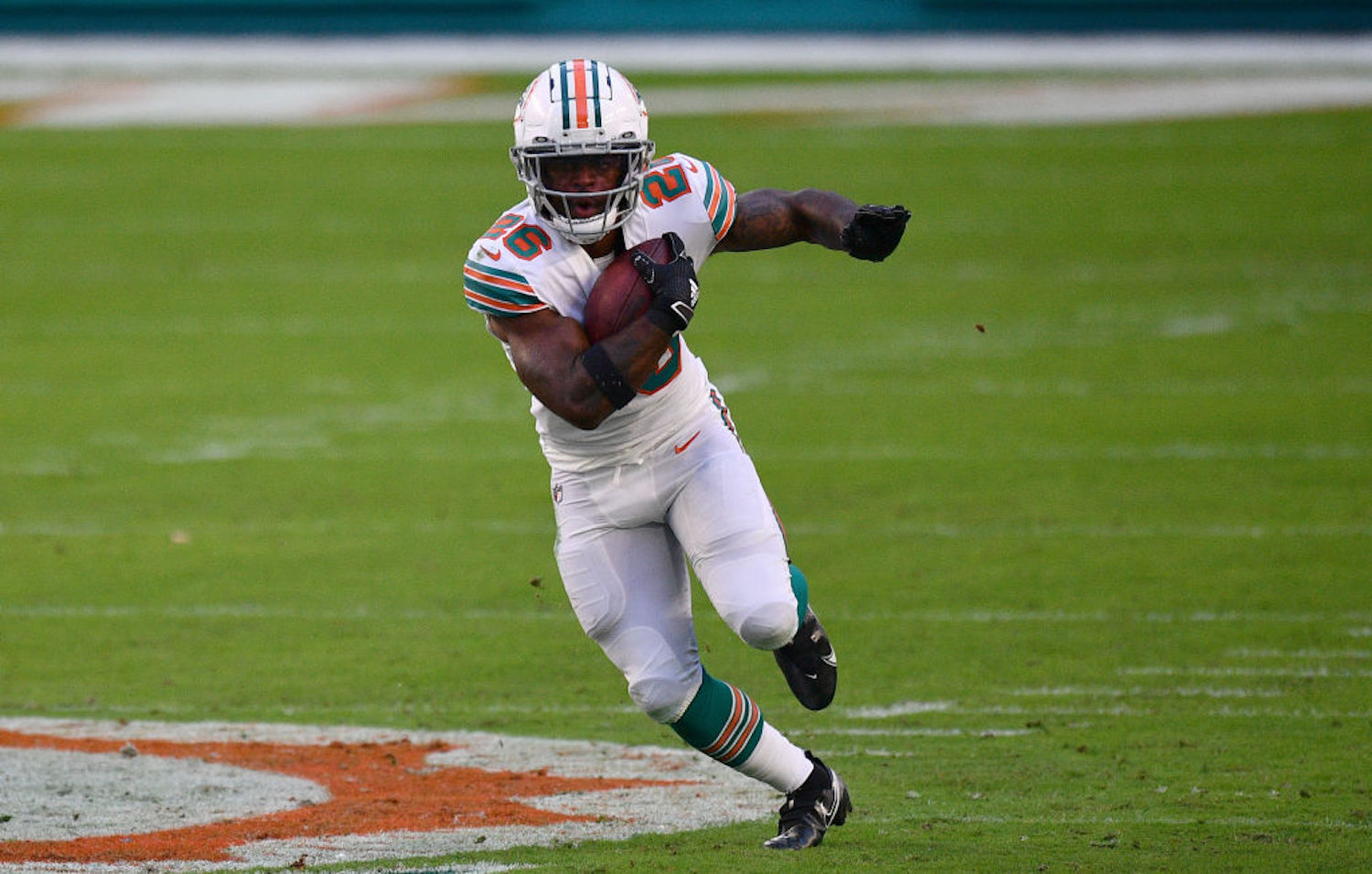 Dolphins RB Salvon Ahmed Fulfilled a Promise to His Ailing Grandmother With Career Day
Salvon Ahmed made a promise to his hospitalized grandmother that he would rush for 100 yards on Sunday, and he made good on his vow.
Unless you're a die-hard Miami Dolphins fan or a fantasy football geek, you've probably never heard of Salvon Ahmed. That's because the rookie running back has only played in four career games in the NFL.
So when Ahmed rushed for a career-high 122 yards against the New England Patriots on Sunday, he officially introduced himself to the NFL world. At the same time, he fulfilled a promise he made to his grandmother, who watched Ahmed's career performance from a hospital.
Salvon Ahmed is an impressive rookie for the Dolphins
Salvon Ahmed isn't a well-known name in the NFL just yet, but he might be soon. Ahmed went undrafted in the 2020 NFL draft after an impressive junior season at Washington, but it didn't take him long to find a home.
The San Francisco 49ers scooped up Ahmed as a UDFA after the draft. The rookie running back was eventually released, but he ended up with the Dolphins shortly after.
Thanks to a slew of injuries and COVID-related absences, Ahmed finally got the break he needed in the Dolphins backfield. Ahmed saw his first playing time in Week 9. He rushed seven times for 38 yards in an efficient pro debut, and his game has only improved since then.
Ahmed went off for 85 rushing yards and a touchdown in his first career start against the Los Angeles Chargers the next week. The rookie saved his best performance for the Patriots on Sunday, as his dominant game knocked Bill Belichick and company out of the AFC playoff race.
Ahmed recorded his first 100-yard game against the Patriots
Before Sunday, Ahmed had only rushed for a total of 166 yards in three games played. You would've been crazy to predict a 100-yard game for the rarely-seen rookie against a stout Patriots defense.
But Ahmed ran all over New England's defense for 122 yards and a touchdown on 23 carries. He also caught one of his three targets for five yards. Ahmed's career day put a nail in the coffin of the Patriots' dynasty, and it made the fantasy owners brave enough to start him look like geniuses.
Ahmed looked like a man possessed on the field Sunday. Almost as if he was playing for a bigger purpose. As it turns out, he was.
Ahmed promised his grandmother he would rush for over 100 yards on Sunday
Many fans wondered what got into Ahmed before his career day against the Patriots. A pregame pump-up speech from a teammate? The fear of losing his job if he didn't exceed expectations?
But the answer actually stems from his grandmother. Dee Brown, Ahmed's grandma, was in the hospital for Ahmed's third professional start on Sunday. Before the game, Ahmed told people he would rush for over 100 yards and dedicate his performance to Brown, according to Tom Pelissero of the NFL Network. And that's exactly what he did.
Ahmed's 122-yard day marked the first time a Dolphins player rushed for over 100 yards in the last two years. The power of a family's love.
All stats courtesy of Pro Football Reference