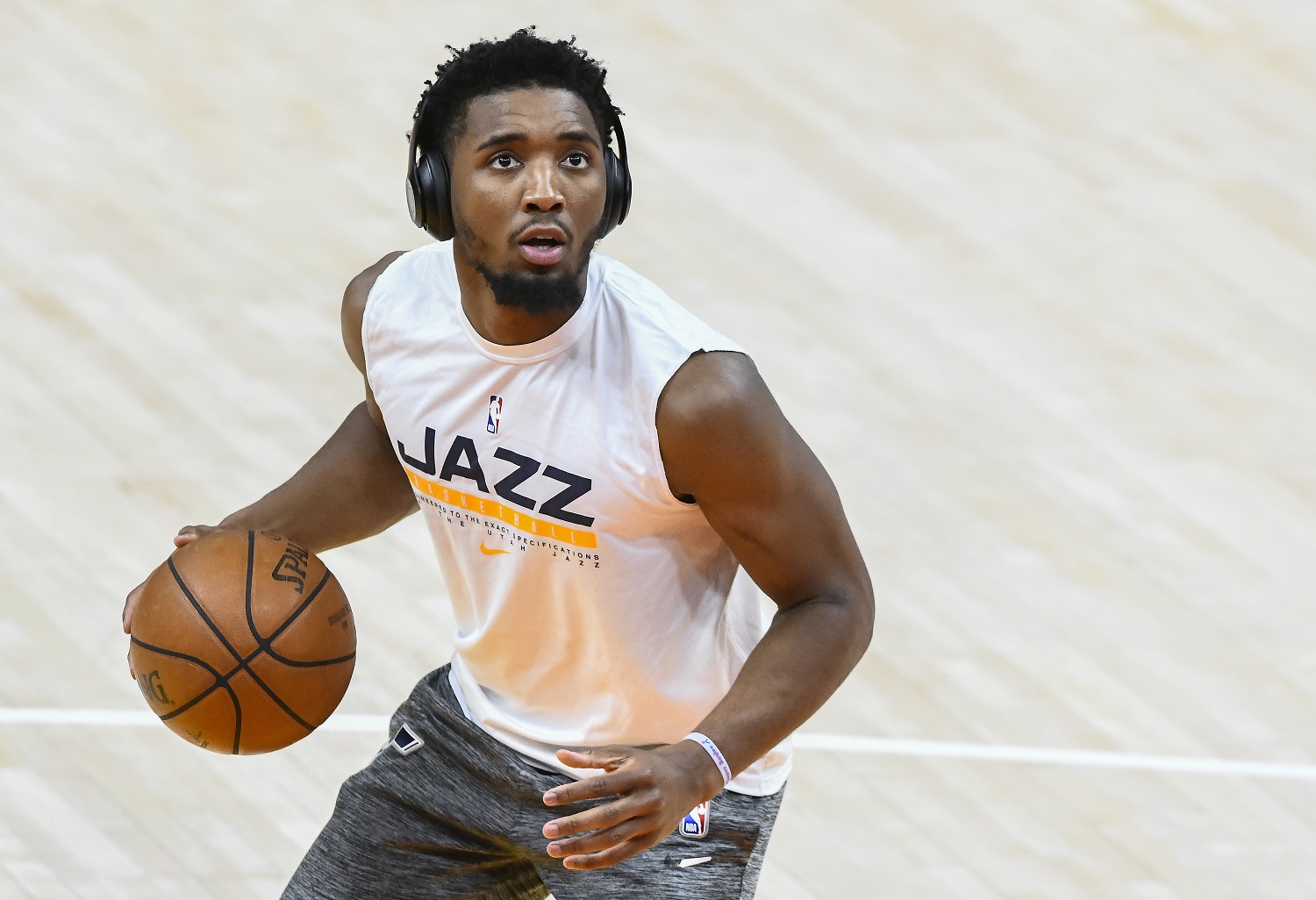 Donovan Mitchell Thinks a Legendary Basketball Coach Is Crazy
Utah Jazz star Donovan Mitchell says Rick Pitino was 'crazy' during their time at Louisville but credits the coach with preparing him for the NBA.
The Utah Jazz have dropped three straight games to the Los Angeles Clippers in the NBA Western Conference semifinals and need a spark going into Game 6. Luckily, they have a guy who's prepared to bring fire even under duress.  Donovan Mitchell explains he learned how to play that way from a coach he says is crazy.
We looked up the coach and determined we should all be that crazy.
Donovan Mitchell has emerged as an NBA force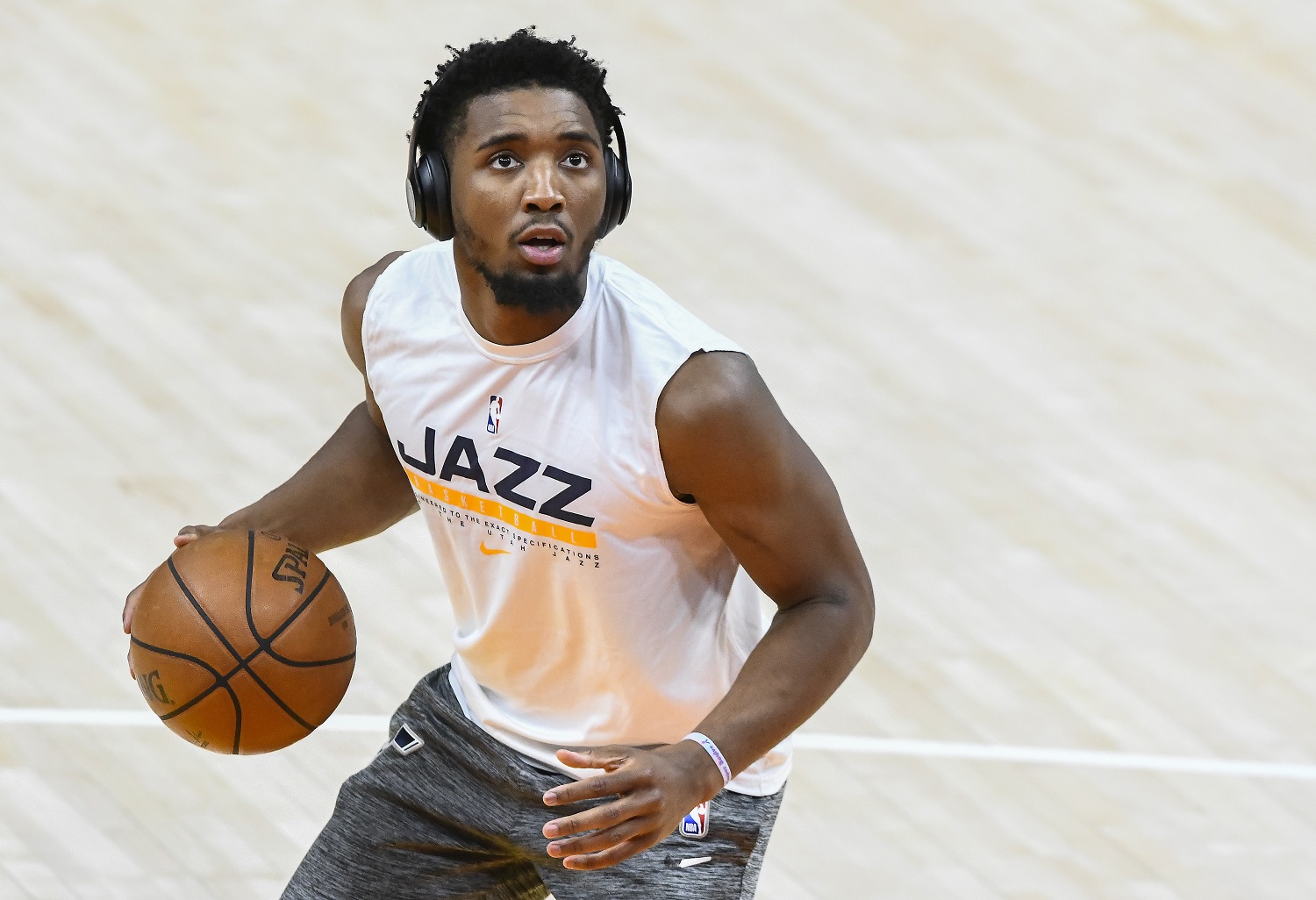 Selecting 13th in the 2017 NBA draft was not unlucky for Utah. Given a do-over, at least half the teams picking before them would do now what the Jazz did then: take Mitchell.
The 6-foot-1 guard is averaging 23.4 points and 4.3 assists through four NBA seasons. The recently concluded regular season was his best yet at 26.4 points and 5.2 assists, but it's been the postseason when he has done his finest work.
Mitchell scorched the Memphis Grizzlies for 28.5 points a game in the first round. He has poured in 34.0 a game thus far against the Clippers, hitting 41.0% of his 3-pointers. Coming on the heels of 51.6% shooting from behind the arc and 36.3 points a game in the seven-game loss to the Denver Nuggets a year ago, Mitchell understandably enjoys a reputation as a menace to opposing defenses.
The best part from the Utah perspective is that the Jazz have locked Mitchell into a deal that runs through a player option for the 2025-26 season.
Mitchell blossomed at Louisville for a 'crazy' coach
Born in Brooklyn, just north of The Bronx, Mitchell attended high school in Connecticut and spent summers playing ball at New York City's fabled Rucker Park. He became a coveted Division I recruit, eventually choosing to play for Rick Pitino at Louisville.
Pitino coached five-plus seasons in the NBA. His best work has been a 782-277 mark in the college ranks, including a national championship at Kentucky.
Mitchell arrived in 2015 and immediately became a valuable piece off the bench as a freshman. He went pro after his sophomore season, during which Mitchell averaged 15.6 points and drastically improved his perimeter shooting.
The guard credits Pitino and the Cardinals staff with completely remaking his jump shot, but Mitchell also cites Pitino's ability to inspire his athletes to play with passion.
"He has a way of unlocking something that is there, that you don't know," he said on the Knuckleheads with Quentin Richardson and Darius Miles podcast. "He unlocked a dog, a fire in me. I already had a fire, but he just tapped into it. Now, you're playing angry. Like crazy. Like, coach P's crazy. Everybody knows it.
"Now, it's like, you play angry … I don't know how to describe it, but he unleashes the dog inside of you."

Donovan Mitchell
Already a high-energy player, Mitchell found a new gear and a new attitude.
"It's like, 'Everybody in front of me is not better than me.' He created that competitive nature, him and a bunch of the assistant coaching staff that was there, they created that culture."
The Jazz star is 'questionable' for Game 6 vs. the Clippers
Injuries have been a storyline during the NBA playoffs. LeBron James and Anthony Davis weren't at full strength while the LA Lakers were flaming out in the first round. The Philadelphia 76ers and Brooklyn Nets face multiple problems keeping their best lineups on the court, and the Milwaukee Bucks' Giannis Antetokounmpo struggled with a sore hip Thursday while helping to force a Game 7. And, of course, Kawhi Leonard's knee injury complete changes the Clippers.
Utah has its own issues heading into Game 6 against the Clippers. The Salt Lake Tribune reported that Mike Conley remains on the injury report as "questionable" because of ongoing hamstring soreness. Mitchell is fighting through problems with his right ankle and is also officially listed as "questionable."
The ankle is the same one that kept him on the bench for the final 16 games of the regular season and for the first-round opener, and Mitchell showed signs of limited mobility during Wednesday's 119-111 loss. Though he scored only 21 points, he did grind out 38 minutes of playing time.
If the injury keeps him from at least threatening to hit for 30 on Friday night, then Utah's prospects for making it out of the semifinals look iffy at best. If he's able to light it up, though, then look out because the series will be heading to a Game 7.
All stats courtesy of Basketball Reference.