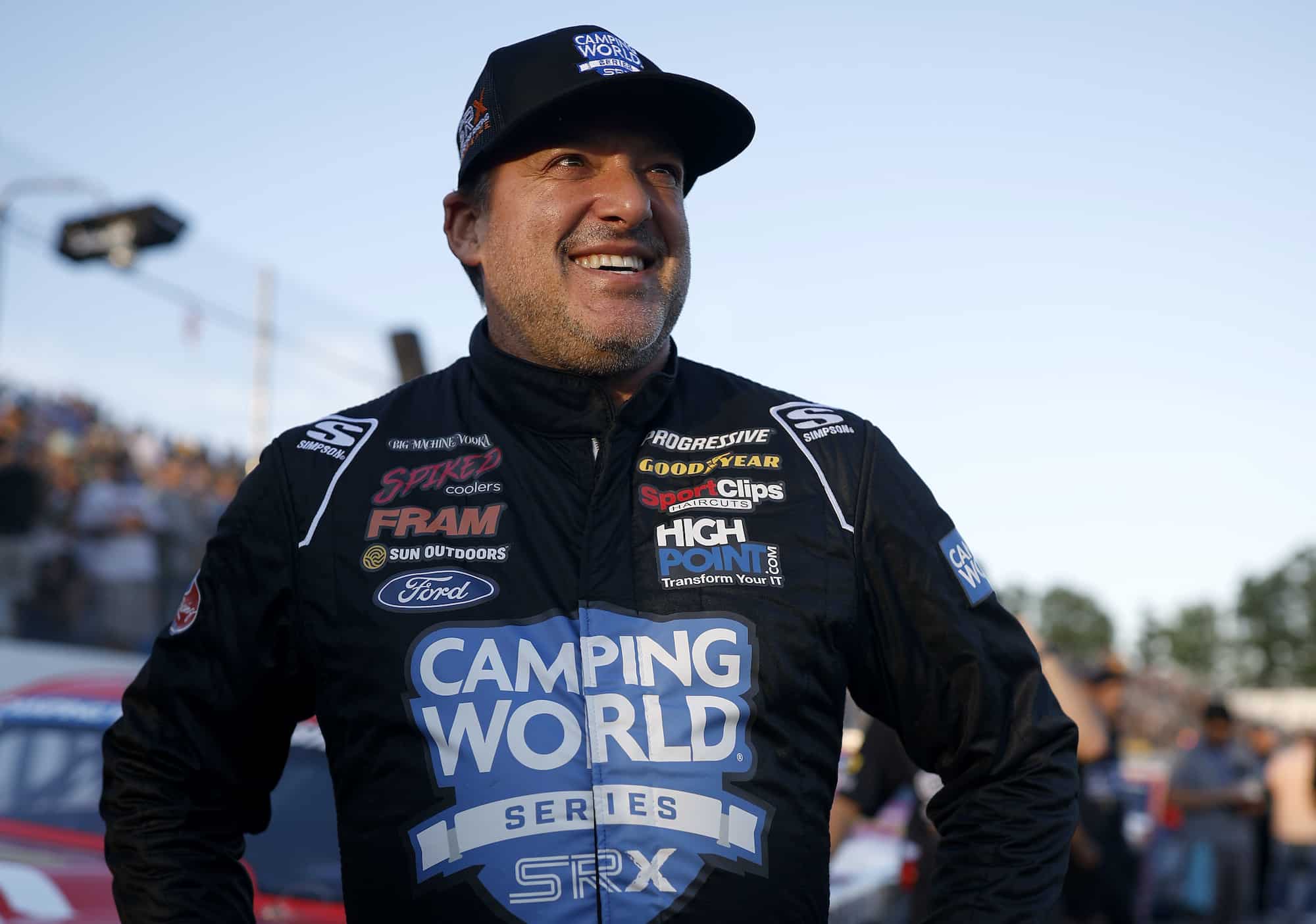 The Driver Who an Angry Tony Stewart Berated on National Television a Few Weeks Ago Returns to SRX This Weekend
Tony Stewart and the SRX Series gets dirty tonight in Missouri and the boss will race against the driver who angered him and caused him to go ballistic a few weeks ago.
The second season of SRX has been entertaining, both on and off the track. Series founder Tony Stewart is a fan of the former, but not so much the latter.
This week the drivers will face a different test as the series heads to the dirt and I-55 Raceway in Missouri. Ernie Francis Jr. returns to the track for the first time since he and the NASCAR Hall of Famer got into a heated altercation with the boss grabbing the young driver by the collar and berating him on national television. But don't expect any fireworks — at least not this week. That should come in next week's season finale. 
Tony Stewart goes off at South Boston
The last time fans saw Tony Stewart and Ernie Francis Jr. together at an SRX race, it got ugly. The three-time Cup Series champion wasn't happy at South Boston Speedway in Virginia with multiple drivers racing him aggressively, including Francis, who he confronted after the second heat.
The veteran did all of the talking and aggressively grabbed the young driver by his firesuit collar. Willy T. Ribbs spoke with Stewart moments after the heated exchange.
"Well they've pissed off Uncle Tony right now," Stewart said. "So they're about to get a dose of if that they really don't want. Trust me, I know every dirty trick. Got it in my bag. 
"When you're following somebody and the guy is on the outside and as soon as he gets clear he just turns down across, that's the dumbest s*** you can do. I swear to God. I'm just done playing nice with everybody. It's like anybody that touches me I'm touching back times five. Just done jacking with some of these clowns."
Tony Stewart has 'dad talk' with drivers
After the race, which he won, Stewart made it clear that he planned on talking with the drivers about the aggressive driving, retaliation, and all the damage. 
That happened the next week at Stafford Motor Speedway, and according to SRX CEO Donald Hawk, Smoke made it clear what he expected going forward.
"We had the dad talk, the father talk, the uncle talk, the brother-in-law talk, the brother talk; we had a family reunion," Hawk told Racing America. "I'm telling you, but here's what's neat about it: Tony Stewart didn't dominate the conversation. Every single driver in the motorhome spoke up at least once, and it was a great dialogue and a great interaction and what I believed to be a great car race."
Ernie Francis Jr. returns for first time since altercation 
This week, after missing two races, which featured much cleaner racing and considerably fewer damaged cars, Francis returns to SRX at I-55 Raceway in Missouri. But per Stewart's talk, don't expect the young driver or any other drivers to be uber-aggressive or seeking retaliation. 
However, that could come next week in the season finale at Sharon Speedway in Ohio. SRX has a fleet of 15 cars available for each race with 12 or 13 featuring any weekend. With almost half of them damaged after South Boston, it put the small-scale pit crew that repairs and prepares them under a lot pressure before the next race. 
After next weekend's season finale, that pressure to have cars ready in a short timeframe won't be there. There won't be another race. If there's any driver seeking retaliation for something that happened this season — and there have been plenty of feuds — that will present the perfect opportunity for payback. 
Like Sportscasting on Facebook. Follow us on Twitter @sportscasting19 and subscribe to our YouTube channel.