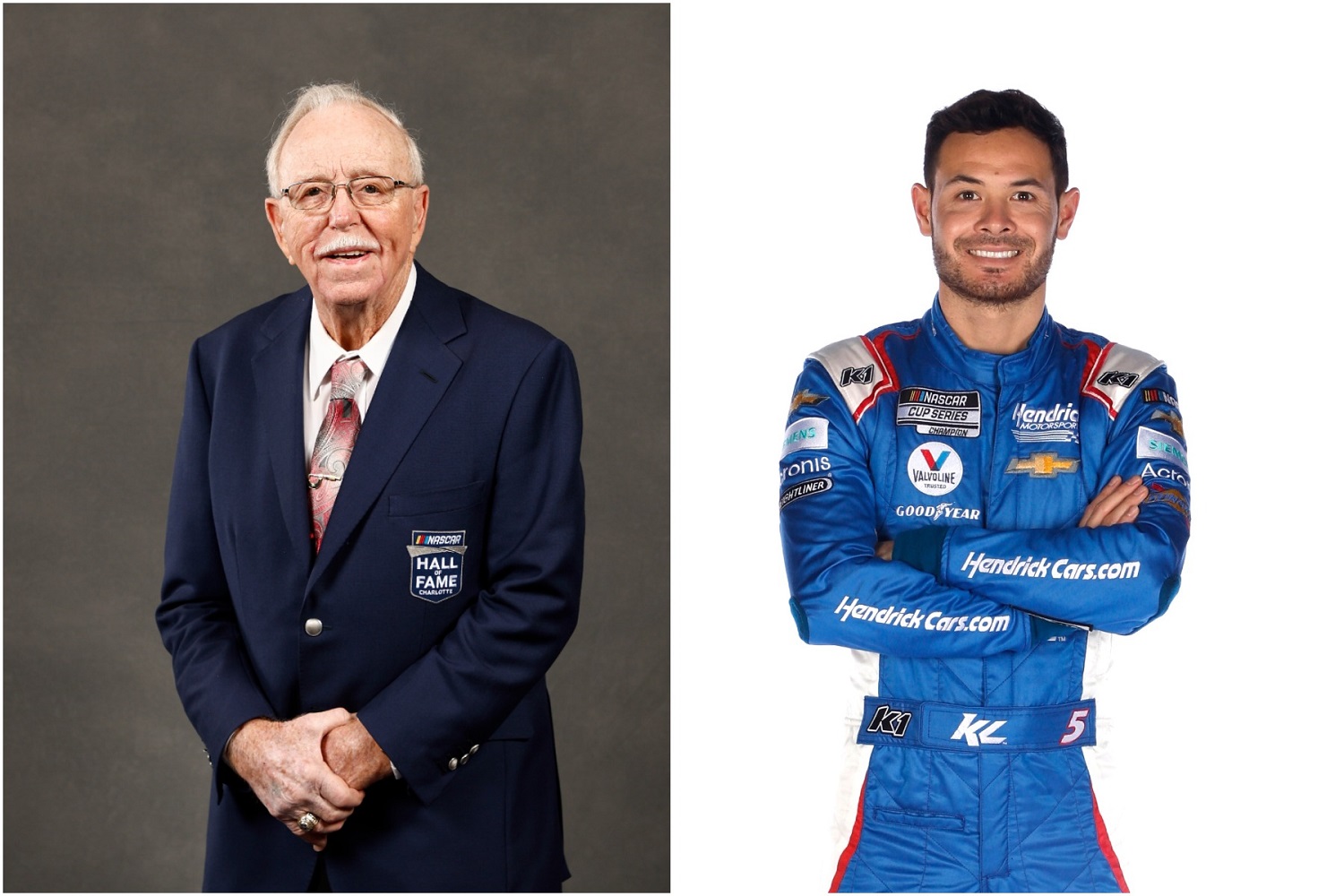 AJ Foyt and Tony Stewart Used to Dazzle a NASCAR Hall of Famer: 'Now You've Got This Kid, Kyle Larson'
New NASCAR Hall of Fame inductee Red Farmer is already rating Kyle Larson alongside some of the greatest drivers he has seen in a lengthy career.
Red Farmer is in the club now, which entitles him to speak a little more authoritatively and candidly about fellow NASCAR Hall of Famers. Naturally, he took indulged on the occasion of his induction, invoking the names of Tony Stewart and AJ Foyt to make a point.
Not surprisingly, the name of Kyle Larson came up in that context. If Farmer is right, then Larson will be doing the talking about great drivers 20 or so years down the road.
Red Farmer shared the HOF spotlight with Dale Earnhardt Jr.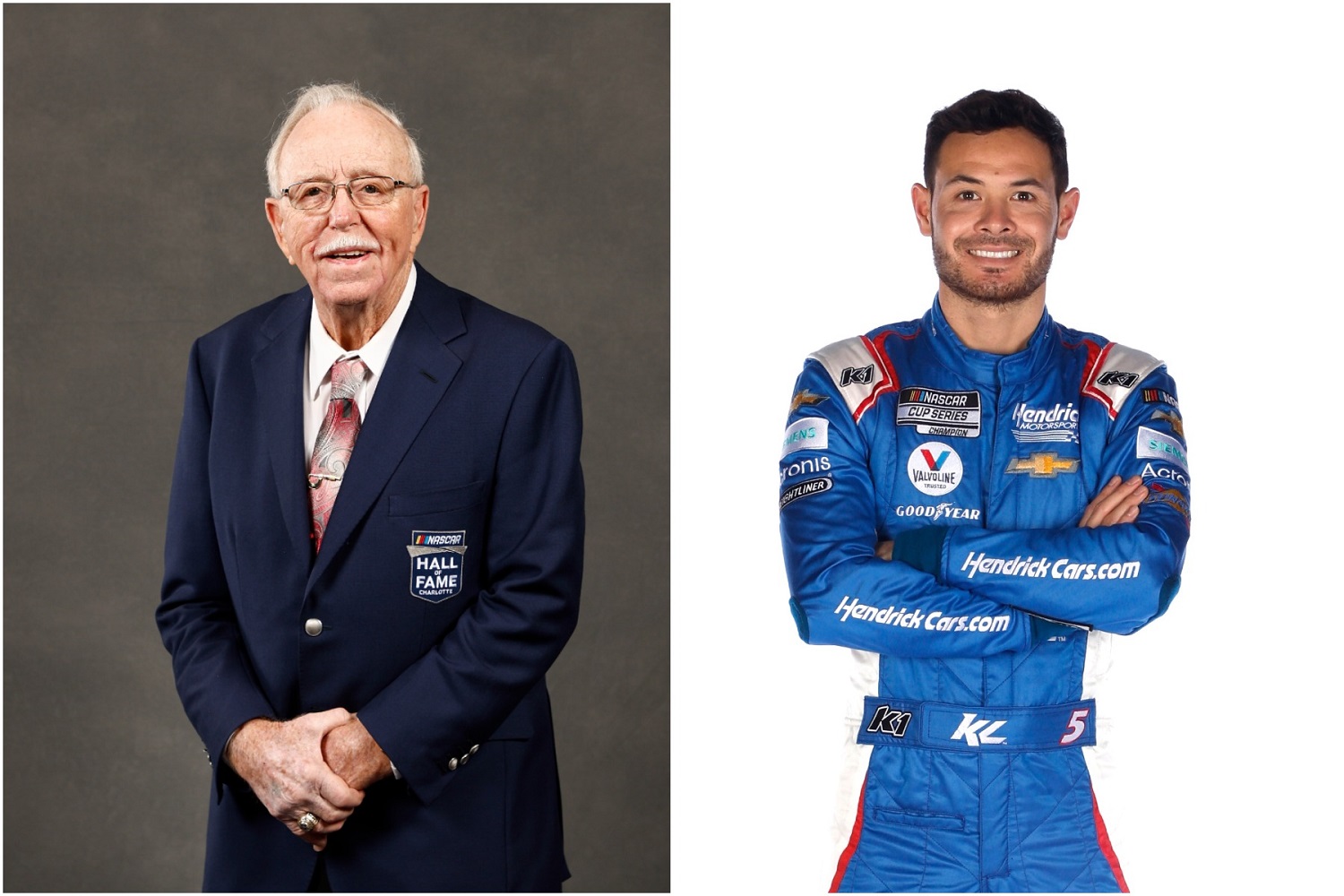 The sport's historians believe driver Red Farmer, 89, has won at least 700 races in a career that hasn't ended yet. Farmer was still competing in Late Model Modifieds in 2021 on a dirt oval in Alabama.
Farmer's career began in 1948 outside Miami, and the Nashville native gained notoriety as part of the racing fraternity's Alabama Gang in the 1960s. He raced sparingly in the NASCAR Cup Series from 1953-75, never winning, but Farmer did win a title in the National Late Model Sportsman Series, a precursor to the Xfinity Series.
Farmer's impressive body of work earned him induction into the NASCAR Hall of Fame on Jan. 21 alongside Dale Earnhardt Jr. and Mike Stefanik, who was inducted posthumously. The acceptance speech, a series of memories from his vast experience in racing, was a highlight, and the storytelling makes him a prime candidate to appear on Earnhardt's popular podcast.
Red Farmer is a fan of Kyle Larson's versatility
AJ Foyt was already tearing up the USAC Champ Car Series in the early 1960s when he stepped into the NASCAR Cup Series and won seven of his first 50 races. Driving for Shelby American at the 24 Hours of Le Mans in 1967, Foyt and Dan Gurney romped to victory. And, of course, there were the four Indianapolis 500 victories from 1961-77.
Tony Stewart's credentials show comparable versatility: three Cup Series championships, an IndyCar season crown, and an IROC title. He also co-founded a new summer racing series and, for all practical purposes, was the role model for the new generation of NASCAR drivers passionate about driving on the dirt tracks.
After the enshrinement ceremony in Charlotte, North Carolina, Red Farmer placed Foyt and Stewart on his shortlist of the best drivers ever.
"I'd put Tony Stewart and AJ Foyt up there," Farmer said, according to NASCAR.com. "Now you've got this kid, Kyle Larson, coming up who looks like he's in the same class.
"He can drive anything and win races in it. Road course. Dirt. Superspeedway. Asphalt. Mile-and-a-half."
It's a new season and new challenge for Kyle Larson
Kyle Larson's magnificent comeback season is well-documented: victories in 10 points races and the All-Star Race on the way to the NASCAR Cup Series. At least as significant as the number of races Larson won was the variety of tracks. Larson won on short tracks like Bristol, intermediate layouts like Las Vegas and Charlotte, and on three road courses.
In between NASCAR race weekends, Larson, 29, also tore up the dirt tracks. The jewel among his small-track triumphs was the 37th annual Kings Royal at Eldora Speedway, Tony Stewart's track in Rossburg, Ohio. That earned Larson $175,000.
"That's kind of a hard decision, you know, to pick one that's the best driver," Farmer said. "I think you got to pick a driver that can drive anything on any type of track."
Larson is already in that conversation and has a decade or more to add to his credentials.
Next up for Larson is the same challenge facing the rest of the Cup Series competition: mastering the Next Gen car beginning Feb. 6 in the Busch Light Clash at the Los Angeles Coliseum. Given his record in a variety of scenarios last season, that might be an automatic.
Like Sportscasting on Facebook. Follow us on Twitter @sportscasting19.