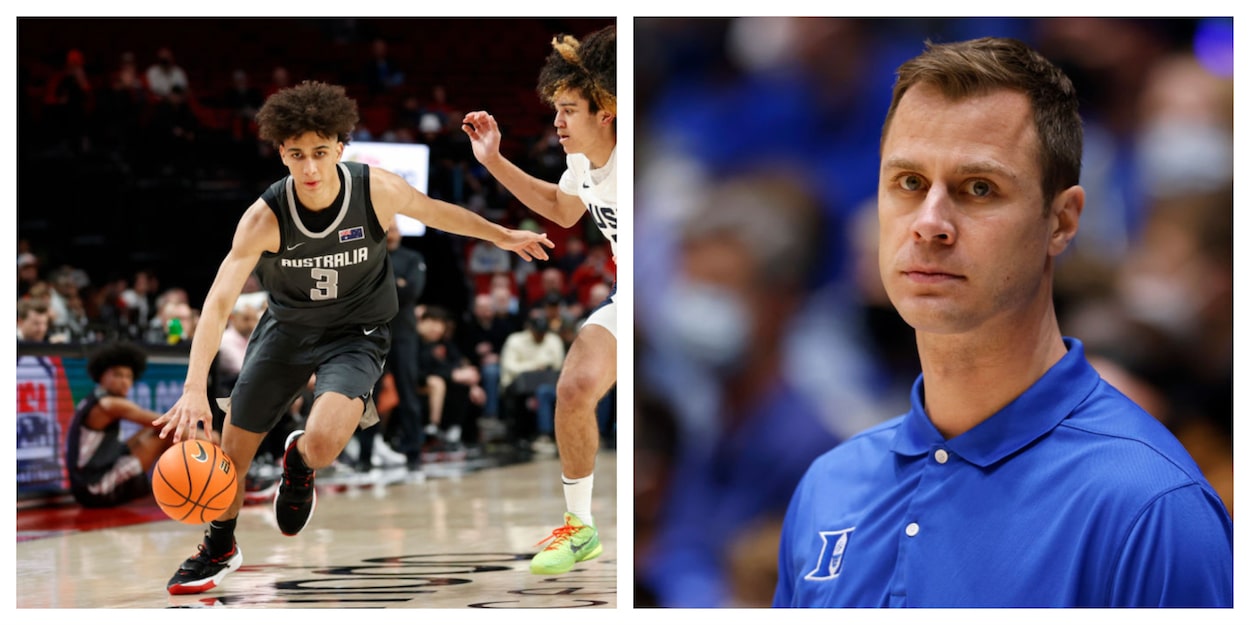 Duke Basketball: Jon Scheyer's First Recruiting Class Just Got Even Stronger Thanks to Tyrese Proctor
While Jon Scheyer already had a stacked roster for the 2022 campaign, a reclassification has made his Duke Blue Devils even stronger.
While it might irritate some purists who want to see programs build a roster of upperclassmen, big-time college basketball success is closely tied to recruiting. That reality bodes rather well for Jon Scheyer. While replacing Mike Krzyzewski as the Duke Blue Devils' head coach will be a massive challenge, the new bench boss should have plenty of talent on his first roster.
As college basketball fans will already know, Duke boasted the top-ranked recruiting class ahead of the 2022 campaign. On Thursday, June 2, that group became even more talented: Tyrese Proctor is reclassifying to arrive in Durham this fall.
Tyrese Proctor has reclassified and will replace Trevor Keels at Duke
If you've watched sports for any amount of time, you'll understand how luck can shape a player's career. Tom Brady, for example, might not have ever gotten his shot if Drew Bledsoe didn't get hurt. While that example might be a bit dramatic, Tyrese Proctor could be experiencing a similar situation.
For context, Procter had initially committed to Duke as a member of the 2023 recruiting class. On Thursday, June 2, though, the Australian guard called an audible. In a Twitter announcement, he confirmed that he'd be reclassifying and coming to Cameron Indoor Stadium a year early.
"The moment I stepped foot inside Cameron I knew it was where I belonged," he wrote. "I'm ready to step up and face a new challenge where I maximize my development as a player and continue to grow on and off the court. Waiting a year to put on that Duke jersey was too long. After weighing my options with my family and coaches, I'm excited to announce I will be reclassifying up to the class of 2022. It will be an honor to join Coach Scheyer's first team and represent one of the best universities in the world on the basketball court. I can't wait to get to work at Duke!"
That move takes on extra importance in light of Trevor Keels' departure. Earlier this offseason, the guard announced that he was entering into the NBA draft but didn't retain an agent. The deadline for returning to Duke has since passed, though, meaning that his NCAA career is officially over.
While The Athletic noted that there isn't a direct connection between Keels' decision and Proctor's arrival — as an international student, Proctor's process simply can't take place overnight — he will come to Cameron with a clear opportunity in front of him.
Proctor's presence will only give Jon Scheyer more firepower for his first season in charge
In isolation, a single reclassification might not seem that significant. Duke already has the top-ranked recruiting class. How much of a difference could one player make?
While we're obviously speculating at this point, the answer could be "a great deal."
On an individual level, Proctor possesses plenty of talent. As laid out in a detailed ID Prospects scouting report, the guard can create space, make things happen as a ball-handler or an off-ball player, and handle his defensive duties. While there's still room to improve his finishing, the Australian could slot into either backcourt role and make an immediate impact.
Beyond the raw talent — you win games by putting the ball in the basket, so it's not a bad idea to stock your roster with players who can do that — Proctor's versatility should also be a boon for Jon Scheyer.
If you look at Duke's upcoming depth chart, Jeremy Roach is the only sure-fire starter at guard. Dariq Whitehead could step into a backcourt role, but he's nominally listed as a small forward. Jaden Schutt could also slot in, but it remains to be seen if he's capable of holding down a starting role. If he's more of a Jon Scheyer-style player than a legit star, is that enough to lead the Blue Devils to an NCAA title? (And, yes, I know that Scheyer literally did exactly that.)
If we assume that Proctor can step into either guard role, that gives his coach plenty of versatility. If you need a larger lineup, he and Whitehead can act as ball-handlers, with Kyle Filipowski, Dereck Lively II, and Mark Mitchell filling out the fivesome. Should Scheyer want to space the floor and go small, Proctor can pair with Roach, and Whitehead, Mitchell, and Filipowski can occupy the frontcourt roles.
Perhaps that flexibility is what Scheyer has been alluding to when he's teased a slightly updated version of Duke's offense? If he's going to modernize the program, having a more positionless roster would certainly accomplish that aim.
And, as I noted earlier, Proctor's presence will simply give the Duke Blue Devils more talent. It's impossible to argue that reality will do anything other than make them better.
Like Sportscasting on Facebook. Follow us on Twitter @sportscasting19 and subscribe to our YouTube channel.