Dwight Howard Swoops in to Defend Ben Simmons When No One Else Will: 'We Can't Just Blame Him'
Ben Simmons doesn't have many people left in his corner. The Philadelphia 76ers point guard lost the support of Philly fans everywhere after his dramatic offseason, and he hasn't heard much from other players around the NBA.
But as Simmons continues to sit out because he's not mentally ready to return to the court, he just watched former teammate Dwight Howard come to his defense when no one else will.
Ben Simmons remains out as he focuses on his mental health
When Simmons reluctantly returned to the 76ers last month after his trade demand wasn't granted, it was clear he didn't have any intention of suiting up for the team this season. He was acting lethargic during practices, and he was even kicked out of one after refusing to join a defensive drill.
It seemed as if Simmons was trying to take down the Sixers from the inside as an act of revenge for not dealing him to another team in the offseason.
But a short while later, Simmons revealed to the 76ers front office that he's not ready to play just yet, and he needs some time to get back to a positive mental state. Philadelphia granted Simmons' wish to sit out until he's happy with his mental health.
But that hasn't stopped Sixers fans from taking more shots at the 25-year-old.
Dwight Howard swoops in to defend Ben Simmons
Howard was front and center for the exact moment Philadelphia fans turned on Simmons. With time winding down in Game 7 against the Atlanta Hawks last postseason, Simmons passed up a wide-open dunk that would've tied the game. The Sixers went on to lose in heartbreaking fashion.
In a recent interview with Taylor Rooks of Bleacher Report, Howard admitted he was upset with Simmons for not dunking that ball, but he also said fans need to lay off him a bit.
Well you know, I felt like a part of me, I could see that in being as far as what happened with was happening with Ben when I was in Orlando. It was some similar things happening. Now I just didn't like the fact that whatever was going on on the inside had to be made public knowledge. Obviously, I'm there with Ben a lot, he's one of my closest friends so I was upset to hear all the things that was being said about him … When we played the Hawks and we lost, I was upset at Ben on that play. I wanted him to dunk the ball, tear a rim down, but he didn't do it and it wasn't just his fault. So my thing was we can't just blame him.

Dwight Howard
At long last, someone not named Rich Paul sticks up for Simmons.
Does Howard have a point?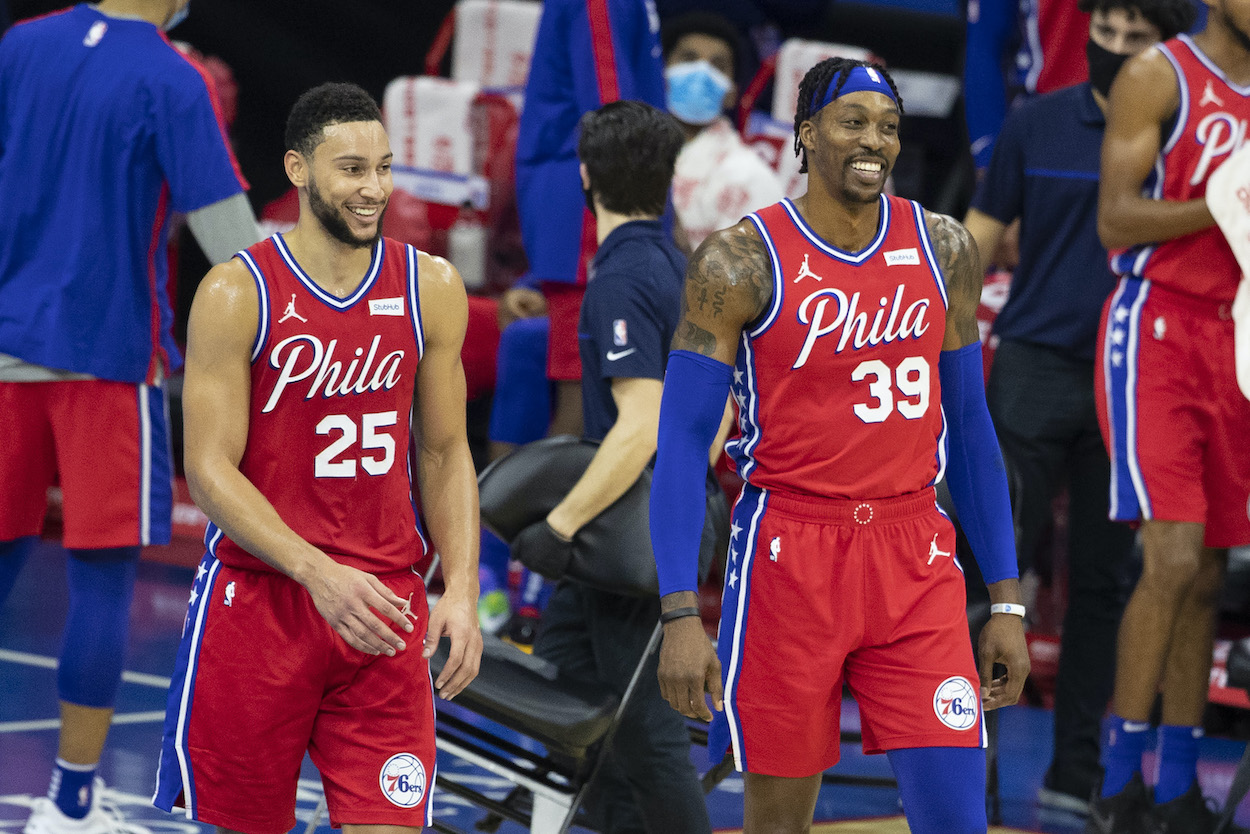 It's easy to blame Simmons for the series loss to the Hawks based on that bizarre play and his extremely poor shooting throughout the seven games, but one player can never be the reason for a blunder of that magnitude.
Was it Simmons' fault the 76ers blew a 26-point lead in Game 5 to go down in the series, 3-2?
Was it his fault when Kevin Huerter and Danilo Gallinari torched the Sixers for 44 combined points in Game 7 when he held Trae Young to 5-of-23 shooting?
Philly fans can be upset with Simmons for his offseason antics, but solely blaming him for the Atlanta loss is laughable.
Like Sportscasting on Facebook. Follow us on Twitter @sportscasting19.