Dwyane Wade Surprisingly Says People Will Eventually Forget About Michael Jordan: 'The Game Continues to Keep Moving Forward'
If someone decides to argue that Michael Jordan isn't the NBA GOAT, they better be ready for war. Fans have discussed the GOAT debate at length for decades, and there isn't a more passionate group of people than MJ fans.
But what happens when those people are gone and the younger generations start taking the debate over? Will there still be Jordan loyalists? That's what Dwyane Wade wonders as he continues to watch younger players take basketball to a new level.
Dwyane Wade has called Michael Jordan his GOAT in the past
The GOAT debate usually comes down to two names: Michael Jordan and LeBron James.
Dwyane Wade played with James on the Miami Heat for four seasons and the Cleveland Cavaliers in another, as the 2003 NBA Draft classmates are close friends. They also went to four NBA Finals together and won two championships.
But Wade didn't give the GOAT title to his former teammate when asked on the I Am Athlete podcast in 2021.
"LeBron is one of my good friends; I have so much respect for what he's doing now, what he's done, and what he will eventually do because he's not done yet," Wade said on the March 22, 2021 episode. " … When he's done, his statistical lineup is gonna be the greatest that's ever played the game when it comes to scoring, assists, rebounds, so forth, and so on. I come from the Jordan era. I am biased, and I am gonna be biased until the day I pass away. Michael Jordan will be my GOAT."
Despite his allegiance to MJ, Wade recently said he believes fans will eventually forget about Jordan.
Dwyane Wade: 'They're gonna forget about Jordan like we forget about Kareem'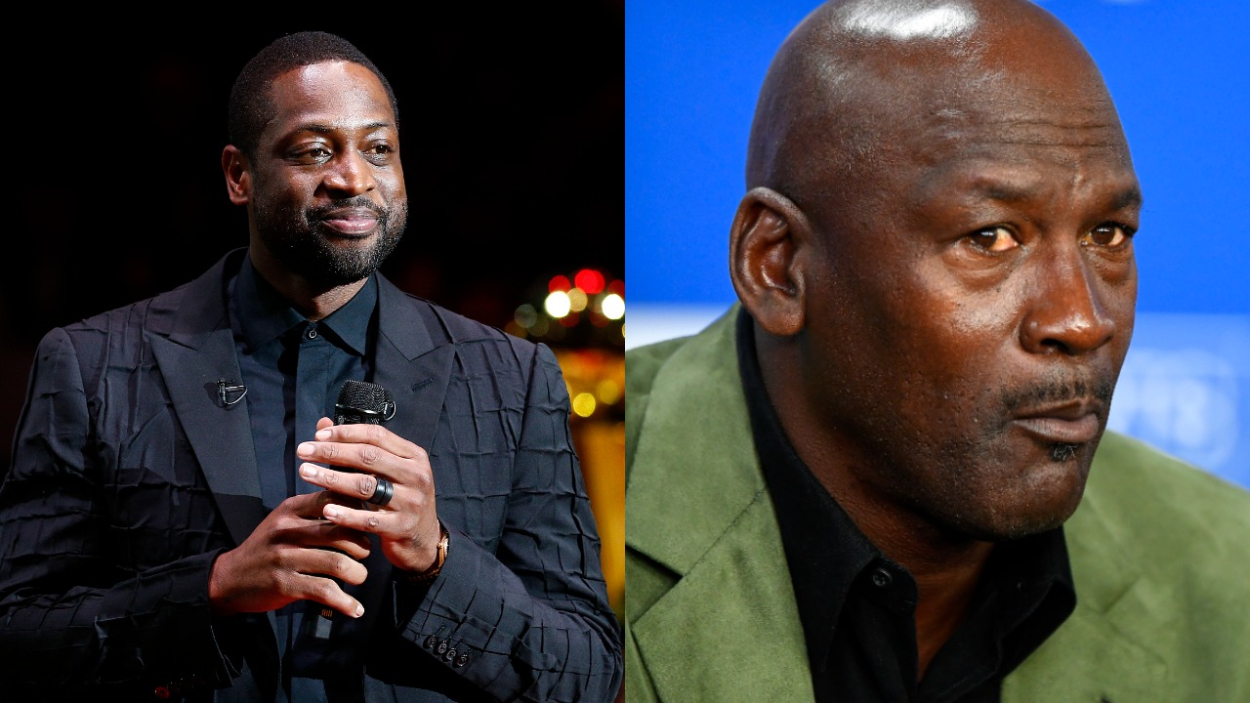 Dwyane Wade recently appeared on Armchair Expert with Dax Shepard, and he had some interesting comments about Jordan and players from other eras (H/T CBS Sports).
"Doesn't everyone have a Jordan? Like every era, LeBron is this era's, Kobe Bryant, Kareem, or Magic, Larry, and the list goes on and on," he said on the Jan. 3 episode.
Wade added that he believes players today are "way better" than he was, so the game is just going to continue evolving.
"Of course, these GOATs, these names that we throw out, it's not gonna just be a lot of those players," Wade said. "But the game continues to keep moving forward, and so we're gonna continue to see things we've never seen before. And the eyes are gonna get younger and younger. We're not gonna be the ones having the conversation about the GOATs; now it's gonna be the younger, younger, younger generation. And they're gonna forget about Jordan like we forget about Kareem."
It may be weird thinking about fans actually forgetting Jordan, but Wade has a point. There are multiple generations alive today who never watched MJ play.
But the Miami Heat great did say that Michael was the first global icon. And that may be why MJ's legend will live on for years to come.
Michael Jordan's superstardom will never be forgotten
Numerous players were just as successful as Michael Jordan, but they didn't become superstars, so younger fans naturally forgot about them. For example, Bill Russell won 11 championships, and Kareem Abdul-Jabbar is No. 1 in NBA history in points and No. 3 in rebounds.
But they didn't have iconic shoe brands, nor did they become recognizable worldwide. Fans didn't stop what they were doing just to watch a documentary on them, either.
Jordan's come-up came when sports began mixing with pop culture, which allowed stars to gain a more significant reach. That audience has only grown for athletes today, as the NBA's global fan base has continued to strengthen since MJ's retirement, and social media now gives fans highlights at their fingertips.
So, yes, some stars may become bigger than Jordan just because of the rise of social media. But fans will never forget His Airness. He was the first basketball icon, and a pioneer for many athletes turned entrepreneurs we see today.