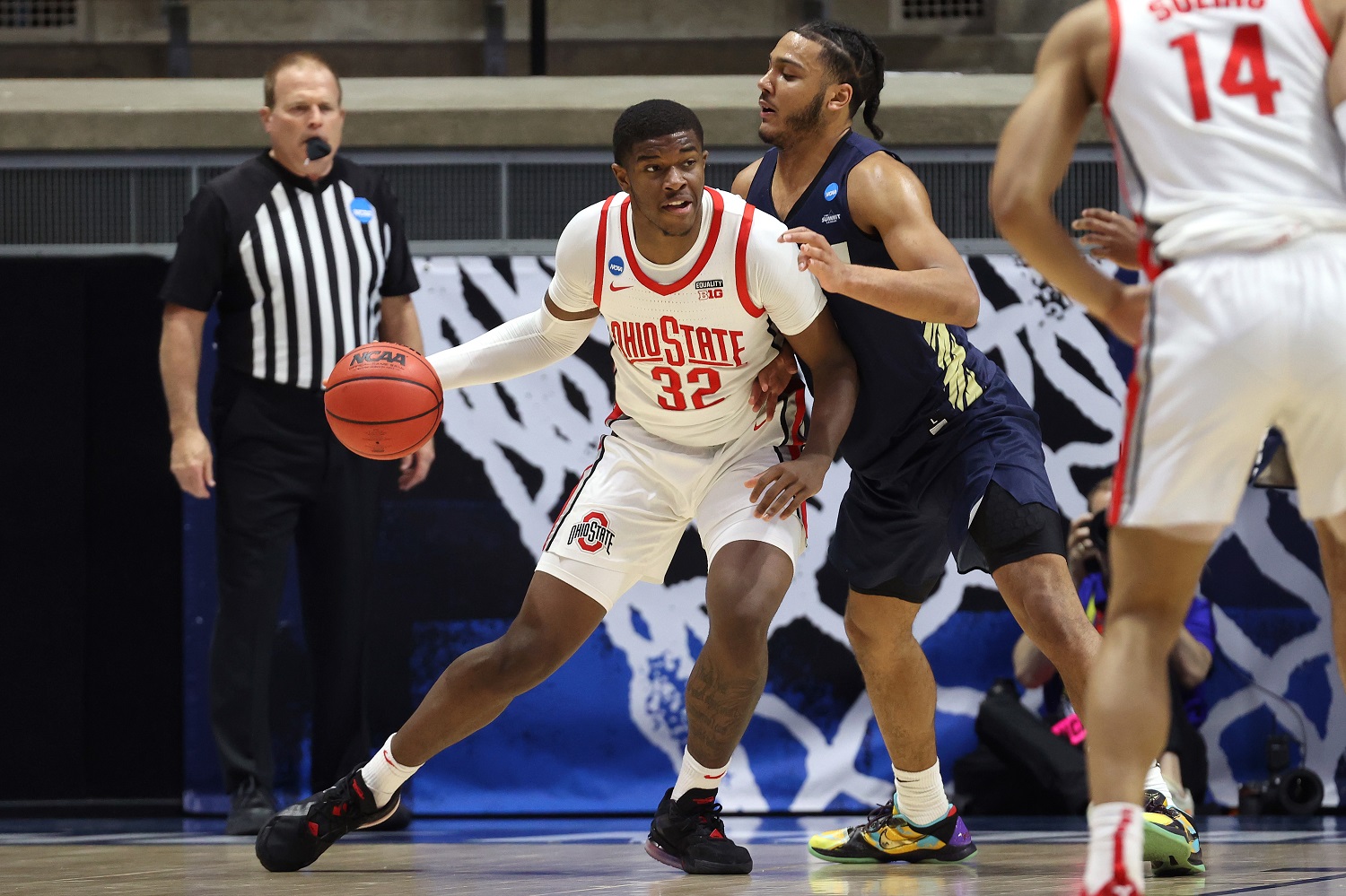 E.J. Liddell Explains Why Charles Barkley Isn't on Social Media
Charles Barkley explained his own social media habits after E.J. Liddell of Ohio State was the subject of vicious online comments.
For those who haven't figured it out yet, social media is an intellectual cesspool. We know that since a college basketball player shouldn't be receiving threats and vile comments online because his team lost an NCAA Tournament game. Even Charles Barkley, who'll insult anything with a pulse, knows that much.
Ironically, Barkley's approach to social media is one that more people should consider after what just happened to E.J. Liddell.
E.J. Liddell has been under attack since Ohio State lost  
Ohio State basketball player E.J. Liddell tweeted screenshots of threats and vile messages he received after the Buckeyes bowed out of the first round of the NCAA Tournament on Friday with a 75-72 loss to Oral Roberts in overtime.
"Honestly, what did I do to deserve this? I'm human," Liddell responded on Twitter. "Comments don't get to me but I just wanna know why. I've never done anything to anyone in my life to be approached like this."
That's understating his case. Liddell is a cornerstone of the Ohio State team, averaging 16.2 points and 6.7 rebounds a game in his second season with the Big Ten program. He finished Friday's game with 23 points and 14 rebounds.
According to NBC News, Ohio State athletic department officials are working with Liddell to file a complaint with campus police, who will determine if other agencies should be brought into the investigation.
"The threatening social media attack E.J. Liddell faces after the game yesterday is appalling and will not be tolerated," athletic director Gene Smith said on Twitter. "To the few of you who have chosen to inappropriately rail against our players on social media, stop."
Thankfully, there was an immediate outpouring of support for Liddell from a cross-section of the country, including Hall of Fame basketball player Charles Barkley, as fans learned of the abusive messages.
E.J. Liddell explains why Charles Barkley isn't on social media
College and pro basketball great Charles Barkley is frequently quoted on social media as a result of his post-retirement career as an NBA analyst on TNT. When Barkley says something amusing or controversial, video clips pop up on Twitter and other platforms almost immediately.
Interestingly, however, Barkley does not have accounts on Twitter, Facebook, or Instagram. Don't expect him to sign up on those platforms, either. Barkley spoke out Saturday in reaction to the threats and assorted other hatred hurled at Ohio State sophomore E.J. Liddell following the NCAA Tournament loss.
"I'm never gonna dignify these losers and interact with them ever, I don't care how much money some(one) offers me," Barkley said, according to USA Today. "I'll never do social media because of this."
Social media makes it too easy for cowards to hide behind aliases and proxy servers.
The situation Charles Barkley describes will only get worse
The abuse that came E.J. Liddell's way after Ohio State lost its NCAA Tournament opener isn't new. People of all ages suffer attacks on social media for a variety of reasons – generally weak ones at that. Facebook or Twitter may suspend the account of an occasional abusive poster, but their hit-and-miss approach to political controversies suggests the need to be a better method of enforcement.
The external pressure on college basketball players was bad enough when observers were lamenting "$100,000 free throws," the system is which schools earn more money (technically, it's the conferences that receive the NCAA money and then distribute it to schools) each time they advance in the tournament.
No one cared much about people throwing a few bucks into the office pool to fill out brackets but legalized sports betting is a new ballgame. Untold numbers of fans in an 18,000-seat arena may have money on the game. Thousands of others watching at home may also be wagering.
According to analysts cited by MarketWatch, the current NCAA Tournament may be the first event in U.S. history attracting $1 billion in legal wagers. With that kind of real money on the line, a new flavor of March Madness awaits.
Like Sportscasting on Facebook. Follow us on Twitter @sportscasting19.