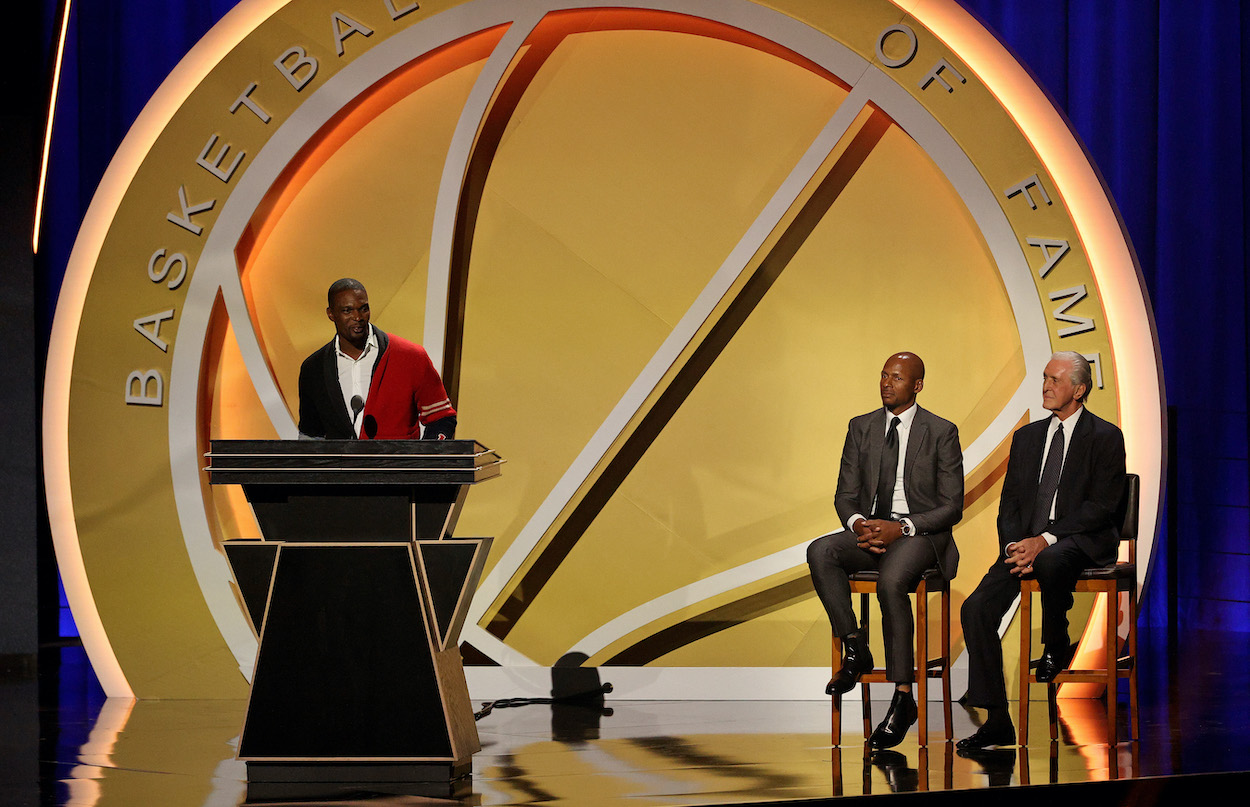 An Emotional Chris Bosh Returned a Long-Overdue Gift to Pat Riley During His Heartfelt Hall of Fame Speech
Chris Bosh waited 11 years for just the right moment to give Pat Riley an emotional gift.
Chris Bosh won two NBA titles during his legendary career with the Toronto Raptors and the Miami Heat, but he's actually had three championship rings in his trophy case for much of the last decade. Before Bosh signed with the Heat in 2010, Pat Riley loaned the 11-time All-Star one of his many championship rings under the condition that he give it back after they won one together.
Eleven years later, as Riley presented his friend into the Hall of Fame, Bosh finally found the right time to return the long-overdue gift.
Chris Bosh and Pat Riley won two NBA titles together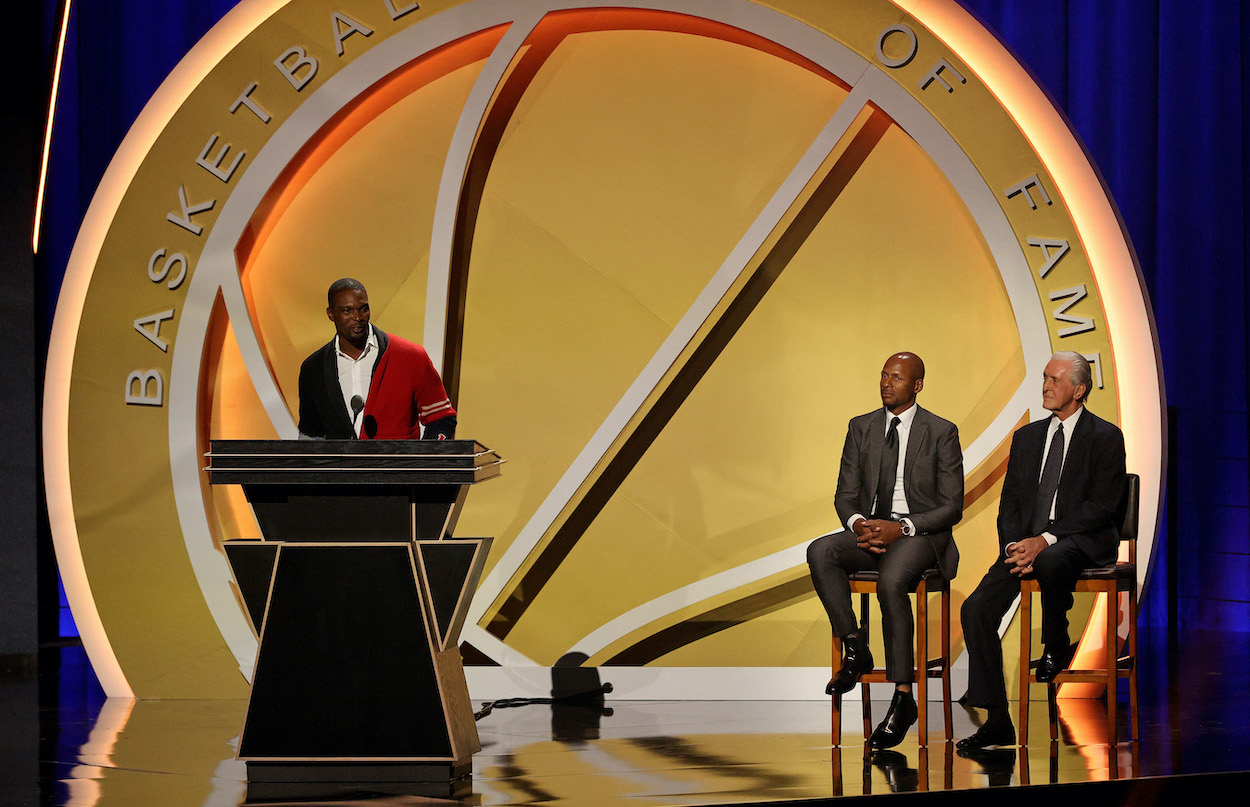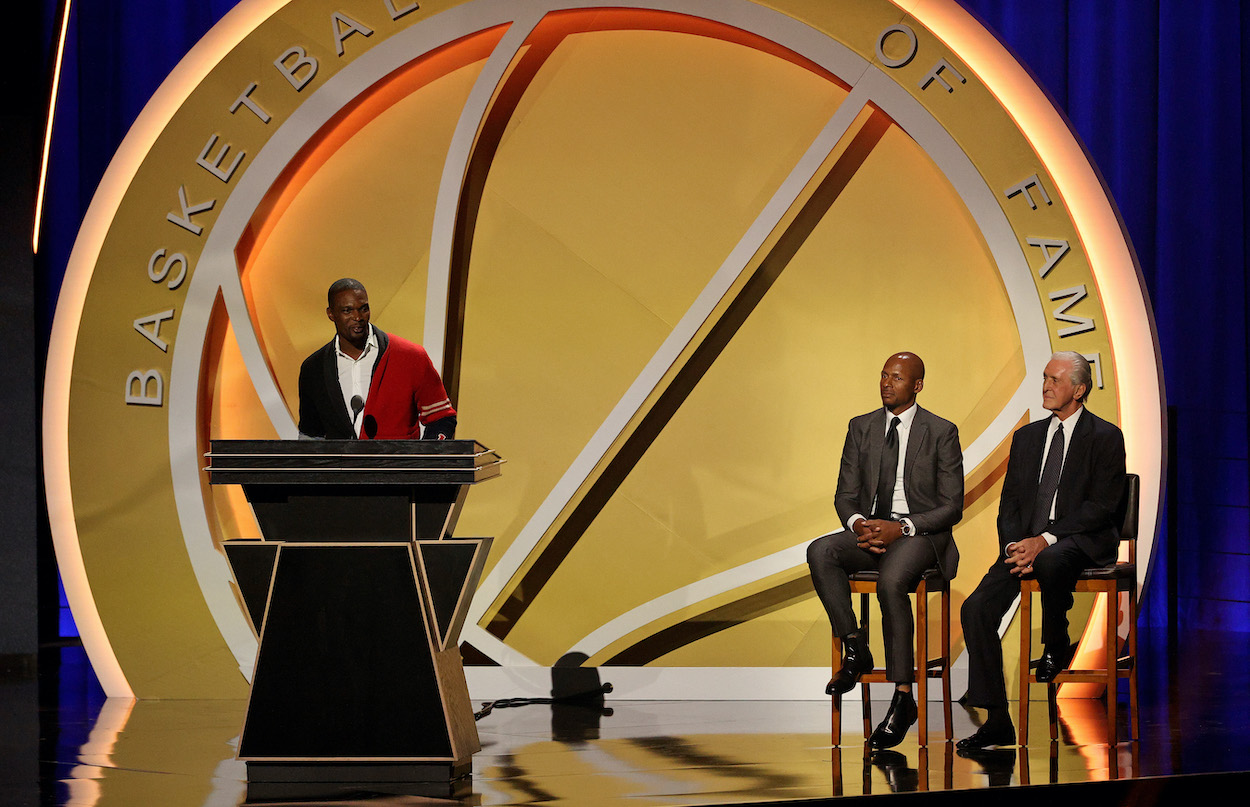 Back in 2010, a 25-year-old Chris Bosh was one of the most sought-after free agents in the NBA. As we all remember, he ended up signing with the Heat to team up with LeBron James and Dwyane Wade, but Pat Riley was just as much of a reason for Bosh to choose Miami over some of the other contenders at the time.
Riley is a winner. Plain and simple. All Bosh wanted in his new team was the best chance to win a championship ring, so he joined the team with an owner who has 10 of them in his office.
The Heat failed to win a title in the first year with their new Big 3, but Miami went on to win the next two championships behind Bosh, James, and Wade. Bosh was never able to win another title in Miami, so he retired in 2016 with two championship rings to his name.
Well, three if you count the one Riley gifted him back when he first signed with the Heat.
Chris Bosh returned a long-overdue gift to Pat Riley during his Hall of Fame speech
On Saturday night, Bosh was inducted into the Naismith Memorial Basketball Hall of Fame with the rest of the 2021 class. Riley and Ray Allen sat on stage to present him as he delivered his moving Hall of Fame speech, and he started it off with a gift 11 years in the making.
"When I first met Pat I was 19 years old interviewing for the draft. I remember being so nervous. Even my family members were always starstruck every time they see him. We've had tremendous experiences together, and in honor of everything, I actually have a gift for you," Bosh began.
"For some context, when I met Pat during free agency in 2010, he pulled out every trick. It was quite the performance, and as I was starting to stand up to leave from the meeting, he pulled out one last trick. He took out this velvet bag full of championship rings and dumped them all across the table. He picked one up, and he looked me dead in my eye and he said, 'You give it back to me when we win one together,'" Bosh said in his best Riley interpretation.
"Now when I think about it, it was crazy because I hadn't even agreed to sign with Miami. But that's Pat, you know, and we did win a ring together. Two of them. But I never gave back the one he loaned me because, for whatever reason, I wanted to wait for the right moment, and, you know, I figured this would be a good moment."
The crowd erupted as Bosh walked over to Riley, handed him the ring, and embraced his friend. Riley then whispered something in Bosh's ear as the two shared an emotional moment, and Bosh threw his head back in laughter.
A worthy Hall of Famer
Saturday night was a long time coming for Bosh, who deserves to be a Hall of Famer after an incredible and sustained career.
Over 13 seasons in the NBA, Bosh averaged 19.2 points and 8.5 rebounds per game. He had 11 All-Star appearances, won two NBA titles, and finished his career as the third-leading scorer in Raptors history.
Now, he can add Hall of Famer to his impressive resume.
Like Sportscasting on Facebook. Follow us on Twitter @sportscasting19.