Eric Weddle Brushed Aside an Insulting Question to Rejoin the L.A. Rams in Time for the NFC Playoffs
The Los Angeles Rams found themselves thin at safety heading into the NFL playoffs on Monday against the Arizona Cardinals. Naturally, they looked to beef up their two-deep. However, defensive coordinator Raheem Morris wanted to distinguish between beefed up and chunky.
That led to his hilarious, albeit somewhat insulting, question for Eric Weddle.
The L.A. Rams are dealing with injuries at a critical time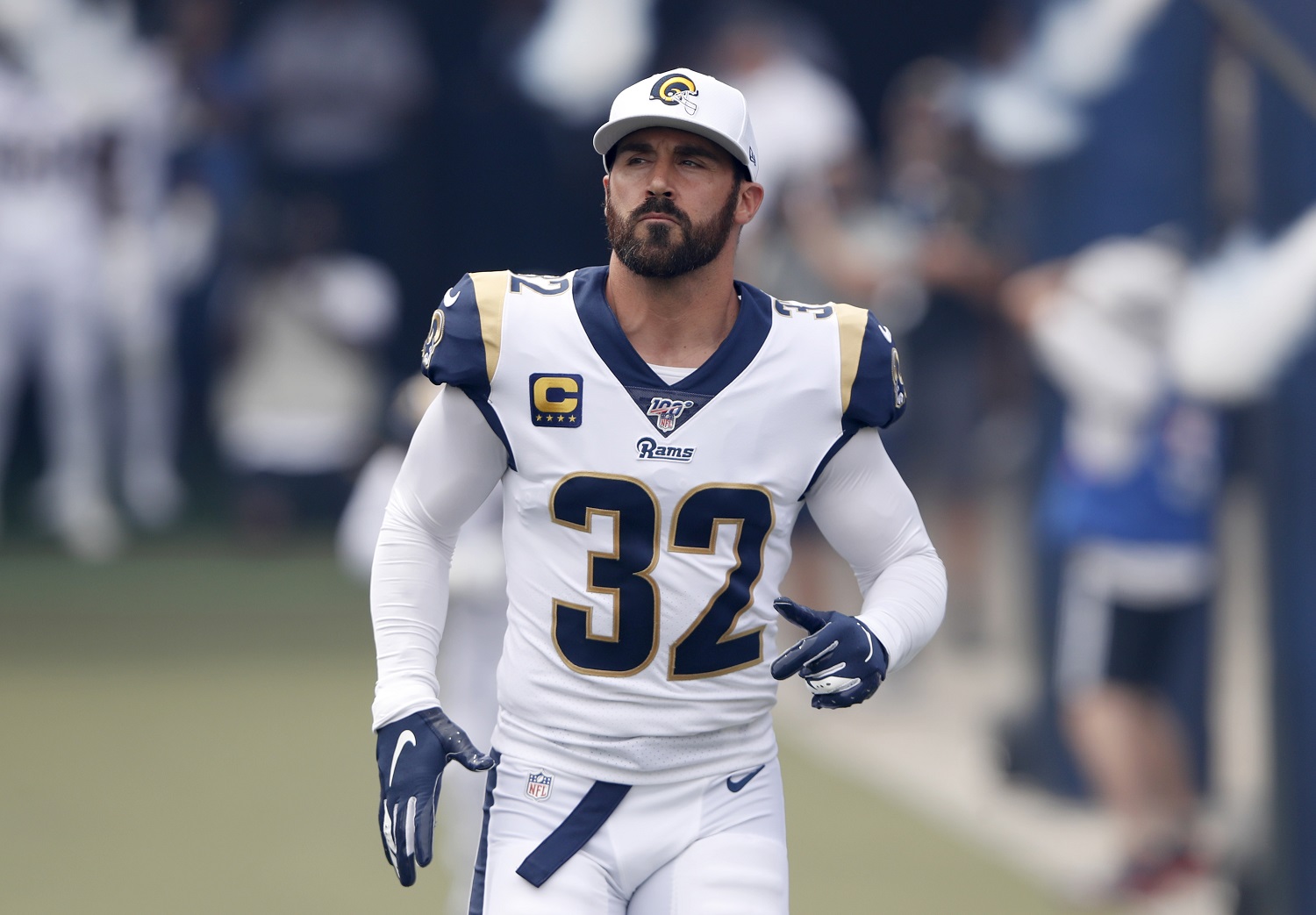 There is never a good time for injuries, but the prospect of heading into Super Wild Card Weekend shorthanded understandably will rattle any front office and coaching staff. With the Los Angeles Rams slated to play host to the inaugural Monday night playoff game, the team found itself needing to make moves.
Jordan Fuller, the second-year safety out of Ohio State who has grown into the role of calling the defensive signals, went down with an ankle injury in the Week 18 loss to the San Francisco 49ers. He will require surgery, which takes Fuller out of the picture for the duration of the Rams' fourth trip to the playoffs in five years.
Additionally, third-year safety Taylor Rapp left last week's game with an injury and began the week in the concussion protocol, and fourth-year cornerback Darious Williams (shoulder) has shown up on the injury report, too.
With time running short and the stakes high, the Rams reacted by assigning Jake Gervase to the active roster and adding Eric Weddle, Sharrod Neasman, and Blake Countess to the practice squad.
Eric Weddle brushed aside an insulting question to come out of retirement
Of all the L.A. Rams' moves to deal with suddenly becoming shorthanded in the secondary, the return of free safety Eric Weddle was undoubtedly the most interesting. That's because Weddle retired from the Rams in February 2020 after 13 NFL seasons.
Bringing a player out of retirement at any juncture is unusual. Doing so on the eve of the NFL playoffs and after he has been out of the game for two seasons understandably raised questions. In fact, defensive coordinator Raheem Morris made a blunt inquiry right out of the box.
"You're not fat and out of shape, are you?" he asked, according to Weddle.
Not surprisingly, Weddle, 37, has no obvious issues in that department. He may not be in peak football condition, but he's close enough to his playing weight of 195 pounds and says he "works out just as hard in retirement as he did when he was an active player," according to Pro Football Talk.
Morris and Weddle have never crossed paths professionally until now, though Weddle played for him when Morris coached the secondary at the 2007 Senior Bowl. However, Weddle played for the Rams under head coach Sean McVay, which led to Morris reaching out.
Eric Weddle has the credentials if the Rams need him
If the Los Angeles Rams need to activate Eric Weddle, whether it's this week against the Arizona Cardinals or in a subsequent playoff game, they know they'll get his best.
"He's always been a guy that takes care of himself," head coach McVay said, according to USA Today. "Can you simulate playing the type of speed and things like that? No. But he's fresher than he has ever been at this point in his career probably, too. You look at the toll that the amount of games takes on these guys' bodies throughout the course of the season. In a lot of instances, it's more asking and trusting that he can provide the feedback on how he's feeling."
Even if he isn't in optimal physical condition, Weddle will be a quick study in picking up coverages and terminology if called upon. And he does have a stellar resume.
Weddle arrived in the NFL in 2007 as the San Diego Chargers' second-round draft pick out of Utah. He played nine seasons for the Chargers, twice earning first-team All-Pro recognition, and went to the Baltimore Ravens as a free agent in 2016. After three Pro Bowl selections there, bringing his career total to five, he signed with the Rams in 2019 for two years and $10.5 million.
Weddle has made 29 interceptions, including a league-best seven in 2011, in 201 regular-season games. He has also appeared in six playoff games, making one pick and three tackles for losses.
He may not be the perfect solution to the Rams' dilemma, but they could definitely do worse.
All stats courtesy of Pro Football Reference.