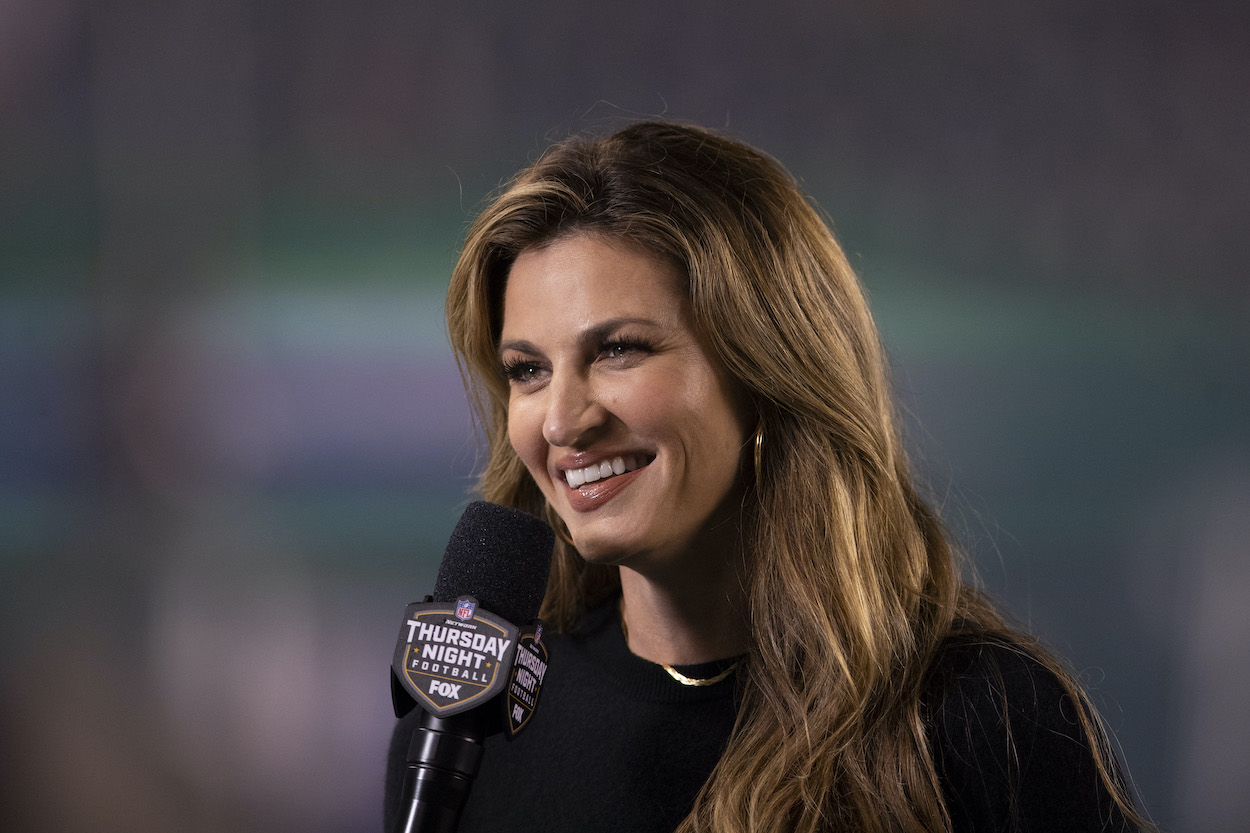 Erin Andrews' Favorite Part About Being a Sideline Reporter Happens Off Camera
Erin Andrews says there's much more to her job with Fox than what viewers see and hear from their homes.
Football fans might see Erin Andrews on camera maybe three or four times per game during Fox's NFL coverage. For a majority of the game, she's patrolling the sidelines, trying to get ahead of any injury news, and alerting the camera crew to capture must-see incidents on the bench.
That, Andrews says, is where she's the "most valuable" as a reporter, and it makes her feel like a spy on a secret mission for scoops.
Most of Erin Andrews' work as a sideline reporter happens behind the scenes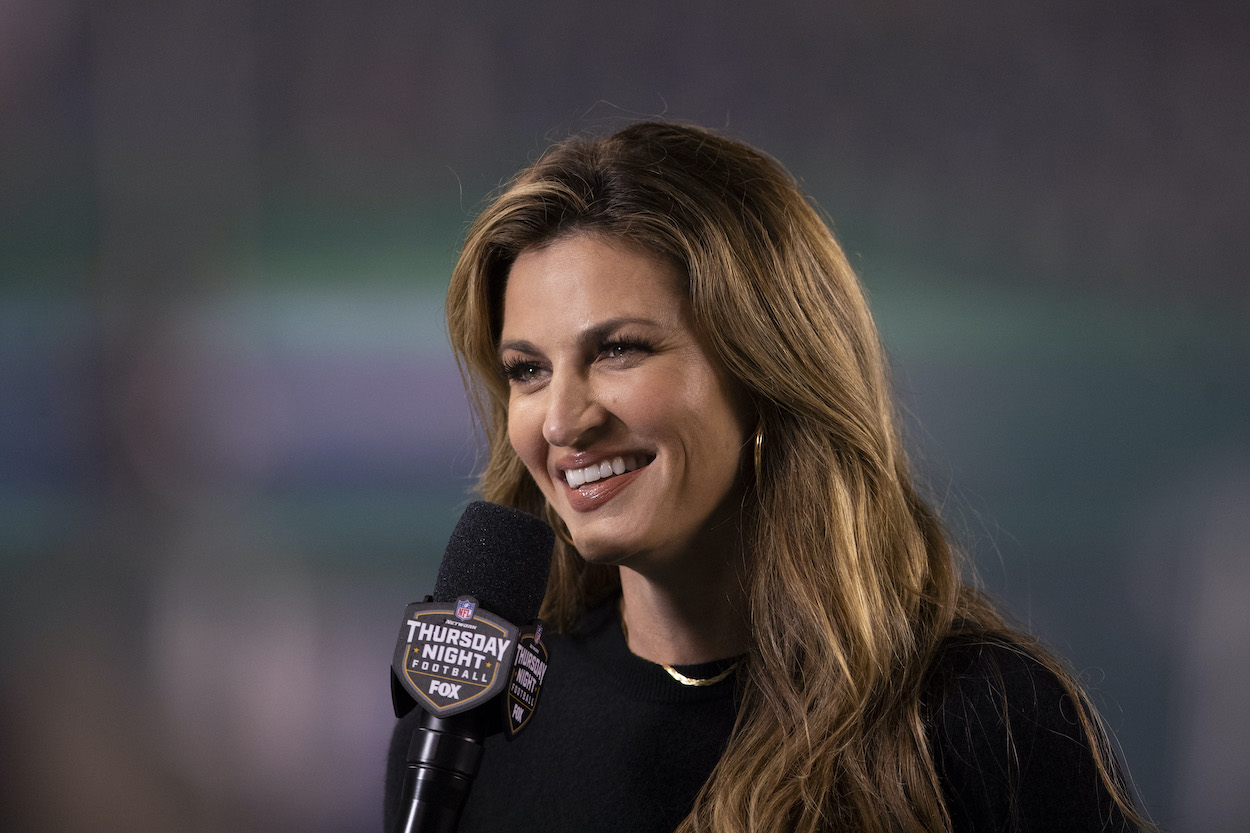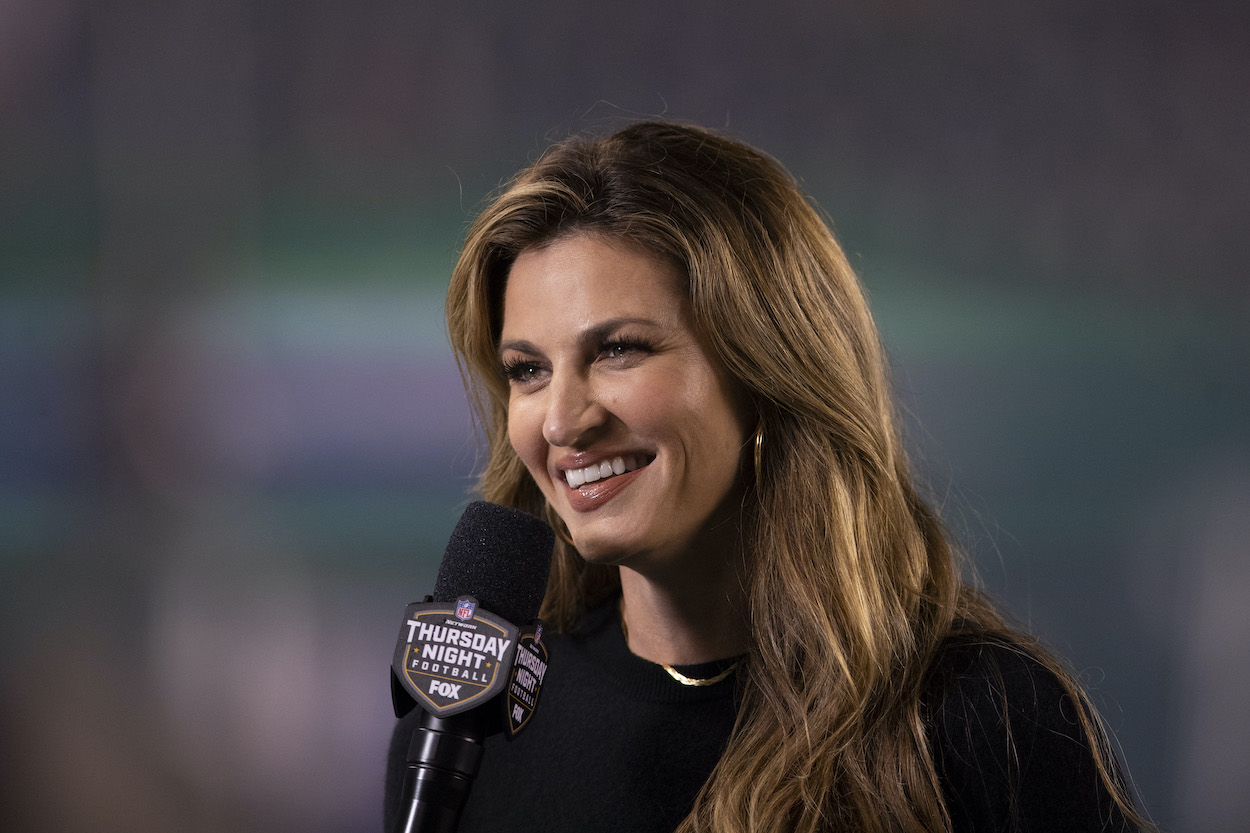 To fans watching from home, an NFL sideline reporter gig might seem like the easiest job in the world. Sideline specialists such as Andrews appear on the television broadcast only a handful of times every game, and their spots usually last a minute or less. They also get to enjoy every game from the best seat in the house. What could be so hard about that?
But what fans don't see on Sundays is the substantial amount of work that goes on behind the scenes when the cameras are off. Every week, Andrews fills her binder with notes on everyone from the starting quarterback to the third-stringer's grandma.
"I'm a nut. I'm insane with it," Andrews said about her prep work on the most recent episode of Barstool Sports' Pardon My Take podcast. "I don't think people get that, and it's like a 24/7 thing. My husband's like, 'Put the phone down' and you're like, 'It's Ian Rapoport tweeting!'"
Andrews says she never uses most of the notes she compiles throughout the week, but she'll always be prepared for anything thrown her way on gameday.
Andrews' favorite part of her job happens off camera
On-air segments are obviously crucial parts of Andrews' job description as a sideline reporter. If she fumbles an injury report or conducts an awkward postgame interview, that's all fans will remember from the broadcast.
But when she's not in front of the camera or providing updates to Joe Buck and Troy Aikman in the booth, that's when the real work begins. In her interview with Pardon My Take, Andrews explained how her favorite part of the job happens when she's off the air.
"I think where I am at my most valuable is the part people don't see and hear from me," she said. "Prime example, and I was so excited it got a lot of attention because it was a huge moment. Aaron Donald was just going off on the sideline, and I just said, 'Get a camera to him. Get a camera.' I mean, there's a lot of times I'm grabbing the camera where I'm like, 'Go here! Go here!'"
Whenever Fox cameras pick up an argument on the sideline or an injured player hobbling to the locker room, you can bet Andrews was behind it.
"I feel like I'm a spy"
Andrews loves her gig as a sideline reporter for Fox, but it might surprise you that her favorite part is putting on her detective hat behind the scenes and capturing images fans from home otherwise wouldn't get to see. She specifically remembers an example from the Tampa Bay Buccaneers' run to the Super Bowl last season.
"I saw Antonio Brown kinda doing something with his leg, and then I just said, 'Get a camera on Antonio Brown!' as he's going into the locker room because I knew [Tom] Brady would run over to him and say, 'Is your leg OK?' And it wasn't. After the second half, he was out," she explained.
"It's the s*** you don't hear from me, that I can get the camera and tell our producer and director, and I love it. It's so cool. I feel like I'm a spy."
The name's Andrews. Erin Andrews.
Like Sportscasting on Facebook. Follow us on Twitter @sportscasting19.