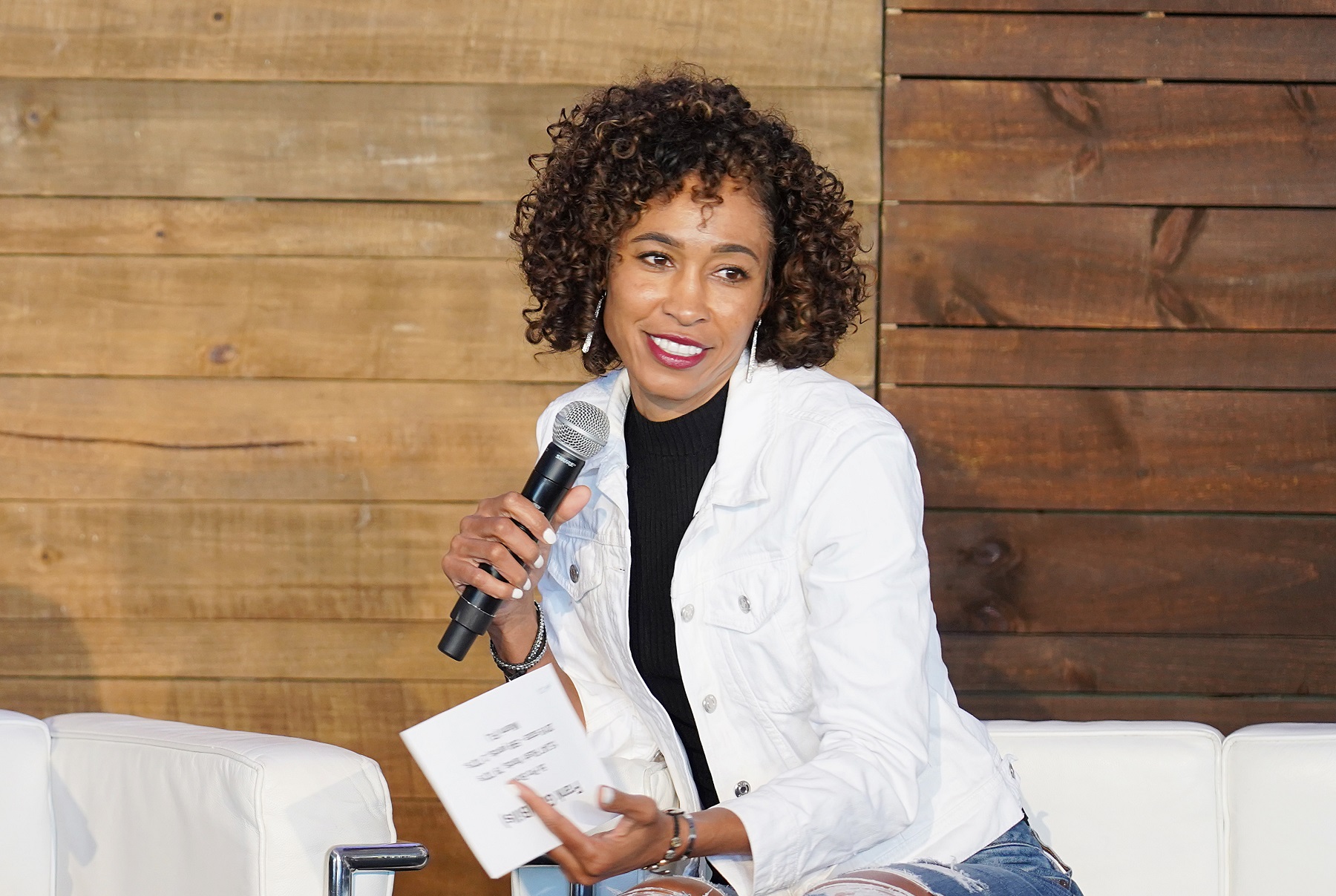 ESPN's Demotion of Sage Steele Looks Like Karma
Sage Steele appears to be on the outs at ESPN, which is moving the 'SportsCenter' anchor to a less-visible timeslot.
If ESPN handed out company-branded hoodies to its news anchors, they might contain a motto: "6 p.m. SportsCenter: Where Careers Go To Die." Jemele Hill killed her career with her own words, and now Sage Steele's future at the cable sports network looks to be on life support.
If that's the case, then Steele likely has no one to blame but herself.
Jemele Hill's loss at ESPN was Sage Steele's gain
Anchoring the 6 p.m. ET edition of SportsCenter is one of the most high-profile assignments that ESPN's on-air staff can land. Even with an audience in the range of only half a million viewers, it carries weight. Sports fans are looking for analysis of the day's NFL or NBA developments, and the show is a valuable tool to steer audiences to games airing on the ESPN channels that night.
In February 2017, ESPN shook up the format for the 6 p.m. ET SportsCenter, rebranding it as SC6 and reducing highlights-driven segments to make it more of a conversation between anchors Michael Smith and Jemele Hill. It was well-received in some corners, but the general public didn't embrace the format.
Hill got caught up in back-to-back controversies that fall, labeling president Donald Trump "a white supremacist" and calling for a fan boycott of the Dallas Cowboys' sponsors because of owner Jerry Jones' response to player protests during the national anthem.
In January 2018, ESPN announced Hill was moving over to The Undefeated, their website attempting to connect sports and topics having to go with race. By the end of the year, however, she left for a writing position at The Atlantic. In March of that year, Smith left SC6.
ESPN returned the SportsCenter name to the 6 p.m. show and put Sage Steele and Kevin Negandhi in the anchor chairs.
Sage Steele is a veteran of sports journalism
Sage Steele's career in sports journalism began at a South Bend, Indiana, TV station in 1995. That was followed by stops at network affiliates in Indianapolis and Tampa, then several regional sports networks. She joined ESPN and made her debut as a SportsCenter anchor in March 2007. She had been working on NBA shows for ESPN and ABC when the call came to return to SportsCenter in 2018.
If ESPN's management and on-air talent lean left politicly, as some critics have complained, then Steele doesn't fit comfortably into that narrative. She tweeted a photo of a military cemetery in 2016 while criticizing Tampa Bay Buccaneers receiver for sitting during the national anthem.
She also defended NFL owners for choosing not to sign activist quarterback Colin Kaepernick and took SportsCenter anchors to task for forcing politics and social issues upon viewers looking for scores and highlights. It's possible that those stances are the origin of a lineup change at ESPN that amounts to a demotion for Sage Steele.
Sage Steele is being moved to the noon 'SportsCenter'
With the death of George Floyd at the hands of Minneapolis police officers on May 25 and several other incidents this year raising social discontent, ESPN aired a discussion on June 24 of Black athletes' experiences. Time For Change: We Won't Be Defeated that was hosted by SportsCenter anchors Elle Duncan, Michael Eaves, and Jay Harris, as well as reporter Maria Taylor.
The following month, Steele told the Wall Street Journal that she believed Duncan and Eaves worked to keep her off that special. Steele, the child of a mixed-race couple, alleged that Duncan and Eaves told management that she "wouldn't be accepted by what they considered the Black community." A Deadspin column alleged Steele may have tried to have Duncan fired or demoted.
Going outside the company to air a grievance Is dangerous, more so when a delicate topic like race is involved. However, Steele seemed to come through the situation unscathed – until last week. That is when ESPN announced that Duncan was being moved to the 6 p.m. SportsCenter beginning in January 2021. Steele is being reassigned to the noon show, with a smaller audience, alongside Matt Barrie.
In the announcement, ESPN played up Steele's upcoming additional role on an interview show being crafted for ESPN+. Aspects of the announcement felt similar to the disclosure of Jemele Hill's short-lived move to the ESPN website. A quote from Steele alluded to the noon assignment being a better fit for the mother of three teenagers.
Interestingly, though, the 6 p.m. SportsCenter seems to work fine for Duncan. The anchor position there will be her first role back from maternity leave.
Like Sportscasting on Facebook. Follow us on Twitter @sportscasting19.