Evan Fournier Adds Wood to Knicks and Nets Crosstown Rivalry Fire by Hilariously Shading Kevin Durant: 'He Needs a Barber Too'
The New York Knicks and Brooklyn Nets might not have much of a rivalry at present, but Evan Fournier is trying to change that after humorously taking a shot at Kevin Durant for his questionable hairline.
Fournier is headed to the Big Apple after signing a four-year, $78 million contract with the Knicks in free agency, though it has since been revealed he was part of a sign-and-trade that created a $17.1 million trade exception for the Boston Celtics. He's looking for a new barber in NYC, apparently for Durant as well as for himself.
Evan Fournier and Kevin Durant are developing something of a personal rivalry
Evan Fournier isn't exactly of the superstar caliber. He's a strong player and quality combo guard, to be sure, but he's hardly in the same stratosphere as Kevin Durant.
Nevertheless, the two have birthed a bit of a personal rivalry in recent months.
Fournier got into it with Durant after they got tied up during Game 2 of the first-round playoff series between the Boston Celtics and Brooklyn Nets. The two barked at each other after the whistle blew, with neither player backing down.
The trash talk continued at the 2020 Tokyo Olympics. Fournier, who starred for the French national team, expressed confidence after Les Bleus defeated the Americans in the first game of group play.
Durant never explicitly mentioned Fournier by name in his response. Rather, he let his play do the talking.
The former league MVP helped Team USA get past that opening loss, leading the Americans to gold. Durant and Co. also got their revenge against Fournier and the French in the gold medal game.
Initially, that appeared to be the end of it. However, Fournier couldn't help but take a subtle shot at Durant on Twitter when prompted by a fan.
Fournier made fun of Durant's hairline
What began as a simple inquiry about the best barber in New York City turned into a Kevin Durant roast.
Fournier tweeted Monday that he needed "help" getting lined up by one of NYC's finest. One fan mused that the Knicks signee should seek Durant's services, saying the Nets superstar "cut" Fournier up in Tokyo. The Frenchman didn't miss a beat, firing back, "He needs a barber too."
This is obviously an attempt at playful banter. Still, it would hardly be a surprise if the tweet serves as an onus for more trash talk between Fournier and Durant during the regular season.
Durant's age has rarely been a topic of discussion, mostly because, at 32, he's still one of the most unguardable players in NBA history. That said, the hairline isn't exactly staying put as Durant ages. Then again, Fournier seems to understand he could also use help on that front. No pun intended.
Will Knicks-Nets become a real rivalry?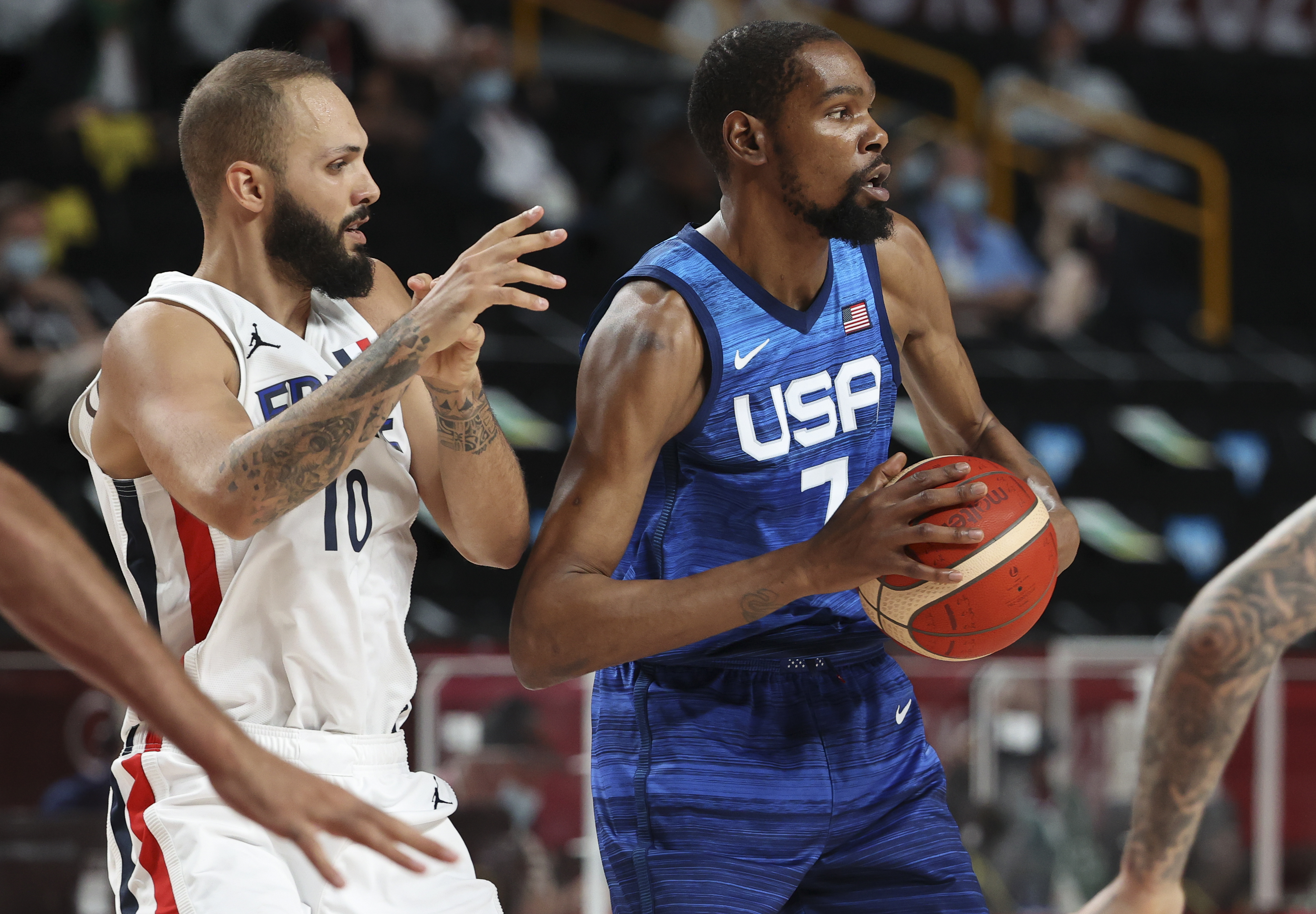 The Knicks and Nets seemingly have the recipe for a marquee NBA rivalry.
The two teams are headliners in one of the biggest markets in the NBA. Both squads made the playoffs last season and are hungry to do the same during the 2021-22 campaign.
Still, it's hard to envision Knicks-Nets becoming a legitimate grudge match. Brooklyn's star power is unmatched. The Knicks really only have one player (Julius Randle) who can probably claim the "superstar" label, and it's in question whether he's really of the superstar variety. Maybe the addition of Kemba Walker helps New York be that much more competitive if he's healthy.
Alternatively, perhaps the individual tension between Fournier and Durant can ultimately result in something between the two teams. After all, they'll both be in New York for a while after Durant finalized his max extension with the Nets earlier this month.
Imagine if a comment alluding to Durant's age and hair loss stoked the fires of the rivalry. It almost seems too good to be true.