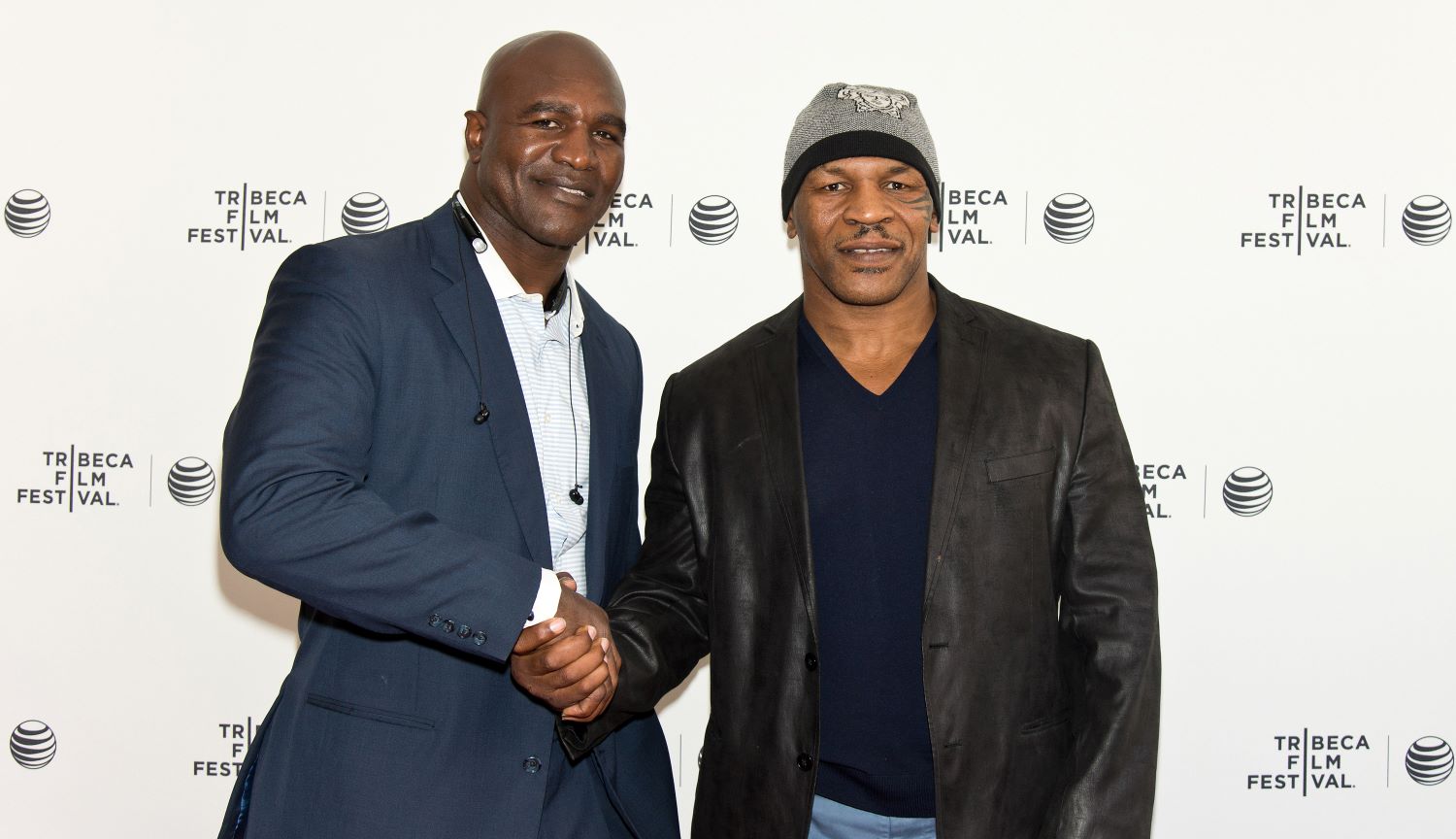 Evander Holyfield Has Issued a $25 Million Challenge to Mike Tyson
As Mike Tyson prepares for his first fight since 2005, he just received a $25 million challenge from a familiar foe: Evander Holyfield.
Evander Holyfield knows exactly what it's like to step inside the ring with Mike Tyson. After all, the two boxing legends went toe-to-toe (with an ear involved) in two hellacious fights back in the '90s.
With Tyson returning to the ring for the first time in 15 years, it sounds like he already has a future opponent waiting in the wings. But a third showdown between Iron Mike and The Real Deal will only happen if Tyson answers his adversary's $25 million challenge.
Mike Tyson and Evander Holyfield are familiar foes
You can't talk about the sport of boxing without discussing the epic fights between Mike Tyson and Evander Holyfield.
The two first squared off at the MGM Grand Garden Arena on Nov. 9, 1996. Tyson entered the matchup with just one career loss. However, the 5-foot-10 reigning heavyweight champion suffered a tough defeat at the hands of the 6-foot-2 Holyfield.
After 10 rounds of brutality, the fight eventually ended in the 11th frame after referee Mitch Halpern declared Holyfield the winner by TKO.
Of course, the second matchup between the two boxing icons stands out as one of the most memorable in the history of the sport.
On June 28, 1997, Tyson and Holyfield faced off in another title fight. But in the third round, Iron Mike bizarrely bit his opponent's ear and spat out a piece onto the floor. Ultimately, Holyfield retained his belt after referee Mills Lane disqualified Tyson, who had his boxing license revoked by the Nevada State Athletic Commission.
Holyfield issues a $25 million challenge to Iron Mike
Although it's been more than 20 years since Evander Holyfield stepped into the ring against Mike Tyson, he hasn't completely ruled out a third matchup. In fact, the 58-year-old recently issued a challenge to his fellow boxing icon.
Holyfield discussed the topic of fighting Tyson during an appearance on the "I Am Athlete Podcast" with former NFL receiver Brandon Marshall. When asked why a third showdown has yet to take place, Holyfield had an interesting response.
"I wasn't getting in the ring for less than $25 million," he said. "I beat him twice. I felt it was wrong for me to have to ask him to fight me."
However, Holyfield took things to another level by issuing a challenge directly to his longtime nemesis.
"If they called me to fight in two days, I'd be there to fight in two days," he stated.
Ultimately, it will be interesting to see whether Tyson responds publicly to Holyfield's $25 million challenge. But before he decides whether to square off against his former foe again, Iron Mike must first take down Roy Jones Jr.
Tyson must first defeat Roy Jones Jr. before anything happens
While a future matchup with Evander Holyfield looms in the distance, Mike Tyson will put his fighting skills to the test again for the first time in 15 years when he takes on Roy Jones Jr. on Saturday.
The two will square off in an eight-round exhibition fight with adjusted rules. Each round will last two minutes rather than the typical period of three minutes.
In addition, the boxers will utilize 12-ounce gloves without any protection.
Though Tyson brings a 50-6 career record to the equation, Jones Jr. has an impressive resume of his own. The 51-year-old won his last fight in 2018 to push his career record to 66-9.
Given his long layoff from boxing, it's safe to say nobody knows exactly what to expect from Tyson. If he performs well, perhaps he will be motivated to answer Holyfield's challenge.
But if he fails to live up to the hype on Saturday, it might be time for Iron Mike to hang 'em up for good.
Like Sportscasting on Facebook. Follow us on Twitter @sportscasting19.