Even Luka Doncic is Sick of Luka Doncic Complaining to Referees
Most fans love everything about Luka Doncic's game. Well, almost everything.  
The young Dallas Mavericks star is undoubtedly one of the best players in the NBA. The 6'7" point forward can do it all on offense. His passing, ball-handling, driving, and long-range shooting make him one of the most potent offensive players in the league.
There is one thing that Doncic does though that annoys both fans and media though. He complains to referees about calls. A lot. On May 6, after a win over the Brooklyn Nets, Doncic admitted that this bothers him as well.
Luka Doncic is leading the Dallas Mavericks to the playoffs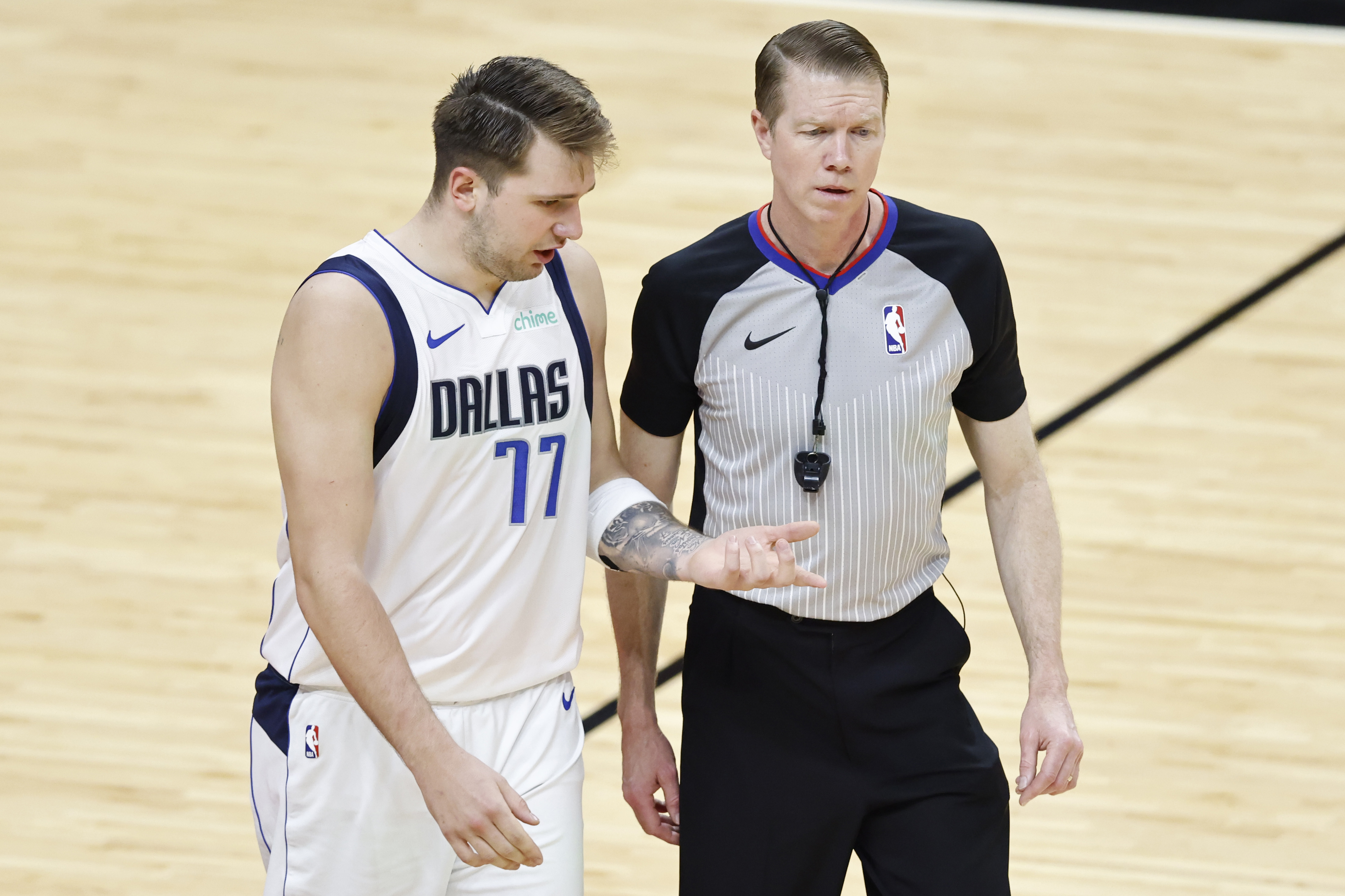 The Dallas Mavericks started the year off slow but rebounded nicely as the year went on. Doncic worked his way back to fitness after admittedly starting the season not in the best shape. The Mavericks' number two scorer, Kristaps Porzingis, came back nicely as the season went along as well. He recovered from an injury to play 40 games in the regular season, although he is out injured again currently.
With or without the team's second-best scorer on the floor, Doncic has been dominant as usual this season. His 28.5 points per game lead the team, as do his 8.9 assists, 10.1 field goals, 3.0 3-point field goals, and 7.3 defensive rebounds per game. He also leads the team in minutes per game averaging 35.1.
Doncic's 4.8 VORP, 25.6 PER, and offensive (4.9) and defensive (2.4) win shares lead the team too. His usage rate of 35.9% leads not just the Mavericks but the entire NBA. Without these statics, the Mavericks surely would not be fifth in the Western Conference, as they currently are, and heading toward the playoffs.
Luka Doncic is one technical foul away from a suspension
Doncic is obviously incredibly important to the Mavericks finishing above the No. 7 seed and avoiding the NBA Play-In Tournament. Finishing strong could become a problem because Doncic is one more technical foul away from being suspended for a game. With Porzingis already out, the Mavericks can ill-afford a setback like this.  
The Mavericks star got to this point by picking up his 14th and 15th technicals against the Sacramento Kings. The Serbian superstar yelled "Hell no!" at referee Rodney Mott who subsequently ejected him for his "disrespectful response to a referee." This dustup is a perfect example of Doncic's constant complaining to officials. 
While Doncic and the Mavericks held out hope that these technicals would get rescinded – like a technical foul he received earlier in the year against the New York Knicks was – there was no such luck. The NBA confirmed the day after the game that the technicals would stand, and Doncic would stay one away from suspension.
Luka Doncic gave a post-game interview where he admitted he knows he complains too much
While Doncic may still complain to referees, it is heartening to know that he is aware of this issue. Following the Mavericks win over the Nets on TNT, Doncic talked about it with Ernie Johnson. Doncic told the commentator, per ESPN:
This season has been long. With officials, I wasn't myself this season. I've [been] complaining way too much, and I've gotta work on that. I just gotta stay calm and just not talk to them. I gotta learn from that.
This level of self-awareness is sometimes rare for professional athletes these days, but actions speak louder than words. If Doncic doesn't clean up his act soon, it could create significant problems for his team, which absolutely can't afford to lose him now in the regular season or in the coming playoffs.
All stats courtesy of Basketball-Reference