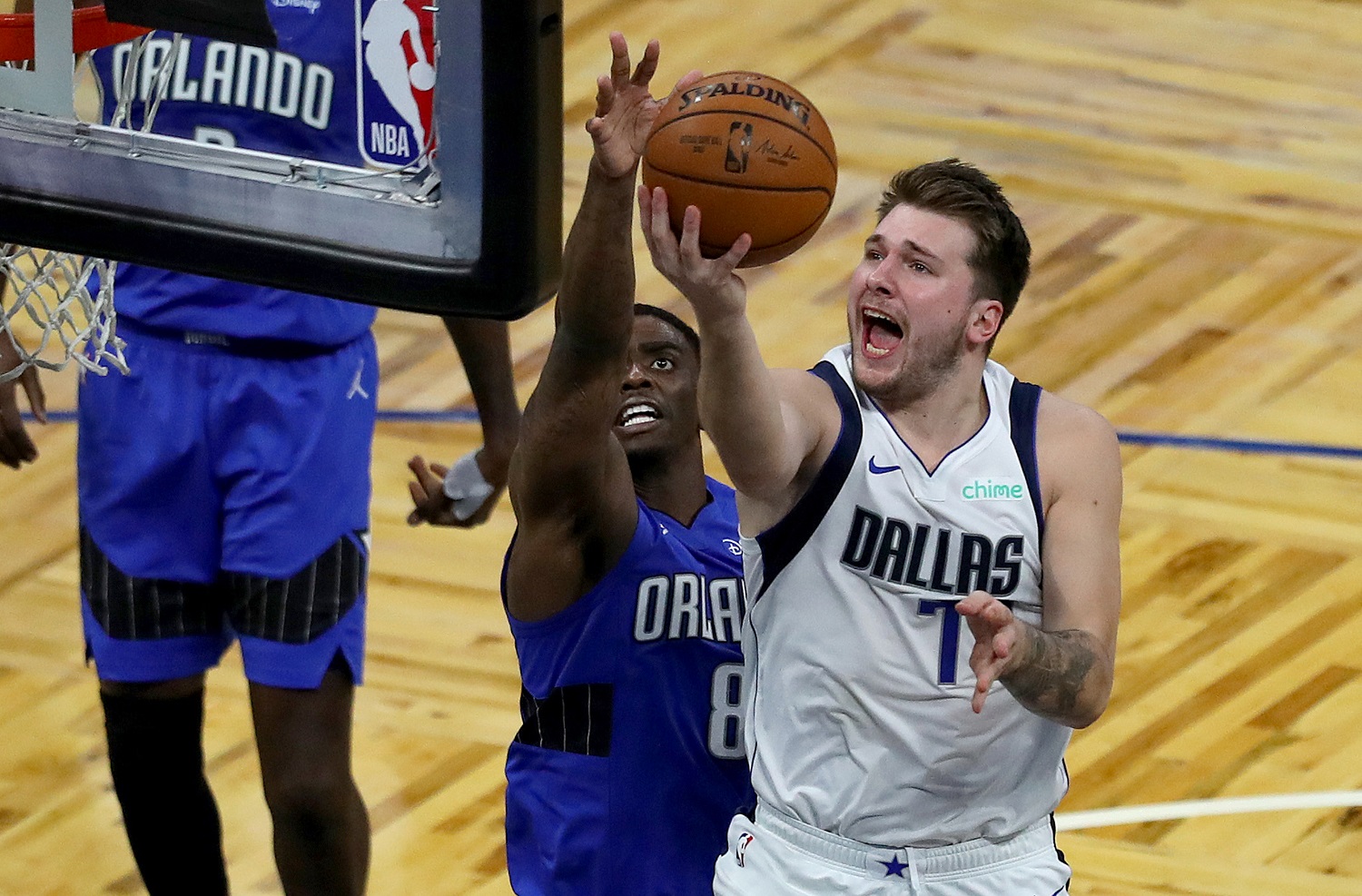 Luka Doncic Was Talked Into a New Career by Patrick Mahomes
Two-time NBA All-Star Luka Doncic his signed his second endorsement deal, this time with BioSteel after a conversation with Patrick Mahomes.
Being the star guard of the Dallas Mavericks and potentially the future face of the NBA should be enough to keep Luka Doncic busy. That is not the case, however. Doncic has taken on another job, thanks in part to fellow young star Patrick Mahomes.
Luka Doncic is on his way to a lucrative NBA career
Not quite 2 ½ seasons into his NBA career, Luka Doncic is already near the very top of his profession. Doncic, who just turned 22 years old, was selected the NBA Rookie of the Year in 2019 and will be appearing in his second All-Star Game on March 7, 2021, in Atlanta.
He averaged 28.8 points last season and appears on his way to his best overall year yet. Doncic is averaging 28.6 points, 9.0 assists, and 8.4 rebounds a game. The best news is that his 3-point shooting has improved to 35.7% from the field. He's been clicking at a torrid 46.2% in his last 11 games.
Doncic is in the midst of his four-year, $32.4 million rookie contract signed after coming into the league as the third pick of the 2018 draft. Given his age, his productivity, and what max contracts are worth these days, he could easily earn several hundred million dollars on the basketball court before retiring.
Luka Doncic's endorsement opportunities are massive
Luca Doncic has been methodical in scoping out endorsement options. In part, that's because he is young and is looking at the long haul when it comes to making his deals. At least as importantly, he is already a bona fide international superstar, having established himself as a teen sensation in Europe before coming to the NBA. That played into his current shoe deal.
Doncic became a footwear free agent early in his NBA career after the deal he signed while in Europe expired. He was seen wearing various brands while considering the options. Doncic eventually signed with Nike's Jordan Brand, but the details haven't surfaced. Money Inc. speculated that Doncic bagged something comparable to Zion Williamson's five-year, $75 million deal, though his appeal on both sides of the Atlantic and Nike's worldwide marketing might be worth more.
This week, Doncic revealed his second major endorsement by becoming an equity investor in BioSteel, which makes sports drinks and protein powders. Connecting with Doncic wasn't a heavy lift for BioSteel since the firm also sponsors the Dallas Mavericks.
Patrick Mahomes turned the NBA star onto BioSteel
BioSteel has equity arrangements with numerous star athletes, but Luka Doncic's deal has an interesting wrinkle because his role as an investor/endorser also comes with a job title. BioSteel has anointed the third-year Dallas Mavericks star its global chief hydration officer.
Before signing with BioSteel, Doncic reached out to a high-profile friend for advice. And, no, it wasn't the obvious candidate – Mavericks owner Mark Cuban.
"I asked Pat Mahomes," Doncic told Front Office Sports. "We talk sometimes." 
Doncic and Mahomes met two years ago after Mahomes came to a Mavericks game. The Chiefs quarterback was already on the BioSteel roster that also includes Ezekiel Elliot and Gleyber Torres.
Doncic sees BioSteel as a template for his future endorsements. He wants to stick with products that he knows well after talking to people whose opinions he values.
"I'm still new to this, but I have people that I trust," he said, noting that Cuban is one of them.
"I want to learn from Mark," Doncic said. "He's a great investor."
All stats courtesy of Basketball Reference.