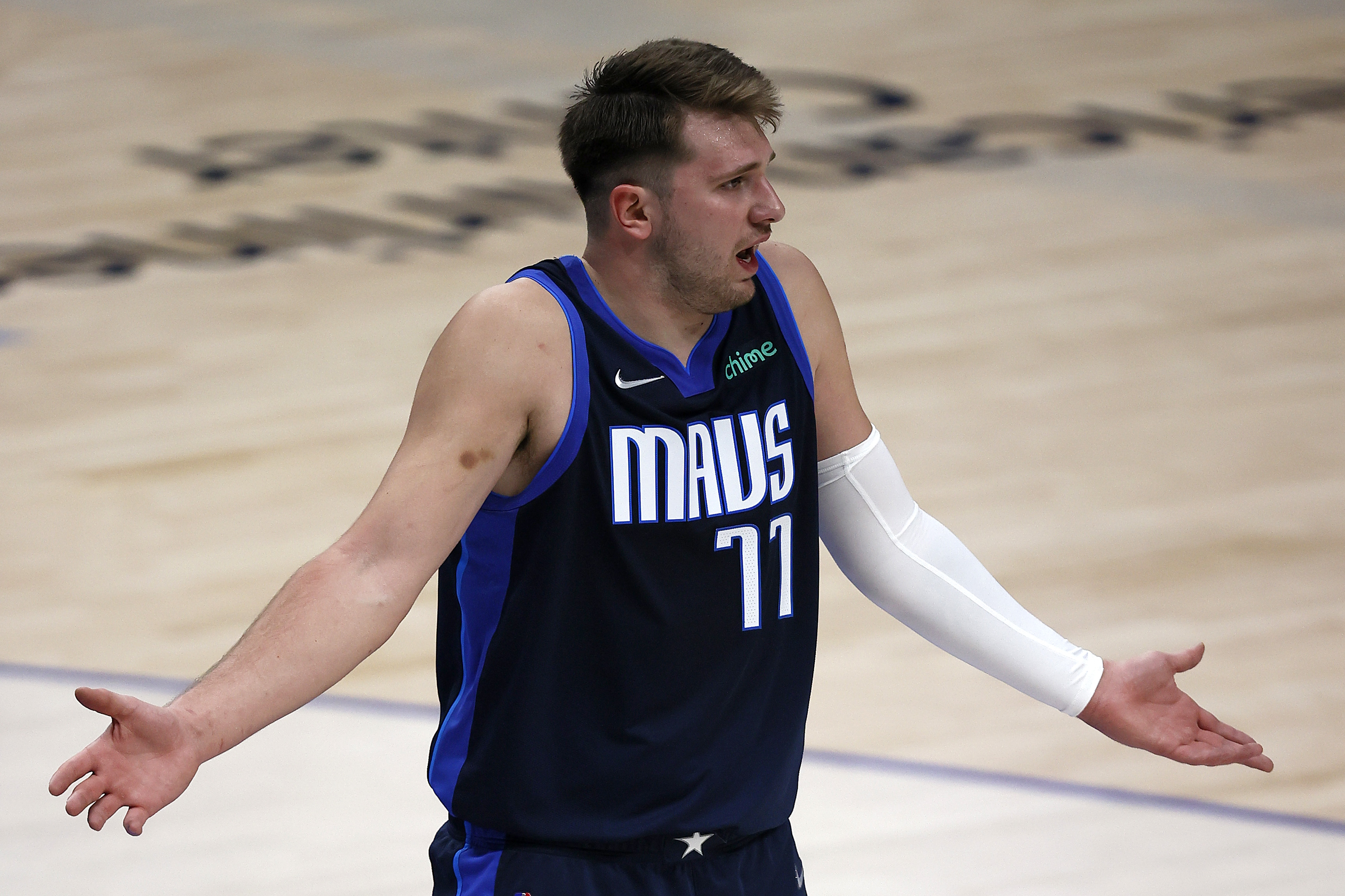 Luka Doncic's 'Disrespectful Response to a Referee' Puts Him 1 Step Away From a Suspension
Luka Doncic's latest two technical fouls puts him one away from a suspension, which the Dallas Mavericks cant afford this late in the season.
With the stretch run toward the NBA playoffs in full swing, teams need their star players on the court now more than ever. This especially applies to teams that are battling to stay out of the 2021 NBA Play-In Tournament.
On Sunday, one team got a step closer to losing its superstar player during the waning days of the season. Dallas Mavericks point-forward Luka Doncic picked up his 14th and 15th technical fouls of the season during a confrontation with referee Rodney Mott. One more in the regular season, and a one-game suspension follows. 
Luka Doncic is by far the most important player on the Dallas Mavericks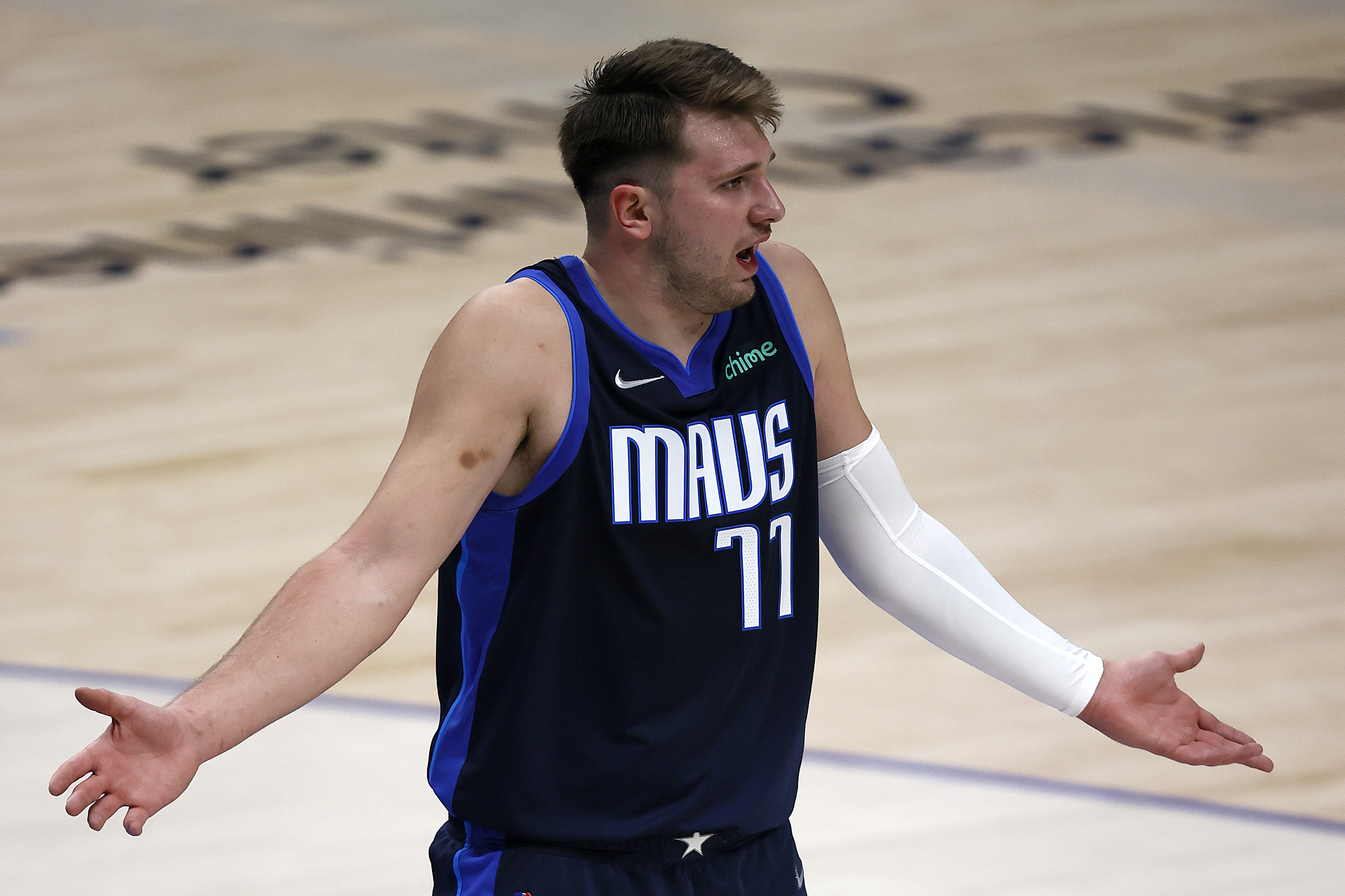 It is no secret that Luka Doncic is the biggest star on the Dallas Mavericks. He has been the face of the franchise ever since he was selected with the No. 3 pick in the 2018 NBA draft. The stats tell an even clearer story about how important he is to the team.  
Luka leads the team in most statistical categories. This includes points (28.6), assists (8.9), defensive rebounds (7.2), field goals (10.2), 3-point field goals (2.9), and minutes (35.2) per game. Digging deeper, he also leads the team in many advanced statistical categories, including usage rate (35.9%), PER (25.9), and VORP (4.8). His usage rate, which underscores just how vital he is to his team's offense, leads the entire league.
What did Doncic say to the referee to earn his technical fouls?
Doncic's two technical fouls and subsequent ejection from Sunday's game against the Sacramento Kings came following an offensive foul called on the Slovenian superstar. According to ESPN, Mott, the referee who called the foul, told reporters after the game:
The first technical foul was called after a correct call offensive foul, and in transition, he runs past me and he screams, 'Hell no!' as he shakes his fists which is a disrespectful response to a referee. That's unsportsmanlike.
For his part, Doncic confirmed the basic details of the referee's story but saw it differently. After the game, he said, "He told me I cannot tell him, 'Hell no.' Maybe I can tell it to others, but to him, no. That's why I got a tech."
No matter who was right or wrong in this situation, the key takeaway is that with these two technical fouls, Doncic is one technical away from a one-game suspension, per NBA rules. The NBA still could rescind the fouls if it decides the calls are incorrect, and the league has already done so once this season for Doncic. It rescinded a technical he received in a game a month ago versus the New York Knicks.
Losing Doncic could be a massive blow for their playoff hopes
As of May 3, the Mavericks own the sixth seed in the Western Conference. This spot potentially gives them an automatic bid to the 2021 NBA playoffs. With only eight games to play, they share the same record with both the currently seventh-seeded Portland Trail Blazers and the currently eighth-seeded Los Angeles Lakers. Finishing in either of those spots would mean a trip to the NBA Play-In Tournament. There, back-to-back losses would send them home before the 2021 playoffs officially begin.
For his part, Doncic told reporters, "I won't get another one, don't worry." But for Mavericks fans who see secondary star Kristaps Porzingis out yet again with an injury and no one else on the team averaging more than 16 points per game, the prospect of Doncic missing even a small amount of time in these last handful of games has to be a terrifying proposition. Doncic's technical foul problem could quickly become a season-ending issue for the 2021 Dallas Mavericks.
All stats courtesy of Basketball Reference