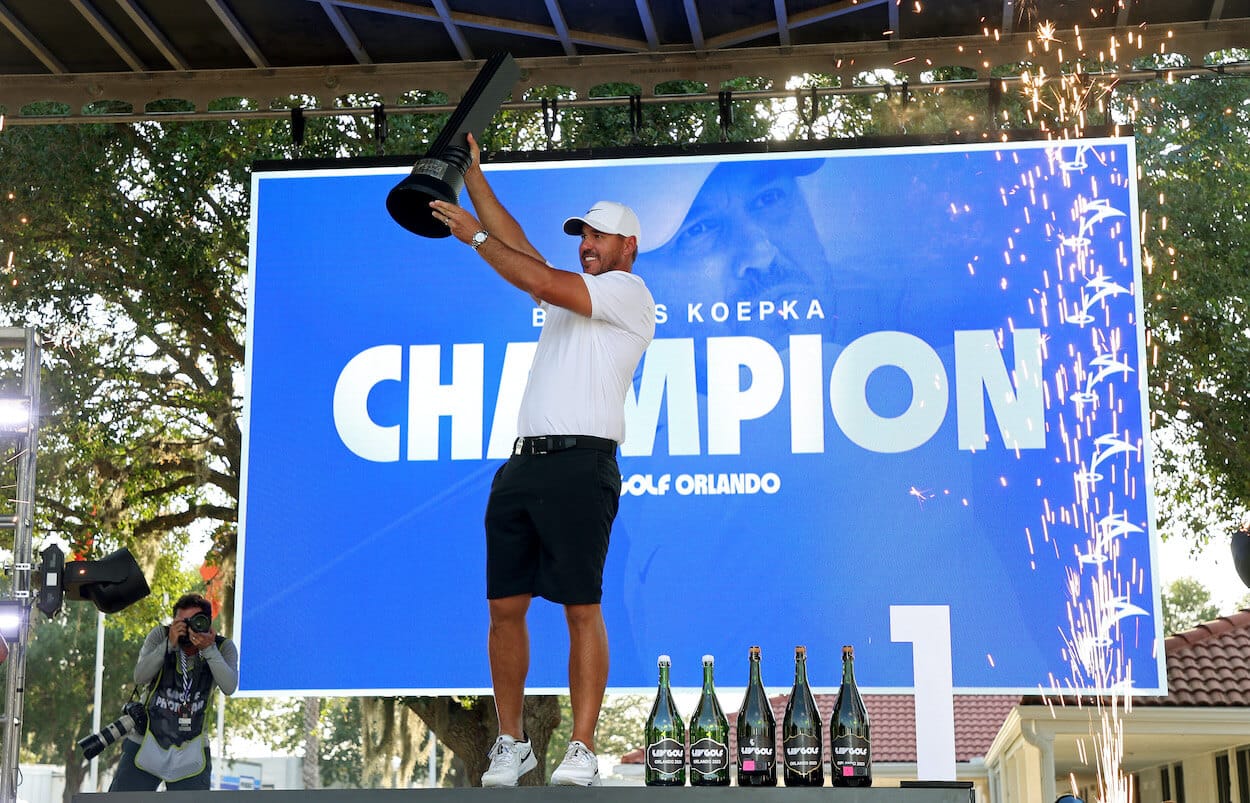 'Finally Healthy' Brooks Koepka Just Sent the PGA Tour a $4 Million Message Just in Time for the Masters
Brooks Koepka is "finally healthy" and ready to contend for a green jacket at the 2023 Masters.
Brooks Koepka is back, folks, and just in time for his annual trip to Augusta National Golf Club.
The four-time major champion just won the LIV Golf event in Orlando to become the first two-time winner on the Saudi-backed tour. Koepka shot 65-65-68 to finish the three-round tournament at 15 under par. Oh, and he also added $4 million to his bank account with the victory.
After closing out the tournament, Koepka revealed he's "finally healthy" and ready to contend for a green jacket next weekend. The PGA Tour might be in trouble with a healthy, motivated Brooks Koepka in the Masters field.
Brooks Koepka looks like his old self in $4 million LIV Golf win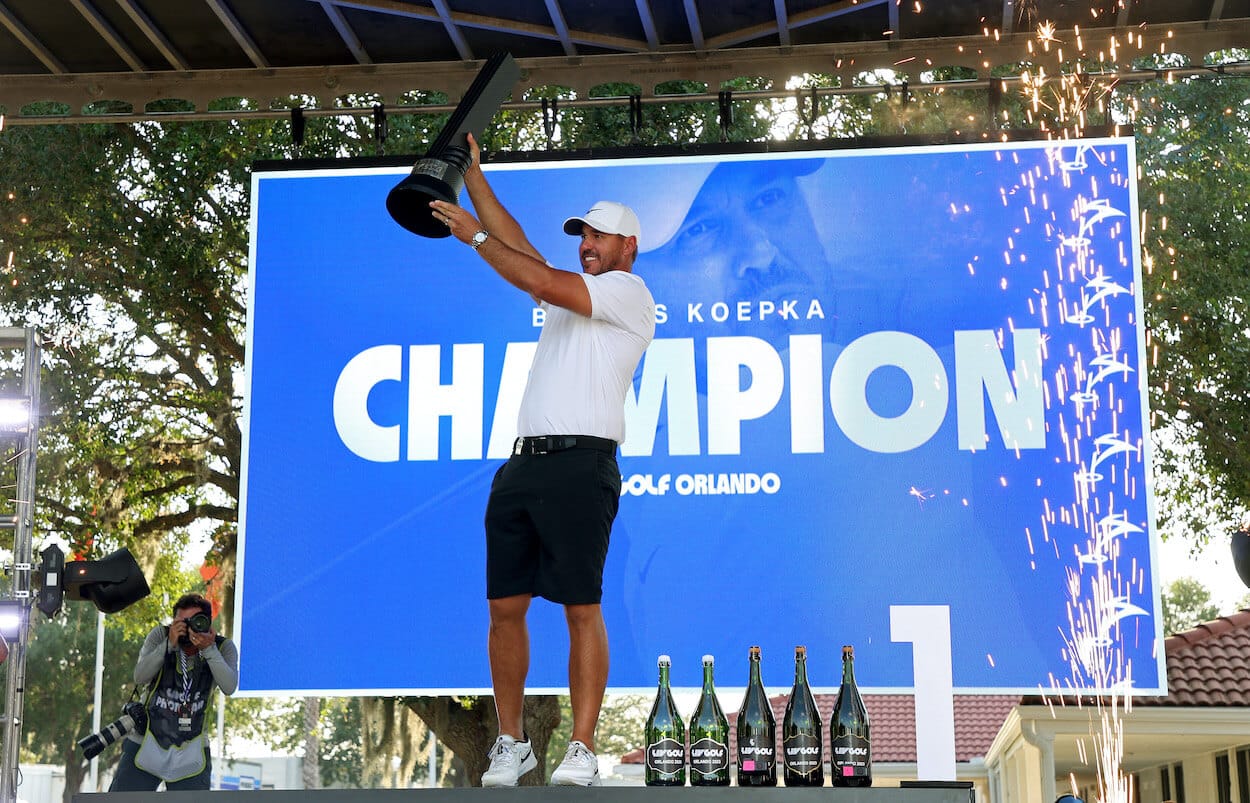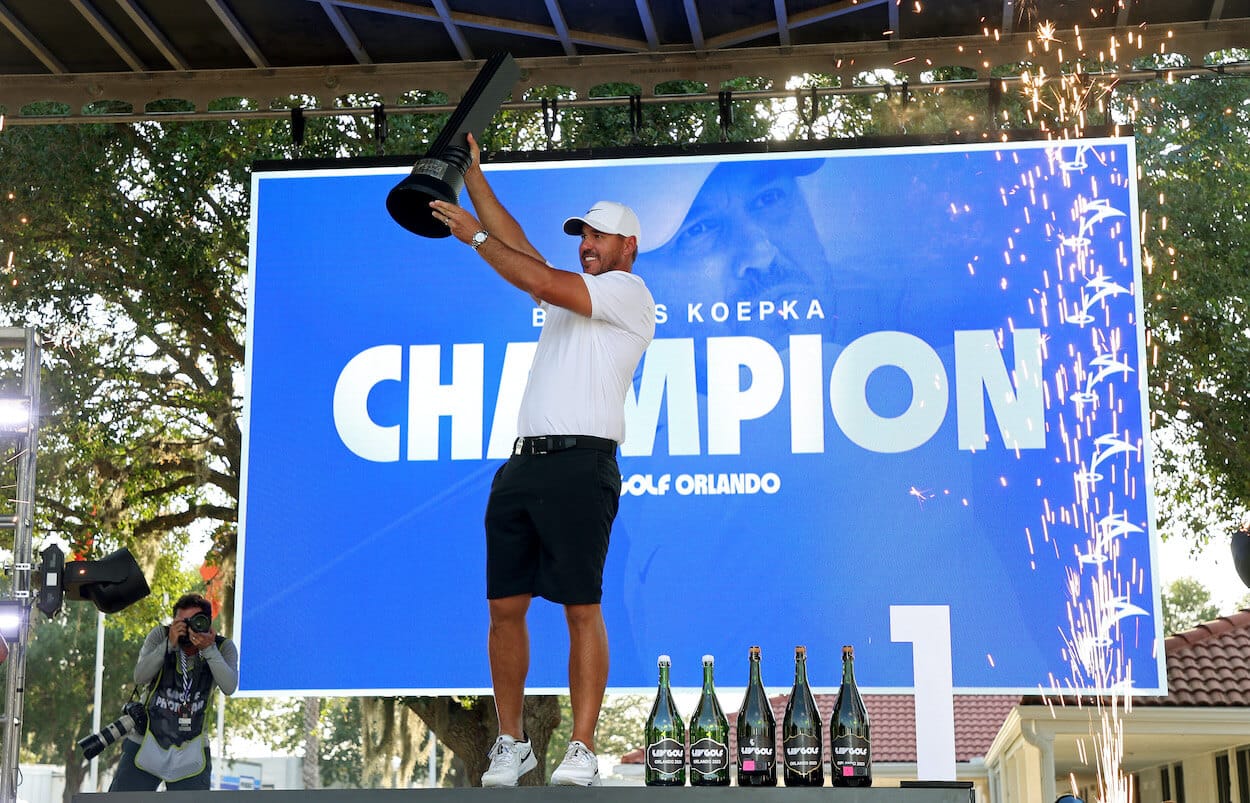 A few years ago, Koepka was nearly unstoppable in major championships. The big-hitting righty won back-to-back U.S. Open titles in 2017 and 2018, then he did the same at the PGA Championship in 2018 and 2019. In the 2018-19 season, Koepka finished T2, 1, 2, and T4 in the four majors.
It's been a different story since then. Due to a variety of leg injuries over the last few years, Koepka has only recorded one top-five finish in a major since 2019. The 32-year-old missed the cut at the Masters and the Open Championship and finished 55th at the U.S. Open and the PGA Championship last year.
To start the 2023 LIV Golf season, Koepka finished 31st at Mayakoba and 29th at Tucson. And remember, these are only 48-player fields.
The Koepka of four years ago showed up to LIV Golf's most recent event in Orlando, though. The eight-time PGA Tour winner shot 15 under par over three rounds to claim his second individual title in the rival golf league and secure a $4 million prize.
And would you look at that? The Masters starts in just four days.
A "finally healthy" Brooks Koepka is a dangerous Masters villain
A week ago, Koepka would've entered the 2023 Masters as an afterthought. The former superstar couldn't beat half the LIV Golf field in the first two tournaments of the season, but this win changes everything.
After sealing the victory, Koepka told a LIV Golf reporter that he's "finally healthy" and ready to contend at a major championship again.
"It's good to play some good golf," he said. "It gives me chills even thinking about the capabilities I can do when I'm healthy. Everything going into next week, that's what you want to see."
Uh oh. Brooks Koepka looks and sounds like Brooks Koepka again, and he might be LIV Golf's best chance of stealing the green jacket away from the PGA Tour.