Fired-Up Eric Bieniemy Pulls No Punches About His Team's Offensive Struggles: 'The Chiefs Right Now are Kicking the Chiefs' Ass'
Something just isn't right with the Kansas City Chiefs offense. Patrick Mahomes, KC's $500-million man, hasn't had his troops clicking all season. They aren't playing like the team that has reached the last two Super Bowls, nor are they putting up Fantasy Football-like numbers. Offensive coordinator Eric Bieniemy was candid when asked what he thought the team's issues were.
Eric Bieniemy has been highly regarded as a head coaching hopeful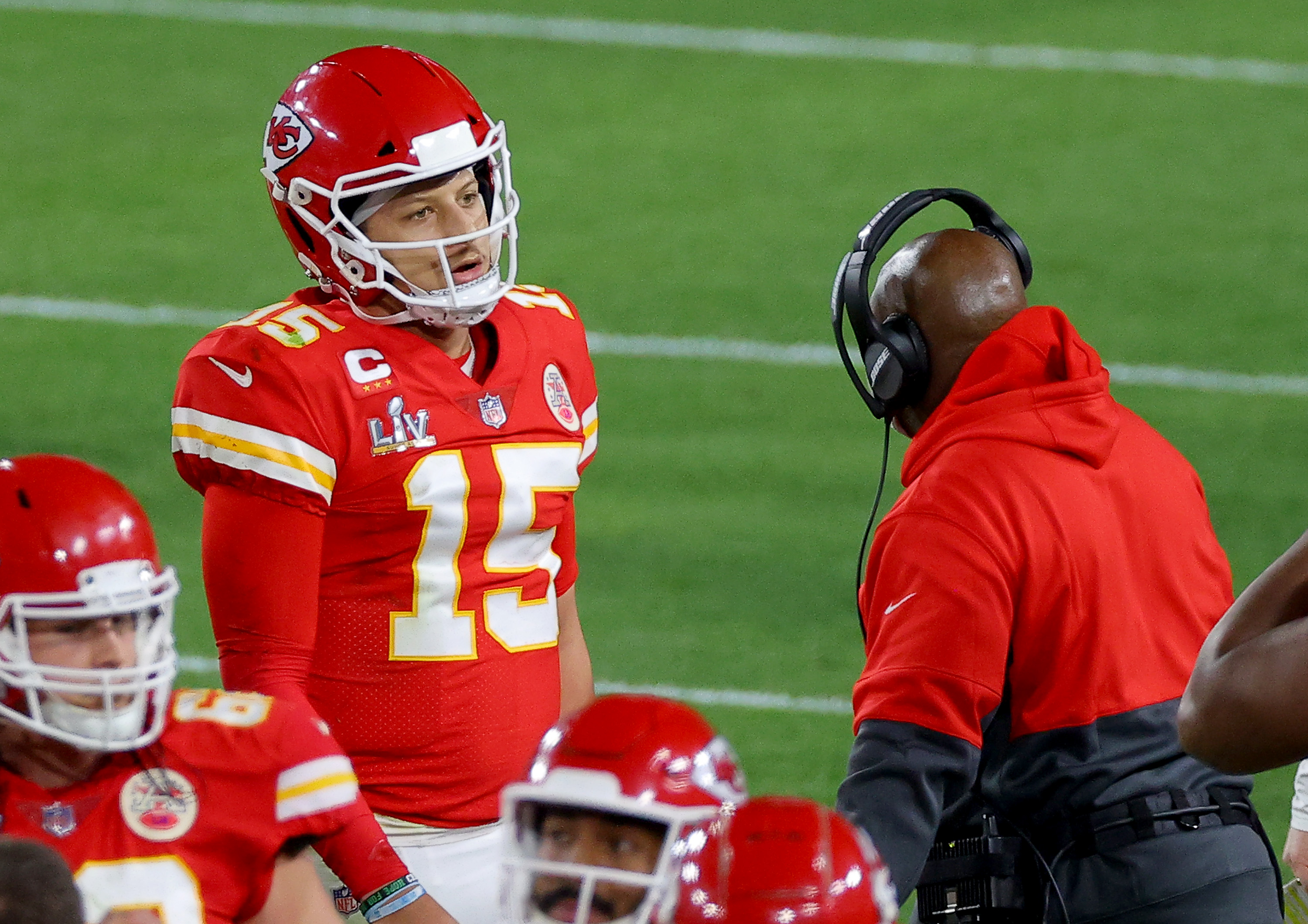 The success of the Chiefs' offense the last two seasons vaulted Bieniemy to the top of the list of head coaching candidates, yet he's never been named one. While his team prepped for last year's Super Bowl against the Tampa Bay Buccaneers, Bieniemy was pressed on why he believed he's been overlooked as a head coach.
"The only thing I can do is be my most authentic self, that's who I am, OK? I can only be me," Bieniemy said, per The Sporting News. "Some team has to want me. On top of that, there has to be some kind of collaboration, making sure the chemistry is a fit. So for whatever reason, that chemistry has not been a fit, there has not been that opportunity to connect. But that's OK."
Bieniemy has always had the backing of his players and coaches.
"(Bieniemy's) track record speaks for itself," Mahomes said. "The type of man he is, the way he can control and be a leader of the locker room, and the way that he coaches and schemes he brings to us. If he doesn't (get a position as a head coach), people are crazy."
Chiefs head coach Andy Reid feels the same way.
"I did have the opportunity to talk to a lot of either owners or general managers that worked to interview him, presidents and so on," Reid said during Super Bowl week. "So I'll be curious to hear their comments about how he did or why he wasn't picked."
Eric Bieniemy gets candid about the Kansas City Chiefs' offensive struggles this year
In recent years, the Chiefs could put up points in the blink of an eye. Loaded with offensive weapons, including tight end Travis Kelce and wide receiver Tyreek Hill, to complement Mahomes, putting up points was never an issue. This year, it's a problem.
Entering Week 10, the Chiefs are 5-4 and are only the seventh-highest-scoring team in the AFC. Their point differential this year is minus-6. Bieniemy believes the Chiefs are their own worst enemy.
"We just need to keep playing," he said, according to ArrowheadPride.com. "I know that sounds just like coaching talk. We just need to continue to play. And on top of that, we just need to continue to execute. For whatever reason, we're having a breakdown here and there – and it's not just one particular position.
"It can be a penalty or it can be a lack of route depth. It can be a poor decision made by the quarterback as far as reads are concerned. It can be a bad read by the running back. So we're all in this together. When it's all said and done — like I tell our guys each and every week — 'Let's line up and play against the opponent.'
"Because the Chiefs right now are kicking the Chiefs' ass. Let's go out and play against the opponent, give ourselves an opportunity, and then let's see what happens."
Bieniemy isn't blaming Patrick Mahomes for the offensive woes
According to Bieniemy, the Chiefs' struggles go well beyond Mahomes. Although the quarterback hasn't put up Mahomes-like numbers so far this year, things can't be pinned solely on him. He doesn't believe Mahomes is pressing and trying to do too much on his own.
"I think that goes around the whole entire offense," Bieniemy said. "When you feel that you're not executing, everybody wants to try and do something a little bit extra to try and make something happen. That's not how it works. Yes, I do want them straining to finish. But I don't need them trying to be Superman. I don't need them trying to be any hero.
"Just go out and be who you are. Do your job and execute with great attention to details. And if each and every individual can do that, we're giving ourselves a chance to have a chance."
Bieniemy also said he doesn't see any lack of confidence with his players.
"I have not seen any lack of confidence," he said. "And one thing that we know is that these are the highs and lows that you go through throughout the season. One thing we always want our guys to do is remain confident, to remain strong, and always understand that — regardless of what took place — the only thing that matters is how you play the next play."
The Chiefs are still dangerous. They still have the weapons, and things could get ugly for the rest of the AFC when everything starts clicking in Kansas City.