Who Will Be the First NBA Coach Fired During the 2019-20 Season?
For a lot of teams entering the 2019-20 NBA season, a trip to the playoffs and winning the championship where are the ultimate goals. One team that seemed like a dark horse to make the playoffs was the Sacramento Kings. With a new head coach in Luke Walton and a budding star in point guard De'Aaron Fox, the Kings could have fought for a lower seed in the Western Conference.
However, the team has struggled so far this season, and after being fired from the Lakers last season, it looks like Walton could be on the chopping block already. Let's take a look at Walton's start in Sacramento, why he could be one of the first NBA coaches relieved of his duties, and three other coaches that could lose their jobs before the All-Star break.

Luke Walton, Sacramento Kings
Entering the November 10 slate of games, the kings sat at just 3-6 with Luke Walton running the show. All across-the-board, their numbers do not look promising as they are sixth-worst in points per game at 105.4, and in the bottom third in points allowed giving up 111.6 points per game.

The advanced numbers are even more damning on the defensive end as they have the fourth-worst rated defense in the league. After being one of the fastest-paced teams in the league last season, they are currently ranked 27th in the league in pace, even with Buddy Hield and De'Aaron Fox in the backcourt.

If the Kings enter December with only a few wins under their belt, we could be looking at a quick exit for Walton. Firing Walton so early in his tenure would be another questionable move by Vlade Divac.

David Fizdale, New York Knicks
David Fizdale is in his second year with the team, but there doesn't seem to be any improvement from the Knicks on his watch, and free agents seem to continuously flirt with the team before signing elsewhere. The team is currently second to last in points per game with 100.6 and third to last in offensive efficiency. The Knicks were not viewed as a possible playoff team, but many fans hoped they would be around the .500 mark this season.

Unless they turn it around and get to seven or eight wins before the middle of December, Fizdale could be out and be the first NBA coach to get fired this season.

Alvin Gentry, New Orleans Pelicans
Alvin Gentry took on this role knowing that Anthony Davis may not be on the team for the considerable future. The team got what it could out of the superstar and they have a very competitive roster that can do wonders with rookie Zion Williamson.

The current issue is Williamson is out with a knee injury and probably won't be back until December. Until then, it will be up to Brandon Ingram and Jrue Holiday to carry the load, but they haven't been able to muster up a lot of wins in one of the toughest Western Conference races we have seen this decade.

We think it may be a bit of a stretch to see Gentry fired before Walton or Fizdale, but the New Orleans franchise is known for its lack of patience during times like these.

Scott Brooks, Washington Wizards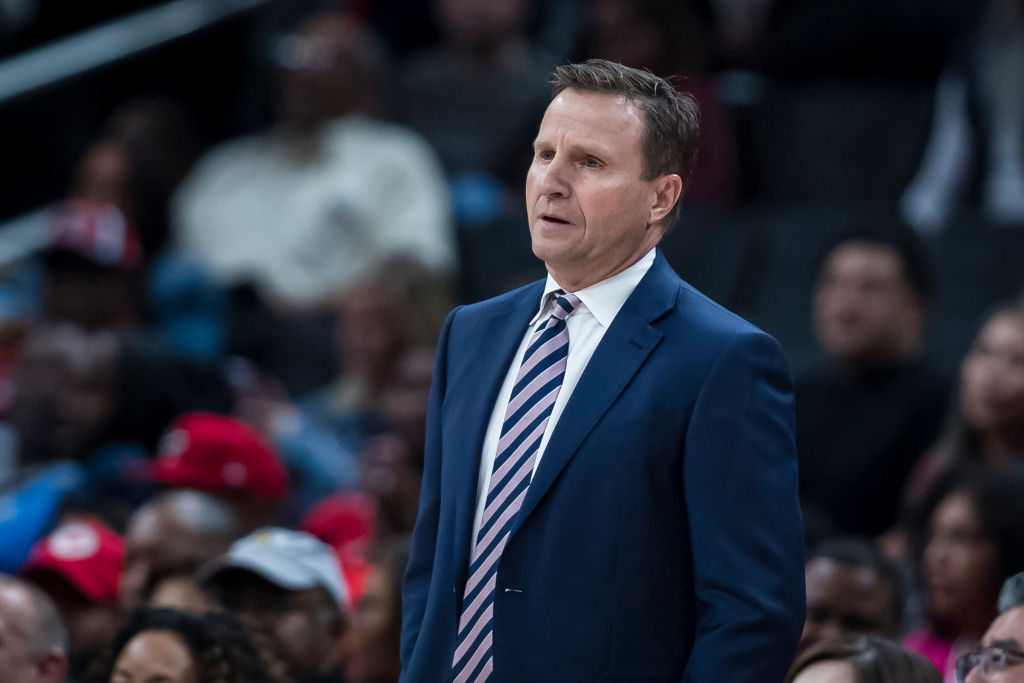 John Wall won't be playing this season. After Bradley Beal re-signed on a max extension, it was clear that the Wizards were not going to be rebuilding but retooling.

Head coach Scott Brooks may become the fall guy for Bradley Beal's extension. Instead of being able to trade him for assets, the Wizards will look to be at best mediocre over the next three or four years. That's also without knowing how healthy Wall will be when he comes back.

We thought Brooks would have been fired at the end of last season, so the fact that he stuck around this long is already a surprise. Considerign the ax hanging over him, we won't be surprised if he's the first NBA coach to be fired during the 2019-20 season.

Who will be the first NBA coach to get fired?
Are you expecting Luke Walton to get fired first? We think it will end up being David Fizdale. Knicks owner James Dolan has never been a man of patience, and he likes to turn coaches into scapegoats instead of taking any of the blame for his franchise's terrible run in the 21st Century.